Winter 1996 (4.4)
Pages 26-27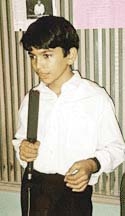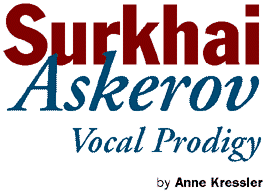 Note: Askerov is spelled through Russian, Asgarov is Azeri.
Click on a selection below to listen to a track from Surkhai's CD.
Baku

Lyrics by Vladimir Gafarov, Music by Tofig Guliyev

Cherubino's Arietta

From "The Marriage of Figaro" by Mozart
Born in 1981, Surkhai Asgarov (pronounced sur-KHA-i as-GEHR-ov), (Russian - Askerov), has been involved with music since he was 11. In his very short musical career, he has successfully carved a niche for himself in classical vocal music, having been named the Laureate of both the "International Festival of Patriotic Songs" in Moscow (1994), as well as the "Festival of Young Talents" in Baku (1995). Azerbaijan's President Heydar Aliyev chose Surkhai to be the first recipient of the "Golden Book of Young Talents" (June 1996) and to accompany him on his first Presidential visit to Germany (July 1996).
___
His life reads like a fairy tale. Poor boy. Youngest child. Exceptionally clever. Misunderstood. Underestimated. And then a lucky break comes his way, and life becomes totally transformed. All the classic elements of a success story are there.
It was quite by accident that Surkhai's musical ability was discovered. No one in his family plays music or sings. Unlike many in Baku, his family doesn't even own a piano.
But it so happened that one day when Surkhai was playing soccer in the school courtyard, he suddenly let out a loud scream. He doesn't even remember why. He was 11-years-old at the time. One of the music teachers, Naila Khanom (Miss Naila), who was watching the children, heard that scream and read more into it than Surkhai could ever have imagined. Soon she invited him to join the chorus and proceeded to teach him a few songs. She was so pleased by his musical abilities that she called his mother for a conference.
Surkhai's mother was sure that her son was in trouble. "I thought he had done something bad like broken a window or something, as he is capable of being a very naughty child," she says, recalling the incident. But Miss Naila simply wanted to commend the boy and suggest that he be transferred to an Art Gymnasium where he would have a better opportunity to develop his talent.
Before realizing that Surkhai was musically gifted, his father used to scold him for making "weird sounds" when he tried to imitate classical singers. "He wasn't singing words; he was just producing sounds and noises. I was afraid that our neighbors would hear him," his father confesses. "Now we understand that all those sounds he was producing were coming from deep within his heart."
And whenever the boy visited his grandparents in the village, they fussed at him for making strange, high-pitched sounds. He laughs about it now. "I used to go out and 'sing' with the hens and roosters," he says. "My grandfather wouldn't take me fishing because he was afraid I would start making noises and scare the fish away."
Once at school, Surkhai became so infatuated with experimenting with vocal sounds that his teacher made him stand up for the four remaining hours of class because he had disturbed the lesson so much.
But music was somehow innate in Surkhai. "When the events of 'Black January' occurred in Baku, I was nine-years-old," he recalls.1 "Everyone else had gone to attend the mass funeral ceremony, and I was left alone at home. I remember climbing up on the kitchen table and starting to sing a tragic march and then pretending that I was a conductor leading a symphonic orchestra."
"Before music, Surkhai had tried swimming, fencing and drawing, but nothing has captured his imagination like music," says his mother. "In fact, because he wasn't doing very well at school, we had almost decided to enroll him in a military school so that he could learn some discipline and, maybe, become a pilot."
These days Surkhai practices with his teachers on a daily basis at the Art Gymnasium. His favorites include European and Azerbaijani classics - Bach, Mendelssohn, Mozart, Vivaldi, Schubert and the Azerbaijan composers, Uzeyir Hajibeyov, Tofig Guliyev and others. His repertoire includes songs in Azerbaijani, Russian, Italian and Latin. And he's keen to learn English.
Pavarotti has been a great inspiration for the youth. "I saw him on a video once," says Surkhai, "and his voice charmed me so much. I was so impressed by his presence on stage. I immediately wanted to be like him, though at that time, I had never given any serious thought to becoming a singer." Looking back on the incident, Surkhai adds, "I realize now that I shouldn't try to imitate Pavarotti; I need to develop my own style."
It's not always easy for a young person to meet the demands of becoming a vocalist. "I have to be careful of what I eat-no cold things like ice cream or cold drinks, no foods that are very sweet, salty or sour-and I have to be really careful not to catch a cold or the flu. It's Granny that cures me with hot tea and jam and sticks my feet in hot water if I get sick."
There's a price to pay for choosing to perform music, according to Surkhai. During each performance, he says he loses a lot of energy. "After it's all over, I feel so drained. I'm sure it's true of all musicians. You try to put so much feeling and emotion into the concert. When it's all over you feel empty-like there's hardly anything left because you've given it all to the audience. To regain my energy, I don't like to eat a lot. I find that just by listening to classical music, I become renewed again."
Another major break came for Surkhai when the editor and publisher of Azerbaijan International presented the latest copy of their magazine to President Aliyev in June 1996. As the President was paging through the magazine as he does with each new issue, he came to a photo of Surkhai, who had just recently performed at an AIOC and SOCAR-sponsored concert. "Do you know him?" the editor asked the President, who nodded that he did not.

"Oh, you must hear him sing!" she replied. And within that very same week, Surkhai was invited to perform for the President at the National Art Museum. The occasion, June 22, 1996, was marked by Surkhai's name being the first ever to be entered into Azerbaijan's "Golden Book of Young Talents," which is a special award recently created to foster the development of talented children.
A few weeks later, the President was scheduled to visit the heads of state in Germany and invited Surkhai to join his entourage. It would be Surkhai's first trip out of the former Soviet Union. Since then, the young lad with his extraordinary voice has become a regular performer, especially when important visitors come to Azerbaijan to see the President. Surkhai is also becoming quite well known on television.
Surkhai admits that life has changed since receiving the attention of President Aliyev. "When I walk down the street, everybody seems to know me." Then wrinkling up his face in obvious displeasure, he adds, "And the girls are always coming up and asking for my autograph!"
In the meantime, Surkhai is still very much a kid at heart. His favorite pastime is playing computer games. He also loves watching horror films and the scarier the better. Slow books bore him. And he envies Arnold Schwarzenegger's biceps.
Muslim Magomayov, one of Azerbaijan's most well-known opera singers, has recently taken a deep interest in Surkhai's musical development. He's encouraging him to study classical piano, especially during this transition as his voice starts to change. That way Surkhai can continue to pursue music without putting an unnecessary strain on his vocal chords and risking permanent damage during this critical period.
There is no guarantee what will happen to Surkhai's talent when his voice changes. There have been situations when "boy wonders" have totally lost their marvelous gift for singing. But somehow, Surkhai is the kind of person that exudes confidence. No matter what happens to his voice, he'll find a way to succeed. "We have a tradition in our family," he'll tell you. "If we begin something, we carry it out all the way to the end." His admirers can only hope this is true for his musical career as well.

Surkhai's newly released CD entitled "The Golden Ring" was produced jointly by Azimex Group and Azerbaijan International. Surkhai sings Azerbaijani and European classics accompanied by the Azerbaijani State Chamber Orchestra, which was directed by Yashar Imanov. CDs or cassettes may be ordered by contacting Azerbaijan International, P.O. Box 5217, Sherman Oaks, CA 91413. Tel: (818) 785-0077; Fax (818) 997-7337; e-mail: ai@artnet.net.
1 "Black January" refers to the tragic incidents of January 19 and 20, 1990, when Soviet tanks rolled into Baku and killed more than 150 civilians in the streets. It was a terrible massacre of defenseless people that consequently fanned the fires of the independence movement. Many killed that day have been buried in the "Martyr's Cemetery" which overlooks the city.

From Azerbaijan International (4.4) Winter 1996.
© Azerbaijan International 1997. All rights reserved.
Back to Index AI 4.4 (Winter 1996)
AI Home | Magazine Choice | Topics | Store | Contact us