Winter 1994 (2.4)
Pages 20-23
Baku's Architecture
A Fusion of East and West
by Pirouz Khanlou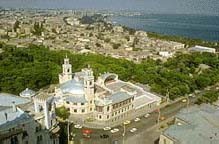 Philharmonic Hall in Baku
Originally built (1910-1912) as an auditorium in the Italian Renaissance style with elegant interior German Rococo ornaments. Currently from 1997 onwards, under reconstruction.
Architect: Ter Mikelov.
Oil Baron Architecture
Architecture and Development - entire issue of magazine devoted to subject - Winter 1998
Ask any resident of Baku what the most prominent characteristic of this city is and he's likely to tell you it's the architecture. And as this city has been designed for the pedestrian, Azerbaijanis know the streets and buildings remarkably well; as a consequence, the architecture is deeply implanted in their psyches. No place in the world looks like Baku and no place replicates its architectural style which is a unique synthesis of both East and West.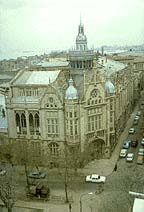 Photo: Wedding Palace

Former residence of Mukhtarov who saw building in Europe, and had it rebuilt for his wife in Baku. French Gothic style. Architect: Ploshko.

In general, Baku can be categorized by three major periods of architecture-Medieval, Oil Boom (1880-1920), and Soviet (1920-1991). Geographically, they emerge from three concentric circles-the Medieval period, making up the inner core and generally contained within the massive citadel walls of the "Inner City" (Ishari Shahar); the Oil Boom period characterizing the next, middle orbit; and the Soviet period which extends from the outer orbit for many kilometers since the population of the city has now reached beyond 2 million.

However, in terms of the dynamic synthesis that has taken place between the East and West, it is the Oil Boom period that provides the most vivid illustrations as oil industrialists had the opportunities to travel abroad, especially to Europe, and see some of the world's most magnificent buildings for themselves, and, most importantly, they had the financial resources to convert their fondest dreams into realities.
By the late 1800s, the Industrial Revolution had transformed Europe and Western Russia into industrial states. A whole new way of life, based on the development of capitalism, democratic institutions, education and modernization was emerging. Technology was idolized and soon the West was in search of new energy resources with capabilities surpassing that of steam. It wasn't long before the West turned to the Absheron Peninsula and Baku to provide easy accessibility to vast oil reserves with minimal technology. An oil boom ensued. Foreign oil companies and investors soon settled in the region including well known companies such as the Nobel Brothers, Rothschilds and Shell.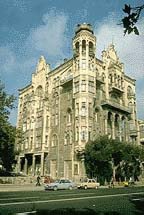 Photo: Hajinski's Residence. Excellent example of eclectic European style. Each façade incorporates a different architecture style.Engineers, technicians, and workers flooded the region-Russians, Armenians, Georgians, Jews, Iranians, and Europeans. Baku began to take on the aura of an international and multi-cultural community. The population grew exponentially. In 1856 there were 8,000 residents; 50 years later, it had grown 30-fold to reach approximately 248,000.
The eastern section of the city where much of the oil was being drilled and extracted changed into a mega-industrial city that came to be known popularly as "Black City" because of the heavy, black pall that hung above it and the smell of oil so thick that its taste lingered in your mouth. The Black City was a cluttered landscape of oil rigs, metal storage tanks, refineries, heavy industrial manufacturing buildings and housing for workers.
But on the opposite side of town was the major residential section that extended from the walls of the Medieval "Inner City" (Ishari Shahar) and Maiden's Tower. This was the "White City". For architects, it was here that they were given incredible opportunities to design the projects of their dreams. Schools, hospitals, hotels, banks, railway stations, theaters, various company headquarters, and municipal buildings, apartments, private residences, and villas comprised this area.

Photo: Ismayilli Company (1908-1913) now Academy of Sciences. Built in eclectic style. Exterior Venetian Gothic Revival with Neo-Classical interior.

Millionaires often competed among themselves not only in constructing palatial residences, one more elaborate than the next, but also in their desire to display their philanthropy and donate magnificent buildings for civic use such as the Theater-Opera House, Philharmonic Hall, National Theater, and various government and civic buildings.
Left: Steam Railway Station (1884). Interior and Exterior built in Cairo style. Architect: Skihinsky
Right: Electric Railroad Station (1926 Soviet Period). Islamic style with Persian portal, Egyptian cupolas and Art Nouveau balcony entrance. Architect: Bayev.
And thus, an incredible architectural transformation took place during this relatively short period (1880-1920) that totally altered the physical feature and character of Baku, converting it from a sleepy medieval feudal city into bustling international metropolis comparable to its European sister cities. Indeed, Baku's harbor became one of the busiest in the world as the nearby oil fields were the source for more than 50% of the entire world's supply of petroleum. Scenic postcards of Baku during this period were printed by French, German, and Russian companies.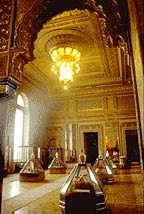 Photo: Interior of Taghiyev's residence with eclectic ornamentation and detailing. Design: Goslavsky.
Today, this Oil Boom period is still the most prominent feature of the city despite the desperate need of restoration, conservation and renovation of so many of these architectural landmarks.

Importing Western Style
This period is very clearly characterized by its fusion of Eastern and Western architectural styles. At first, it was marked by imports from the West-pure imitations of European styles. The oil industrialists began traveling to Europe and stories are told of how they sought after the architects and architectural plans of buildings that they liked. Such was the case with the Mukhtarovs in regard to a French Gothic Palace. After a few modifications to the plans, it was rebuilt as a residence in Baku as a gift to his wife.
One of the primary reasons so many Western style buildings appeared was that a number of prominent European architects were hired and brought to Baku from countries such as Poland, Germany, Austria, Italy, and Russia. Naturally, they drew upon their own experience, familiarity, and training. They introduced a wide range of European styles; for example, Neo-Classical, German and Italian Renaissance Revival, French Islamic Magreb, Vienna Secession, Venetian Gothic Revival, etc.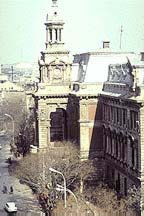 Photo: City Duma (now Baku City Hall) in Italian Renaissance style. Architect: Goslavsky.
In parallel another transition occurred as architectural elements of these European styles were combined with each other as evidenced in the eclecticism that evolved. A vivid example is the Ismayilov Company Headquarters (now used as the Presidium of the Academy of Sciences) which was built between 1908-1913 by one of Baku's wealthiest oil barons, Musa Naghiyev. In this building, the famous Polish architect, Ploshko, successfully incorporated various European styles-Neo-Classical, Gothic, and French Islamic styles-into its design. This extraordinarily splendid building continues to command the pride of Baku today.

Other foreign architects also made their mark on the city's architecture, such as Goslavsky, Ploshko, Aichler, Dale, Simonson, Lemkul, Skibinsky, von der Nonne, Shtern, Rufini and Groseti. A few local architects made a strong impact and their work is still known and admired today, such as Ahmadbeyov, Hajibababeyov and Ismayilov.

Baku was able to readily import building materials down the Volga and via the Caspian. But yellow sandstone, which is quarried locally in three grades, became the primary material for construction. Because of the destructive salty wind, stucco was generally not used for external decorations, sandstone was. The use of brick was rare as it was not produced locally.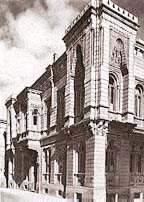 Photo: Residence of Agabey Guliyev (now Architect's Union). Fine example of Islamic Safavid architect elements with European classical principles in a revealed masonry façade. Architect: Skihinsky
Merging East and West
But as time passed, another major trend emerged. This time it was the juxtaposition of Eastern architectural elements into the Western styles. It seems that some of the foreign architects practicing in Baku began to develop a sensitivity and appreciation for the local architecture that characterized the region. What resulted was a fusion between architectural elements and details of Eastern style and Western design principles which produced a unique synthesis which could be called the "Baku School of Architecture".
Azerbaijan's Vernacular Architecture
The vernacular architecture of Azerbaijan included several periods such as Mongolian Ilkhanid Architecture (1245-1467) with its massive monumental structures, octagonal towers, brickwork, and geometrical patterns with a minimum use of tile in simple designs. The Safavid period (beginning in 1499) was also prevalent. This style is characterized by thin narrow columns with ornamental details on their crown. Another distinguishing characteristic is its ability to maximize the benefits of the sun-projections were built that cast shade and protected from the heat in the summer. In the winter, the long vertical windows caught the lower sun rays and allowed sunlight to enter the rooms.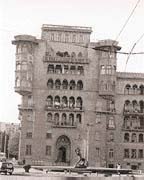 Photo: Writer's Apartment Complex (1930s Soviet period). Fine example of eclectic Safavid architectural incorporated within European style. Note narrow columns and long balconies. Architect: Mikhail Huseinov.

Another characteristic of Azerbaijan's vernacular architecture was both the rounded and pointed arches so closely identified with Islamic architecture. As well there were the Ottoman balconies-large, covered, screened rooms which projected out over the street. All of these elements soon were added to many of the Western elements.

The result of all these styles and ideas juxtaposed and interacting upon one another makes Baku an architectural celebration-a fusion of both East and West. In essence, this architectural style becomes the physical manifestation of the psychological will to merge the best of both worlds-a phenomenon that began more than one hundred years ago.

Pirouz Khanlou is a Los Angeles-based architect and consultant.

From Azerbaijan International (2.4) Winter 1994.
© Azerbaijan International 1994. All rights reserved.
Back to Index AI 2.4 (Winter 1994)
AI Home Page | Magazine Choice | Topics | Store | Contact us