Autumn 1994 (2.3)
Pages 64-66

The Magic of the Children's Marionette Theater
Conserving the Culture

Back to Hajibeyov.com - Music Index



by Betty Blair
It's magical - a spectacular celebration for the eyes! You sit there in the tiny darkened room with your eyes glued to the tiny marionette figures, each one exquisitely designed, moving so gracefully across the stage and you soon find yourself mesmerized. Is it the costumes? The expressive faces? The beautifully, painstakingly detailed stage settings? The humor? The operatic music, or the close proximity of audience to stage? Perhaps, it's the grandeur of turn-of-the-century Baku and the intriguing plot of boy trying to meet the right girl. Whatever the reason, Azerbaijan's new Children's Marionette Theater succeeds in casting its hypnotic spell over adult and child alike.

And it's exactly the effect that Tarlan Gorchu, Artist / Director / Producer, has been working so hard to create these past four years since he started.

Just recently, a young child became so enraptured by the two little bird marionette figures flitting around the courtyard fountain that the child jumped from his seat and rushed to the stage to try to catch the tiny creatures.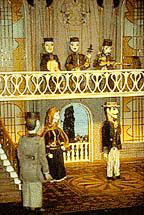 Emergence of a New Form of Theater
Azerbaijan has a tradition of Puppet Theater, but marionettes are new. In fact, Tarlan had never even seen marionettes himself until 1986 when he was invited to a Puppet Festival in Tbilisi, Georgia.

After that experience, it slowly dawned on him that marionettes were a form that could merge his love for both performance arts as well as graphic arts. "I'm an artist," he'll tell you. "I was in search of a theater in which I could apply my painting and over which I could have much more control."

It's not just the difficulty of managing the moods and idiosyncrasies of leading actors and actresses in live theater that Tarlan refers. It's the economic reality that has set in since the dissolution of the Soviet system. It's impossible these days to stage spectacular theater with large casts. Also, there's an incredible emotional need to have some control when the nation is facing so many crises lately.

For example, since independence in 1991, the national leadership has since changed five times, a new alphabet (Latin-based) and a new currency have been introduced. Many people, especially artists (musicians, dancers, theater and opera performers, filmmakers.) have had to find their own financial support and, subsequently, have had to leave the arts. The psyche of the nation has been deeply affected by the tragedy of the war, loss of nearly 20% of national territory and the subsequent flight by so many refugees.
The Story "Arshin Mal Alan"
To date, Tarlan has managed to produce only one story -"Arshin Mal Alan"(The Cloth Peddler), which has been performed a few dozen times. Its 12 episodes with six separate sets and dozens of marionettes lasts about 80 minutes. The plot is based on an operetta written in 1910 by one of Azerbaijan's foremost composers, Uzeyir Hajibayov. Tarlan's marionette version is a musical comedy, interspersed with taped operatic selections that are performed specifically for this theater by some of Azerbaijan's best known contemporary opera singers like Khuraman Gasimova.

Tarlan went to incredible lengths to research the historical period in which the story is set. He visited museums, studied interiors of exquisite residences built by oil barons, browsed through old post card and photo collections, and interviewed people who fondly remembered the era.

Everything had to be authentic and natural. Friends scoured the city for old antique clothing until they found velvet, brocade silk, and gold thread. The tiniest detail was anticipated - from the elegant chandeliers and traditional musical instruments to the colorful, woven camel saddlebags, inlaid parquet floors, delicate red roses and fountain gracing the courtyard.
Preserving the Culture
One of Tarlan's goals is to make young people fall in love with the traditional Azerbaijan stories. "I want to show the richness of our culture. Every nation should have its own classic works that are passed down from generation to generation. If we don't instill a deep love for our own stories, they may disappear. Then it will be too late. It's like the facades of our buildings that were constructed by the oil wealth at the turn of the century. They might be in serious disrepair right now, but nonetheless, they are reminiscent of a beautifully rich and glorious past that belonged to us."

Tarlan sees his theater as timeless not confined to contemporary problems. Though he, himself, doesn't have children, he feels it's essential that young people learn early that life is full of complexities which have to be understood.

"Maybe children who are young won't really understand the story completely but it's good to introduce it anyway," he'll tell you. "In the West, they take children to see Michaelangelo and other great artists. It doesn't mean the child understands totally. But art always makes a deep impression. It's an important start."

Technology plays a very important role in marionettes. The puppets are difficult to operate and the team has had to teach themselves. But they've mastered them so well that much of the humor is conveyed in movement, not just the story line. For example, when the servant slides down the stairway banister so effortlessly, or again when he's imitating authentic Azerbaijani folk dances and becomes so excited that he literally flies up in the air.
The Marriage Scene
Although Hajibeyov obviously wrote the opera eighty-five years ago to press for more progressive attitudes towards marriage, the theme is still relevant today. Young people are always obsessed with finding the right partner. It's an ageless story, not limited to time or place.

Of course, in the urban setting, young people can select their own partners although family and friends rarely stand idly by. And there's still considerable pressure, especially on girls, to marry early. It's permissible by law at 17 now and so if a young woman isn't married by 21 or 22, parents often become anxious.

But the war complicates matters these days. It's harder and harder for young people to meet. Strained finances mean fewer parties and thus fewer opportunities for young people to meet. The "Martyr's Cemetery" in every major city is a heart-wrenching reminder that there are fewer partners from which to select.
Big Dreams for Marionette Theater
Tarlan has dreams-big dreams for his productions. They've already taken the marionettes abroad-to France in 1990 and a Puppet Festival in Florida in 1992.

He wants a building that they can call their own. The State, which still owns all property, has designated a building but it's in sad disrepair and they don't have the money to fix it yet. They're still a long way from becoming self-sufficient. The truth is they really haven't made any money at all. Lately, they've been doing benefits, charging a used toy as "admittance fee" for each child which, in turn, they distribute among toy-less refugee children.

In order for this theater to survive, Tarlan feels he needs at least three major productions in his repertoire. Each set takes about three years to design. He's already started the second, another favorite folk theme, "Leyla Majnun."

With three productions, Tarlan believes the theater could outlive him and a School of Marionette Theater could be established in Azerbaijan. In real theater, it's so rare to be able to carry a production for more than five years. Actors and actresses come and go but with puppets, Tarlan is convinced, it's a different story. Their magic could captivate the hearts of children (large and small) for years and years to come.

From Azerbaijan International (2.3) Autumn 1994.
© Azerbaijan International 1994. All rights reserved.
Back to AI 2.3 (Autumn 1994)
AI Home Page | Magazine Choice | Topics | Store | Contact us