Karabakh Conflict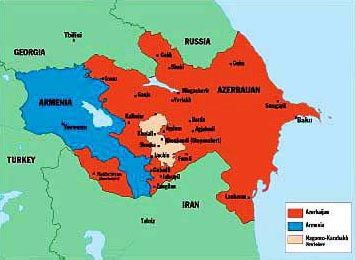 Crisis in the Caucasus - 2008
The Russian / Georgian Conflict as it Impacts Azerbaijan

History of the War

Discussions

Refugees
Section 907

Places of Interest
Maps

Key West Talks

Media


Nagorno-Karabakh (NK) in relationship to Azerbaijan (red) and Armenia (blue).
NK along with seven surrounding regions has been militarily occupied by
Armenians beginning in 1992.
More on Nagorno-Karabakh: http://www.karabakh.org

AI Home | Magazine Choice | Topics | Store | Contact us
From Azerbaijan International
© Azerbaijan International 2001. All rights reserved.