Azerbaijan - Undergoing Surgery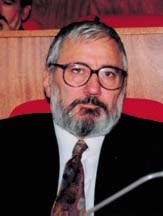 "The concept of market economy is not something that we can comprehend all at once. We need time to get used to the idea. Foreign journalists often ask whether cinema has improved or worsened since independence. I always compare our current situation to a patient undergoing surgery to save his life. The patient suffers considerably during the operative and postoperative stages, but then, due to the surgeon's timely intervention, there's a great likelihood that he will recover.
Ogtay Mirgasimov, film director, in Baku in June 1997.
From Azerbaijan International (5.3) Autumn 1997.
© Azerbaijan International 1997. All rights reserved.