A Plea to Future Architects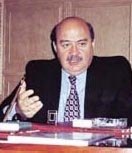 "I have only one request of the architects who will direct and shape the architecture of Baku in the future. My hope is that they will take care not to lose the unique spirit of Baku, not to spoil the scale of our streets and not to destroy these city blocks that we have grown up to love so much."
Elbey Gasimzade, Azerbaijan's City Architect in the Mayor's office for the past nine years and Vice President of the Architects' Union.
From Azerbaijan International (6.3) Autumn 1998.
© Azerbaijan International 1998. All rights reserved.