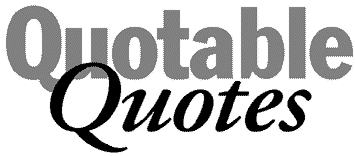 Democracy-Never-Ending Struggle


"Transitions to democracy and free market economies require patience and persistence. In the United States, we became a newly independent state in 1776 and for the past 222 years, our democracy has been a work in progress. It took us more than 10 years to draft a constitution, 89 years to rid our nation of slavery, 144 years to give our women the vote and 188 years to make all our citizens equal under the law. Democracy does not end with a constitution and the right to vote. It is a never-ending struggle that we must grapple with every day."
Hillary Rodham Clinton, wife of U.S. President Bill Clinton, speaking in Ukraine in November 1997 on her tour to some of the former Soviet Republics-Kazakhstan, Kyrgyzstan, Uzbekistan, Russia and Ukraine.

From Azerbaijan International (6.1) Spring 1998.
© Azerbaijan International 1998. All rights reserved.