Music Section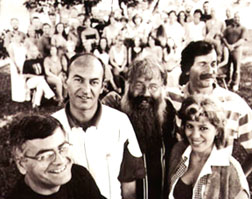 Clockwise: Galib Mammadov, Ilgar Muradov, Per Oddvar Hildre, Siavush Karimi and Brilliant Dadasheva. 1997
SKRUK with Brilliant Dadasheva and Ilgar Muradov

Article: The Land We Come From - SKRUK (Landet vi Kommer fra)



En gammel fabel
(Ay Bari bakh)
Soloist: Brilliant
Villan villan vei
(Bana Bana Gal)
Soloist: Ilgar Muradov
Nushabaa og Aleksander den Store
(Chal Oyna)
Soloist: Brilliant

Røde Gardiner
Aman Nana
Soloist: Brilliant and Ilgar Muradov

Kvinnen I Kis
Bayati Shiraz
Soloist: Brilliant

Fortellerskålen
Susan Sunbul

Fly!
Lachin
Soloist: Ilgar Muradov

Performers: SKRUK - Choir
Siyavush Karimi - Ud and tar
Hassanaga Sadigov - Tutak, balaban, saz
Elshan Sadigov - nagara, gosha nagara, zerb and gamon
Shafiga Eyvazova - Kamancha
Adalat Vazirov - Kamancha
Bjorn Holum - Bass
To order: Azerbaijan International in Los Angeles.
Or contact: Norwegian Santal Mission, PO. Box 9219, Groenland, N-1034 Oslo, Norway. Tel: (47-22) 57-86-00 or Fax: 67-93-35. To find where the CD can be ordered in other countries, contact Reidar Saunes, Market Manager, Kirkelig Kulturverksted in Norway at Tel: (47-22) 55-84-00 or Fax: 55-58-69.
Copyright: 1997 Norway
From Azerbaijan International
© Azerbaijan International 1998. All Rights Reserved.