Autumn 2006 (14.3)
Page 63

Maiden Tower
About the Authors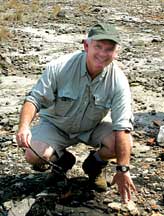 Ronnie Gallagher worked as Environmental Manager for BP in Azerbaijan from 2000-2003. During his free time, he explored much of the countryside, enjoying the natural history and searching for evidence of ancient settlements.

His observations on stone circles, cup marks and cart ruts, have been published in earlier issues of Azerbaijan International. Ronnie is currently on assignment in Angola but returns to Azerbaijan whenever possible. Contact Ronnie Gallagher: gallagher_ronnie@yahoo.co.uk
Betty Blair is Editor of Azerbaijan International and has accompanied Ronnie Gallagher and Abbas Islamov since 2003 on exploratory archaeological jaunts at Maiden Tower and across Azerbaijan's scorching windswept desert plains. Contact Betty Blair: ai@azer.com.
Read more by Blair - Editorials at Azerbaijan International or Poetry by Betty Blair. Search at AZERI.org or AZER.com.

Read More by Gallagher
Azerbaijan International has published the following articles by Ronnie Gallagher in collaboration with Abbas Islamov in relationship to archaeological phenomena that they've observed in Azerbaijan:
1. "Cart Ruts and Stone Circles: Key Evidence from the Past," AI 10.3 (Autumn 2002).
2. "Early Man in Azerbaijan: When Ancient Stones Speak," AI 11.1 (Spring 2003).
Gallagher has also authored:

3. "Mud Volcanoes: Mysterious Phenomena Fascinate Scientists and Tourists,"
AI 11.2 (Summer 2003).
4. "Parigala: Mystery Surrounds Fairy Castle," AI 13.3 (Autumn 2005).

_____
Back to the article (Autumn 2006)

AI Home | Search | Magazine Choice | Topics | AI Store | Contact us

Other Web sites created by Azerbaijan International
AZgallery.org | AZERI.org | HAJIBEYOV.com