Summer 2006 (14.2)
Pages 66-67

Thomas Goltz
The Caucasus Trilogy
Azerbaijan, Chechnya and Georgia
by Betty Blair
Who has chronicled the turbulence and inner workings of the Post-Soviet Caucasus with more insight and understanding than Thomas Goltz? At least when it comes to the English language, we know of no one. Intrepid, determined, and not one to flinch from danger, even when deadlyl bullets are flying overhead, the former war-correspondent has written his perspectives of the region in what he calls the "Caucasus Trilogy". The three volumes, to date, include: Azerbaijan Diary (1998), Chechnya Diary (2003) and now Georgia Diary (July 2006).

Goltz is driven by a deep moral force, convinced that media's ultimate responsibility is to reveal the truth stripped of the usual political spin. His fast-paced writing wastes no time in getting to the crux of the matter. Simply put, he is a refreshingly gutsy writer in a day and age when many journalists are backpedaling.



Thomas Goltz,
Author


1. Azerbaijan Diary 1998


2. Chechnya Diary 2003


3. Georgia Diary 2006


4. Africa
2006

How did Goltz get involved with Azerbaijan? "You might say that it was serendipity that brought me to Soviet Azerbaijan-way back in the summer of 1991 and I've been a prisoner of the Caucasus ever since," said Goltz. The region has given me many things - friends, insights and, most recently, a new career as a university lecturer. In a sense, that's my pay-back-getting young minds interested in a highly complex region."


Above: In addition to writing about the political developments of the Caucasus region, Thomas Goltz was the brainchild of the Oil Odyssey motorcycle tours in the summers of 2000 and 2001 to go the distance of the 1700 kilometer oil pipeline from Baku to Tbilisi (Georgia) to the port of Ceyhan on the Turkish Mediterranean. Search Oil Odyssey at AZER.com

As for reading the Trilogy, Goltz says that it really doesn't make that much difference which book you pick up first. They all overlap in time and space.

"All three volumes are somehow connected to Azerbaijan because Baku was my main base throughout the 15-year period involved. And books are famously somewhat like children-I don't have any preferences among them, although they are each quite distinct and different. The largest volume (496 pages) about Azerbaijan is sort of a journey of discovery. Chechnya is the shortest (285 pages) and, perhaps, the most personal.

Readers say that the Georgia (288 pages) is the most complex of the three, which, of course, reflects the fact that it went through the longest period of gestation. In addition, some would insist that Georgia, arguably, is the most complex country in the region."

Azerbaijan Diary
Forbes Online described Azerbaijan Diary: "Goltz has the ability to insert himself and his readers into a world of politics, intrigue, corruption and war that makes not only for an interesting lesson in modern nation-building but also gripping theater. He practices what he calls 'contact journalism' - literally thrusting himself into the middle of the action and trying not to get his head shot off. That he is successful in both regards is a tribute to his nose for news and his cowboy's sense of when to get out of the way."

Chechnya Diary
In Chechnya Diary, Goltz presses the point: "War is hell! War is for real! It ain't a joke!" Nor should it be treated as entertainment for those who sit comfortably in their living rooms watching the evening news. Voyeurism is immoral and those who pedal news as business have the responsibility to show the sacredness of life not as a commodity.

Broadcasters should not treat war lightly. Goltz describes situations where, risking his life to cover the stories for some US media, they refused to run his stories following an unspoken rule that if no American was involved, there was no story. Or there were other times when his story was rejected because he offered no blood: "We want pictures of the dead, not allegations from the living!" or as Goltz came to paraphrase it: No bodies, no stories!

Chechnya Diary was written by a war correspondent who had no access to electronic gadgets that are so familiar today - no cell phone, no Email, no Blackberries, no laptop, no GPS (global positioning systems) to even know where he was located. His survival under these unknown, brutal conditions totally depended upon being savvy in forging relations with the local people - that, combined with a major dose of luck. That's difficult in normal times, much less in critical times when you aren't even fluent in the local language. Goltz speaks German, Turkish, Azeri, and what he calls "neglected Arabic and bits and parts of Georgian, Kurdish and Farsi." When it comes to Chechnya, he did his best with what he calls "street" Russian.

Georgia Diary
The latest volume dealing about Georgia is a fast paced, first person account filled with fascinating details about the ongoing struggles of this little known region of the former Soviet Union. It features memorable portraits of individuals in high places and low. It traces developments in the political life of Georgia from 1992 through the "Rose Revolution," the resignation of Eduard Shevardnadze, and the new presidency of U.S.-educated Mikhail Saakashvili.

But that's not all. Goltz has another book that also just came out this spring. He refers to it as his 'orphan'. It goes by the provocative title, "Assassinating Shakespeare: Confessions of a Bard in the Bush". He wrote it 28 years ago about his adventures (or "misadventures") as a one-man wandering Shakespearean actor in Africa. The book finally made it to print in May 2006 and is published by Saqi Books (London).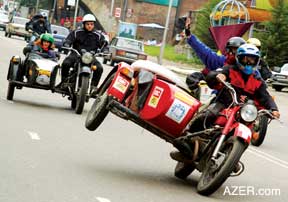 What does a book about Africa have to do with the Caucasus? "Nothing," Goltz is quick to admit.

"Nothing aside from the occasional comparative reference that can be detected between the works, and the fact that the same guy wrote all of them," says the author who was born in Tokyo. "But it was my first opus, and, thank goodness, it's no longer an orphan. Finally, it's in print. I was starting to worry that I would have to die before it saw the light of day."

The back cover describes the Shakespeare volume: "In 1976 Thomas Goltz, then a naïve 21-year-old on the trail of his errant brother, worked his way around Africa putting on one - man Shakespeare performances. This impulsive trip saw him wandering through the cities and villages of East, Central and Southern Africa. His first port of call, after hitchhiking through Eastern Europe and the Middle East, was war-torn Ethiopia. Close encounters followed, with bandits, missionaries, guerrillas, prostitutes, savvy street kids, unrequited loves and, of course, ordinary, Shakespeare-loving Africans."

Valerie Hemingway, author of "Running with the Bulls: My Years with the Hemingways", described the book: "I was thrilled, entertained, amused, and, yes, occasionally shocked by Thomas Goltz' youthful adventures and indiscretions in post-colonial Africa. A true delight. Not to be missed."

So, what's on his future agenda? Goltz says he intends to use his summer break from teaching at the University of Montana (Missoula) Department of Geography to work on two other "half-baked" projects, including the "inside story" of the creation of the Oil Odyssey motorcycle circus down the Baku-Tbilisi-Ceyhan (BTC) pipeline in 2000. "What I'm crafting is a sort of Zen and the Art of Motorcycle Maintenance performed by two dozen Alpha-type madmen."

Goltz returns to teach his graduate-school level "Introduction to the Post-Soviet Caucasus" in the Fall of 2006. He continues to push for the creation of a Chair of Azerbaijani Studies there and for even greater Azerbaijani participation in the Fifth Annual Conference on Central and Southwest Asia to be held there in April 2007. The highly successful 2006 conference included guest speakers John Fox of the US State Department, Elin Suleymanov (who presented his Azerbaijani diplomatic credentials as Consul General to Los Angeles and the 13 western US states to Montana Governor Brian Schweitzer). Mugham Society creator Jeffrey Werbock was also present and impressed those present with his lecture and kamancha performance - that delightful eerie music, native to the Caucasus.

Goltz has been a contributor to Azerbaijan International Magazine. Search AZER.com for the following articles: (1) "Khojali Massacre: Eyewitness Account on the Following Day", AI 10.1 (Spring 2002). (2) "Khojali: A Decade of Useless War Remembered",AI 10.1 (Spring 2002). (3) "X-O-C-A-L-I: How to Spell Khojali", AI 10.1 (Spring 2002). (4) "Khojali - 13 Years Later: Remember, But Be Sure to Preserve Your Souls", AI 13.1 (Spring 2005). (5) "Facts About Khojali", AI 13.1 (Spring 2005).

Most recently he ranted against what he considers to be the irresponsible construction boom going on in Baku: "The New Baku. A Disaster in the Making", AI 13.3 (Autumn 2005).

Thomas Goltz makes his home in Montana. Contact him at goltz@wtp.net.



Books by Thomas Goltz

1. Azerbaijan Diary: A Rogue Reporter's Adventures in an Oil-Rich, War-Torn, Post-Soviet Republic. Sharpe: Armonk, New York, 1998. ISBN: 076560244X.

2. Chechnya Diary: A War Correspondent's Story of Surviving the War in Chechnya. Thomas Dunne Books: New York, 2003. ISBN: 0312268742.

3. Georgia Diary: A Chronicle of War and Political Chaos in the Post Soviet Caucasus. M.E. Sharpe. Armonk, New York, 2006. ISBN: 0765617102.

5. Assassinating Shakespeare: The True Confessions of a Bard in the Bush. Saqi Books: London (UK's largest Middle Eastern Bookseller), 2006. ISBN: 0863567185.



Back to Index AI 14.2 (Summer 2006)
AI Home | Search | Magazine Choice | Topics | AI Store | Contact us

Other Web sites created by Azerbaijan International
AZgallery.org | AZERI.org | HAJIBEYOV.com