Autumn 2005 (13.3)
Pages 70-72

Tashkent Festival
Aygun Baylar Wins Music Competition
by Laurel Victoria Gray
Related Articles

Search at AZER.com
1. Nizami's Seven Beauties: Ancient Wisdom for the New Millennium by Laurel Victoria Gray. AI 13.1 (Spring 2005).
2. Alim Gasimov: Master of Mugham by Betty Blair and Pirouz Khanlou. AI 9.1 (Spring 2001).



Azerbaijan and Uzbekistan share many cultural ties - not only historical and linguistic. The dynamic nature of these connections became an unexpected dimension of my most recent trip to Uzbekistan this summer.

The focus of this, my eleventh, trip to Uzbekistan was the Fifth Sharq Taronalari (Melodies of the East) [in Azeri, Sharq Taranalari] International Music Festival, held from August 24-31, 2005, in Samarkand.

Photo: Laurel Victoria Gray.

Deemed one of the world's most important festivals of Asian music, the Sharq Taronalari Festival takes place every two years, attracting the finest professional musicians from all over the world. The competition, founded in 1997, is sponsored by UNESCO to bring together people through the beauty of classical Oriental music. This year more than 50 countries were represented.

From the first festival, Azerbaijani vocalists have shown a strong presence. Mugham singer Simara Imanova won the Grand Prix in 1997. Alim Gasimov, another mugham performer, won it in 2001 and Zabita Nabizade took second place in 2003.

My ensemble, the Silk Road Dance Company, was the very first American dance group ever to be invited to Sharq Taronalari - a tremendous honor for us. Our program featured traditional Uzbek and Tajik dances in our desire to express our great esteem for the ancient Central Asian culture.

This year, the Festival honored the 15th century Uzbek poet and statesman Alisher Navoi (1441-1501), who yearned for peace between the peoples of the world. The Uzbek people openly acknowledge Navoi's debt of inspiration to the 12th century Azerbaijani poet Nizami (1141-1209). Like Nizami, Navoi also wrote poems, which were collected and published as "Khamsa". Like Nizami, he, too, had written a poem devoted to the Legend of Seven Beauties (literally, Seven Planets).

Our Silk Road Dance Company had premiered our own productions of Nizami's "Seven Beauties" in April 2005. Somehow this made us feel so closely connected to these people despite being nearly 8,000 miles from home.

Nizami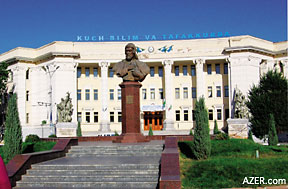 And, perhaps, Nizami really was watching over us because the Azerbaijani connections began almost immediately after our arrival in Tashkent.

Left: Statue of 12th century Azerbaijani poet, Nizami from Ganja, in front of Uzbekistan's Tashkent State Pedagogical University named after Nizami.

I had scarcely set foot in the home of one of my mentors, People's Artist of Uzbekistan Qizlarhon Dusmuhamedova, when the phone rang. "They're calling from the museum," she explained. "There's a gathering and they want you to attend."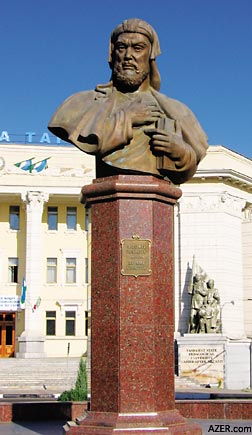 By "the museum," Qizlarhon meant the Home Museum of Tamara Petrossian (1905-1991), known as Tamara Khanim (Lady Tamara). She was the legendary singer and dancer from Uzbekistan who once risked her life to dance in public. She became their first performer to travel to Europe to perform the art of Central Asia. Born in the Ferghana Valley, Tamara Khanim eventually traveled the world, building an impressive repertoire of songs and dances of other nations, as well as collecting their traditional costumes, which are now on display at the museum.

Left: Name of Nizami is written first in Uzbek and below in Azeri. Both countries - Uzbekistan and Azerbaijan - have now rid themselves of the Cyrillic script since they gained their independence from the Soviet Union and have adopted modified Latin alphabet scripts which are different from each other.

Tamara Khanim's home has served as a cultural magnet for many decades. When I first met her there in 1984, she told me that I was her very first American guest. Leading artists were gathered at her table then, and I later discovered that her home had continued to be a hub of creative activity - even after her death.
Aygun Baylar
At the museum, we were greeted by old friends. One of them immediately introduced me to a remarkable, bright-eyed young woman, dressed in jeans and an embroidered hat. This was one of Azerbaijan's most distinguished singers - Aygun Baylar. It turned out that the party was in her honor. It was her birthday. Later she would be performing at the festival.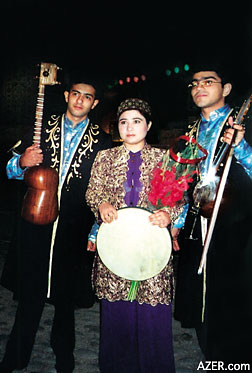 Soon Aygun and her musicians, Toghrul Asadullayev on the kamancha and Rovshan Gurbanov on tar (both traditional stringed instruments), took seats at one end of the large room.

Left: Vocalist Aygun Baylar shared First Prize with Uzbek vocalist Nodira Pirmatova at Uzbekistan's Fifth Sharq Taronalari (Melodies of the East) Competition in Samarkand in August 2005. Musicians from more than 50 countries participated.

They had barely begun the introductory melodic line when Aygun tilted her head back and began to sway, giving forth an incredibly powerful voice. We were all captivated. Qizlarhon and I exchanged glances.

This clearly was a prize-winning voice. The next day, our group of Silk Road dancers arrived in Samarkand. We would travel together with other festival participants in a bus caravan to Samarkand.
I told them about the events of the previous night. "Wait until you hear Aygun," I told them. They did not have to wait long.

Samarkand's Registan
The Festival was set against the architectural splendor of Samarkand's Registan Square, a UNESCO World Heritage Site. The Square was first built in the 15th century by King Ulugh-Bey of the Amir Teymur Empire. It took two centuries to complete the 60-meter wide, 100-meter deep, and 50-meter tall mosque and the surrounding buildings. As one of the most representative Islamic master works of architecture in the world, Registan Square was designated as a World Heritage site in 2001.

In such a spectacular setting, the Festival seemed like something out of an enchanted Eastern fairy tale. The opening concert boasted hundreds of performers.

After the Opening Ceremony on the square, the festival participants returned to Hotel Afrasiab for a gala banquet. Local Samarkand musicians and dancers performed, but even in sunny Uzbekistan, the proverbial ice had yet to be broken. Each delegation remained at their assigned tables.

Then Aygun and her musicians came to the small stage adjacent the dance floor. When she began to sing, everyone stopped talking. Like a shaman of old, Aygun altered the energy of the hall. People got out of their seats and ventured onto the dance floor. Soon the banquet hall became a lively festival of nations, with music as the common language shared by all.

Our concert on the Registan would be the high point of our trip. We were scheduled for August 29 and would be performing on the same night as Aygun - the final night of the festival when some of the strongest performers were slated to perform.

Our group's presentation of traditional dances - Samarkand Ushori, Saname, Keling Gular, and Guldasta - were warmly received and we heard enthusiastic chants of "USA! USA!" from the audience.

A bit later, someone whispered: "It's time for Aygun," and we watched as she walked onstage with Toghrul and Rovshan. By this time, the other artists had heard her sing at informal gatherings and were waiting to see how she would fare in the competition.

Each country had only been allotted 20 minutes. A few countries, Azerbaijan included, had sent two delegations, so that meant they had to share the precious time on stage. Aygun would have only 10 minutes in which to demonstrate her mastery of the traditional modal music of mugham. We wondered if she could do it.

The musicians began to play and soon Aygun's voice - powerful and confident, resounded throughout the legendary Registan Square. George Curzon, a 19th century British traveler to the region, had described the Registan as "the noblest public square in the world." And there we were - sharing a night listening to this enchanting music of remarkable artists from all over the world, as diverse as the Seven Beauties by Nizami. For example, there were performances of Uzbek-Tajik makom (mugham), Indian raga, Turkish national songs, Kirghiz manas, Azerbaijani mughams, Iranian dastgahi, Turkmen dastans, Japanese labor songs, Korean and Chinese traditional melodies and songs, and Arabian maqams (mugham).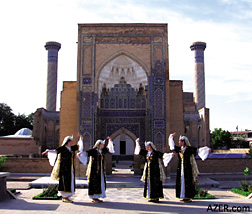 In the East, one of the measures of artistic performance is its ability to inspire, to enlighten, and to elevate human beings beyond the mundane to a higher spiritual plain.

Left: Members of the Silk Road Dance Company, a dance troupe organized by Laurel Victoria Gray. This is the first time an American dance group has ever been invited to the Sharq Taronalari Festival in Samarkand, Uzbekistan.


Such is Aygun's gift. Our thoughts soared with her voice, making us yearn to live together in peace. And if we could live together like this for a week, perhaps we could do it for a month. And if for a month; perhaps, for a year. And if for a year, then why not longer?
All too soon her performance ended. Soon it would be time for the jury to announce the Festival Awards. I didn't envy their task. In 1997, I had served as a member of the jury on the very first Sharq Taronalari Festival. I knew first hand the challenges they faced. This year, some of the participants had given exceptionally strong performances. In the end, the judges decided to share the prizes, which seemed a wise decision.

Surprisingly, the Grand Prize of the festival was not awarded this year. Instead, the prize money was distributed between artists who tied for first, second and third places.

Third place went to musicians from South Korea, Bangladesh and Israel. Second place went to artists from Kuwait, Italy and Mongolia. Musicians from Afghanistan endeared themselves to all with their songs about Samarkand and were awarded a special UNESCO Prize. Our friends from the El Qamia Ensemble, an instrumental group from the Cairo Opera House, earned a Special Award from the jury.

And then there was Aygun. Aygun Baylar took First Place along with Uzbek vocalist Nodira Pirmatova. Both shared the highest accolades of the festival, and both were awarded for "Best Performance of a National Song."
Founder and Artistic Director of the Silk Road Dance Company, Laurel Victoria Gray is the recipient of the Kennedy Center 2003 Local Dance Commissioning Project Award and the International Academy of Middle Eastern Dance (IAMED) Awards for Best Choreographer (2003) and Best Ethnic Dancer (1999). Her articles have appeared in academic and popular publications. In 1984, she founded the Uzbek Dance and Culture Society (UZBEKDANCE.org). In 1994 she established the annual Central Asian Dance Camp. Gray teaches dances of the Islamic World as Adjunct Faculty at George Mason University in Fairfax, Virginia, and George Washington University, Washington, D.C. Visit: LAURELVICTORIAGRAY.com. Contact Gray: Qyzylbosh@aol.com.

Back to Index AI 13.3 (Autumn 2005)
AI Home | Search | Magazine Choice | Topics | AI Store | Contact us

Other Web sites created by Azerbaijan International
AZgallery.org | AZERI.org | HAJIBEYOV.com