Autumn 2005 (13.3)
Page 80-83

Soccer Balls
Across the Miles in Friendship
by Nicolette Iribarne
Also in this article:
1. Rovshan Writes - Thanks!
2. Involvement of "Save the Children" humanitarian organization with the Soccer project


Nicolette Iribarne, 17, lives in Southern California. A senior in high school, one of her favorite pastimes is playing soccer on a girl's team. Realizing that kids all over the world share her passion, Nicolette and her girlfriends came up with the idea of collecting soccer balls and sending them to less privileged children throughout the world so they could play, too.

Photo: Nicolette Iribarne.

This summer, Azerbaijan International's editor Betty Blair carried the first suitcase of soccer balls (with the air squeezed out of them) from Nicollete's project to Baku. She then passed the balls to the humanitarian organization "Save the Children" who, in turn, distributed them among refugee children in the city of Mingachevir in north central Azerbaijan.

Thanks goes to Nicolette, her little sister Gabriela and their friends who pursued their goal of sharing their passion for soccer with other kids around the world. Here's Nicolette's story about how the project got started.
It all started so simply - a simple night, a simple meal, a simple idea, and a gigantic dream. I think it must have been a Friday night. My family and I were seated at the dinner table. An extra place had been set that night; my friend Vail had joined us for dinner. The evening was not much different from other nights except for the idea that sparked our imagination, exploding like fireworks.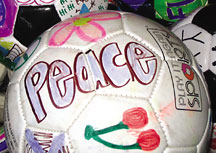 My life has always revolved around travel and culture. My father comes from Argentina and we speak Spanish in our home even though my mother is a native English speaker. Last summer I had the chance to tour Mexico, Spain, and Portugal with 300 other kids from 48 countries with a program called Ruta Quetzal. On that trip I discovered how difficult it was to interact with other young people since there were so many cultural differences. Yet, I also discovered a marvelous truth: behind the cultural shields that we so often hide, we all share the same essential human nature. There is no language that has a monopoly on laughter, tears, smiles, happiness, or sadness. We are all connected: we are all human beings.

Despite this incredible realization, I also experienced the disappointment of prejudice and ignorance, and the searing pain of hatred on that trip. In Spain, some of us were viciously attacked simply because we were Americans. One afternoon, my friend Oscar draped an American flag around his shoulders after a ceremony. Many of the kids used to do that: there was nothing unusual about it. Except we had forgotten about the Madrid Metro incident [March 11, 2004] - the worst terrorist assault in modern Spanish history, which killed nearly 200 people and wounded another 1500. Many Spaniards believed there was a relationship between the U.S. involvement in Iraq and this attack.

Suddenly, there we were - just a bunch of kids - when a group of Spaniards came up and grabbed our flag, almost choking my friend. I saw hatred burning in their eyes, as they set the fire to the flag with their cigarette lighters. It was the most shocking thing I had ever experienced. Never before had I ever been targeted for acts that I myself was not responsible for or for policies that I had nothing to do with. I was attacked simply because I came from a certain country.

I think that experience has made me want to help others who also have been innocent victims of ignorance and hate. I remember how that night at dinner we sat around the table talking about the world, its endless problems, and our desire to do something - however small - to alleviate the pain. My mom who teaches English to refugees - mostly Cambodian - at a local high school shared her experiences with us. Vail and I, both intrigued, began to think of what we might do. Then she got the idea of collecting soccer balls and sending them to children all over the world. That's how the idea was born. Since Vail and I both play soccer on the same team, we know how popular soccer is all over the world.

I've had the privilege of playing soccer on the streets of Rio de Janeiro [Brazil], next to a field of elephants in Thailand, in a grassy field in Honduras, and at home in California in a modern soccer complex. Basically, all you need is a ball. I think my travels made me conscious that a proper soccer ball in the hands of a refugee child would be much more exciting than a crudely - made homemade ball of leather and string. To refugee children, a soccer ball could be wonderful recreation - a sign of hope, and a much - needed symbol of comfort that the world had not forgotten them.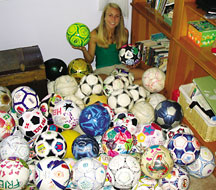 Starting the project
My mom was a great support. When I told her that I wanted to send soccer balls to refugee camps all over the world, she never doubted me.

Left: Nicolette Iribarne, who organized the project to collect soccer balls to send to refugee children. Nicolette attends Mission Viejo High School in California and has been playing soccer for the past 12 years.


Instead of bombarding me with a list of questions of how impossible it would be, she rushed me upstairs to the computer so I could start sending out emails.

Since then, I think I've sent out approximately 200 emails, maybe more. I wrote everybody I knew, asking for their support and trying to find refugee children to whom I could send the balls. At first I was really discouraged. People were slow to respond. I sensed their skepticism. But there was one person who was very patient - Oliver Wyss who heads an organization called Soccer for Hope.

I realized that starting my own non-profit organization would be really very time consuming, but Mr. Wyss was kind enough to invite anyone who wanted to donate to my new plan - Futbol 4 Refugees - to write checks to his organization. He raises money to help children with life-threatening diseases. He told me he would set aside the checks so that I could use them later to buy or ship balls and pumps. The most exciting thing, however, was his promise to donate 25 balls "right off the bat", no questions asked. His overwhelming generosity and enthusiasm motivated me to continue my project.

Since then, I have introduced my project by speaking at soccer camps, parent meetings, and with several coaches. Naturally, some people have been more responsive than others. Some people didn't believe me. On the other hand, sometimes the overwhelming generosity of people amazed me and warmed my heart.

One day I asked one of my best friends Cierra Conger to talk with her soccer team. The next week she showed up with three bags full of soccer balls. Her coach Lami had decided to donate 25 of his soccer balls. Another week I received a call from Marissa Pena who filled the entire trunk of our car with soccer balls.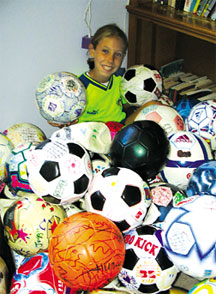 I should mention my little sister's soccer team as well. Parents, the manager, and all of the girls have been so enthusiastic in supporting my project. They donated around 50 of their own soccer balls. Everybody got so excited about decorating the balls. They were thrilled that their balls would be given to other children.

Left: Nicolette's younger sister, Gabriela, also a member of a girls' soccer team, got involved to help her sister collect soccer balls for refugees. The balls were sent in friendship to Azerbaijan refugees in Mingachevir via Azerbaijan International and "Save the Children" which does humanitarian work in the camps.

I found it so exciting that these girls - though younger than 10 years old - truly understood that they could bring hope and a smile to another kid on the other side of the world. Even though some of the balls were used, when we decorated them, they were so brightly colored and so cheerful looking.

We decorated the balls with hearts, rainbows, people holding hands, sunshine and flowers - all trying to express love, peace, hope, and friendship. With our colored pens, we wanted to show that we are all the same. We are all connected.

I've encountered inspirations and disappointments in my effort to getting my project started. So far, I have sent balls to refugee children in Azerbaijan. I still have about 100 balls in boxes in my bedroom and more have been promised. I want to collect more. I hope the children understand them as a symbol of peace, an act of love and hope.

The project has only just started and I hope it never comes to an end. Actually, the project isn't really just about collecting soccer balls, it's really about helping people. It's not our differences that make us stronger; it's the things we share - our similarities. I believe that even one small kind act can warm someone's heart even when his stomach cannot be filled. An act of kindness extends far beyond the distances traveled by the airplanes and cars that deliver these soccer balls.
Above: Some of Nicolette Iribarne's friends and fellow soccer teammates in California who helped collect the soccer balls for refugees in Azerbaijan. After collecting the balls, they decorated them with designs and special messages because they wanted to express their friendship across thousands of miles to other kids who they knew loved the same sport.

Get involved: Help Refugee Kids! Donate soccer balls, pumps or needles. Contact futbol4refugees@hotmail.com.

The true, ultimate moment is when a refugee child grasps that ball, and two hearts unite in an act of pure love. In that moment of giving and receiving, we are all connected, we are all the same. In fact, in the end, I don't know who receives the best gift: those who receive the balls or those of us who had the chance to give them.
______
Rovshan Writes ­ Thanks!
Note: Rovshan, one of the receipients of the soccer balls wrote back to Nicolette and Gabriela. We publish his note of thanks here.
Hello dear Nicolette and Gabriela,
My name is Rovshan. I am a refugee from the city of Aghdam. Many of the things that I used to play with had to be left behind in Aghdam [when we fled because of the war with Armenians in 1993]. Among the things that I couldn't bring out were my soccer balls, which I loved to play with.

Now we are living in the city of Mingachevir [in northwest Azerbaijan]. Our situation is not good. My parents cannot afford to buy me the toys I like. I love soccer so much. When we lived in Aghdam, I used to play on a soccer team. I used to play soccer with my friends there. But when we came here, there wasn't a soccer team. There weren't any balls to play with. This really made me sad.

I became a volunteer at the Children and Family Support Center here so that I would have something to do during my free time. It's very interesting here. We have lots of balls in this center. I love to play with them. Today, I came to the center as I do every day, and I heard some news that made me very happy. I heard that Nicolette and Gabriela from California had sent soccer balls to us. I had long wished for a ball and it came true. I thank you for caring. I will form a soccer team again. We will play with these balls with other children.

When I grow up, I'm going to do something kind and benevolent like you have done. I will do my best to help those in need because it is a great happiness to make children smile.

Thank you, my dear friends.
Rovshan
______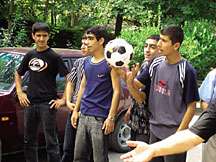 Save the Children
Save the Children Federation, Inc. (SC) is a leading international non-profit child-assistance organization working in more than 45 countries worldwide.

Left: Refugee youth in Azerbaijan enjoying their new soccer balls from Nicolette Iribarne and friends. Save the Children distributed the balls to young people in Mingachevir, a city in northwestern Azerbaijan.

Its staff first began working in Azerbaijan in December 1993 when the country urgently needed humanitarian aid in response to the displacement of hundreds of thousands of Azerbaijani citizens due to the war with neighboring Armenia over the region of Nagorno-Karabagh. Initially, SC managed an umbrella grant program funded by the U.S. Agency for International Development (USAID), through which it funded and coordinated humanitarian relief projects but in 1998, it shifted its focus to development programs and is now one of the leading development agencies in Azerbaijan. Presently, Save the Children is implementing various programs related to education, health, economic opportunities and community development.

One of the current projects is the community-based Children's Support Program (CCSP) implemented in partnership with a local NGO (non-governmental agency), United Aid for Azerbaijan (UAFA). With financial support from USAID, the program seeks to promote social integration and community capacity to care for vulnerable children in three regions in Azerbaijan-Shuvalan (Baku), Mingachevir and Goranboy. The program is implemented in three stages: community mobilization, provision of support services (service delivery) and advocacy for improved care. It basically provides education and economic opportunities for vulnerable and disabled children. CCSP has been operating for less than one year and has already established three Children and Family Support Centers (CFSC). Due to the different needs in these communities, various services are offered in these centers. The activities and services offered at the Centers are open not only to vulnerable children, but to all of the children of the community.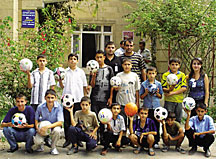 Gift from California
Mingachevir has a substantial refugee population because of the war. Thousands are still living in school buildings and abandoned construction sites.

Left: Teams in Azerbaijan get a big boost from the gift of soccer balls.

The CFSC staff recently decided to focus their efforts on providing this extremely vulnerable segment of the population with recreational sports.
With the help of Nicolette Iribarne and other young soccer players from California, a number of soccer balls were given to the refugee children, and a series of matches were organized by CFSC staff.

Three soccer teams were formed amongst the children in the Kur, Galajak Namina and Sagh Sahil communities. Winners were awarded with soccer balls, and the remaining balls were shared among other children. The soccer balls have provided a big boost for the recreational program in these communities.


Back to Index AI 13.3 (Autumn 2005)
AI Home | Search | Magazine Choice | Topics | AI Store | Contact us

Other Web sites created by Azerbaijan International
AZgallery.org | AZERI.org | HAJIBEYOV.com