Autumn 2005 (13.3)
Pages 24-27

Montana and Azerbaijan
Beyond Pipelines and the Oil Odyssey
by Hannah Johansen


In 2002, Hannah Johansen, who lives in Montana joined Thomas Goltz on his Oil Odyssey that traveled entire length of the Baku-Tbilisi-Ceyhan (BTC) pipeline. It was a grueling 1,100 mile journey by motorcycles and sidecars. But the story doesn't end there. Hannah stayed in touch with one of the refugee youth whom she met on the trip and now has played a determining role in his life-by arranging to pay for the dowry of his bride.

Photo: Hannah Johansen

Here's Hannah's story as published in the Montana newspaper, Big Sky Weekly, "Local Resident Hopes to Make Big Sky a Sister City to Azerbaijan Refugees" by Leigh Ripley in July 2005. Reprinted with permission.
-----

The people of Big Sky, Montana, have proven over and over what big hearts they have - from supporting local and world - wide athletic programs to rebuilding communities ravaged by the tsunamis. One Big Sky resident has an entire refugee camp thanking her, and now she is inviting others to join her in doing good will to others.


Above:
1. In front of the Government House on Freedom Square (formerly Lenin Square), Baku.
2. Bikers driving parallel to the pipeline and the Caspian Sea.
3. Old "nodding donkeys" pumping oil in Azerbaijan.
4. The route passed through big cities, as well as small remote mountain villages in the Caucasus.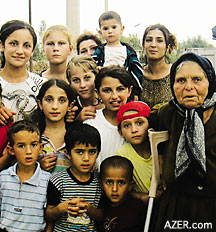 In August 2002, Hannah Johansen accompanied regional author Thomas Goltz on one of his Oil Odyssey motorcycle tours through Azerbaijan, Georgia and Turkey.

Left: Refugees in one of the camps in Barda came out to greet the Odyssey bikers.

The Oil Odyssey venture was conceived by Goltz in 2000 to draw attention to the lives of the people living along the nearly 1,100-mile pipeline route. On his 2nd and 3rd Oil Odyssey, Goltz brought along musicians and an ethnic folk dance troupe from Baku, Azerbaijan, to provide some much-needed fun and entertainment for the camps and remote villages along the route (think Shakespeare in the Parks at Big Sky).


With the intention of sharing her knowledge and skills related to massage and heart yoga with the refugees in the camps, Hannah accompanied Thomas on his Third Oil Odyssey, and embarked on what would be a life-changing journey.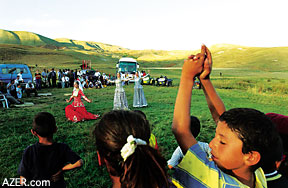 From Hannah's journal: August 27, 2002. "We rolled into the Tent City at Barda on our bikes. I was unprepared for what I saw. Masses of people awaited us.

Left: Children keep time with the music for the Azerbaijani folk dancers who accompanied the Odyssey bikers by bus and who performed in various villages along the Odyssey route.

The music was already playing and people swarmed around our bikes. There was a carnival-like atmosphere. They gave us such a welcome! A small child came up to my bike and, at her father's prompting, she presented me with a bouquet of flowers. He thrust her into my arms and she started to cry. A young man then came up to me and, in very broken English, asked: "Madam, may I show you our camp? "This was the beginning of the journey between Elnur Ganimat, a 22-year-old resident of the tent city in the Barda region of Azerbaijan, and Hannah Johansen, a 55-year-old grandmother from the Big Sky Resort in Montana. After returning to Montana, Hannah met Thomas to pass on a package of photos and small gifts to be delivered to Elnur's camp in Azerbaijan. This small effort opened up a world of hope to the refugees, especially for Elnur.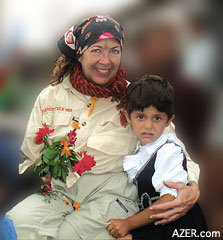 Email to Refugees
Hoping to help Elnur improve his English, Hannah and Elnur maintained their friendship via e-mail correspondence.

Left: Hannah Johansen being greeted in the Barda refugee camp with flowers from a young child.

Although Elnur didn't have a computer of his own, he regularly found a way to get into Barda and use the computers at an Internet Café, which had been set up by a humanitarian agency for refugees.

Elnur wrote about the struggles of living in a refugee camp. In Elnur's camp alone there were some 5,000 refugees representing 1,200 families. The conflict between Armenians and Azerbaijanis living in Nagorno Karabakh - part of Azerbaijani territory - erupted in 1988. By the time the Soviet Union collapsed in late 1991, it had grown into a full-fledged war.


By the time a cease-fire was signed in 1994, tens of thousands had been killed and nearly one million people were left homeless. The vast majority of victims were Azerbaijanis. More than ten years later, armed clashes continue sporadically along the cease-fire line.

In one email, Elnur wrote: "You ask me about the needs of the people in our camp? You've been here. You've seen what bad conditions we live in. I cannot explain all of them. First, we are in need of food. We are suffering from lack of food. Second, we are in need of spiritual help. How you have helped me! We do not know how much longer we will be refugees, and when we will escape from this trouble. For many years, we lived in a tent. Just imagine. It was not possible to survive the cold winters. Some children got frostbite and died. But now we live in a reed house. Of course, it is difficult to live in it but somehow we manage. There are many men and women and children here who have lost their homes."

In April 2004, Elnur wrote Hannah, telling her that the Azerbaijani government had plans to move part of the refugee camp to a new settlement. If Elnur were only able to get married, he would have a house in the new settlement. However, in order to get married, he would have to find a way to pay a dowry to the bride's father.

In less than two months, Hannah had found a local resident in Montana with a big heart who was willing to assist her in Elnur's request for the bride's dowry. Tim Blixseth, developer of the Yellowstone Club at Big Sky, contributed the funds and became the sponsor (fairy godfather) for Elnur's wedding. With Blixseth's help, Hannah gave Elnur encouragement, hope, and freedom to start a life for a family of his own.




Above left to right: 1. Elnur Ganimat and his bride whom Hannah helped to provide the dowry so they could get married. 2. Elnur's new home. 3. The new baby.

In March 2005, Elnur wrote Hannah: "Dear friend...our country has a journalist in your country and she works for Voice of America. I know her email. I'll write her so she can meet you and let the world see what a kind-hearted woman there is. How you have helped the helpless refugees. Sincerely, your friend, Elnur."

Two months later, Hannah was contacted by Dilshad Aliyarova of Voice of America (VOA), Azerbaijani Section in Washington, D.C. According to Hannah, what she has given to Elnur and his camp, they have given back to her tenfold.

At this time, Hannah would like to invite the Big Sky community to join her in establishing relationships with other residents in Elnur's refugee camp.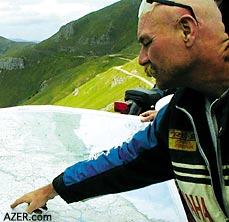 "If we could provide the camp with a few of their own computers and internet access and a building, Elnur and I could help create access to life - enhancing pen - pal opportunities for residents of the Barda Camp and Big Sky," said Hannah. "Often when we donate money to humanitarian foundations, we never know where the money ends up. This program would provide opportunities for friendships that could transcend cultural, political and economic boundaries.

Left: Thomas Goltz who conceived of the Odyssey trip to take motorcycles and sidecars along the 1100 mile Baku-Tbilisi-Ceyhan pipeline route across three countries from the Caspian shores of Baku, via Georgia,to the Mediterranean coast of Ceyhan in Turkey. Goltz organized the trip on three occasions in late summer 2000, 2001, and 2002. Goltz lives in Montana but has been writing about the Caucasus for about 15 years.

If a Big Sky pen pal decided that they wanted to help out their refugee family in any way, Hannah and Elnur could serve as the "go-betweens" to facilitate it. "Some communities have 'Sister Cities'," noted Hannah, "perhaps Big Sky can have a 'Sister Refugee Camp'. Perhaps our community could feel empowered to help create a peaceful world by creating peace between people, one relationship at a time."

Contact Hannah Johansen: Hantana@aol.com or Thomas Goltz: goltz@wtp.net.


Back to Index AI 13.3 (Autumn 2005)
AI Home | Search | Magazine Choice | Topics | AI Store | Contact us

Other Web sites created by Azerbaijan International
AZgallery.org | AZERI.org | HAJIBEYOV.com