Autumn 2004 (12.3)
Page 20


Azerbaijan's Olympic Winners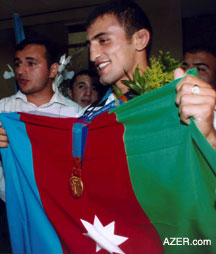 Left: Farid Mansurov displays the Gold Medal he won for Greco-Roman Wrestling.

Azerbaijan Republic participated at the Olympic Games in Athens that took place in August 2004 and won one Gold and four Bronze medals. One of Iran's Gold medalists was an Azerbaijani who also took Gold.

Gold Medals
Farid Mansurov won the Greco-Roman Wrestling ( 66 kg). This was the only Gold Medal for Azerbaijan Republic in the 2004 Olympic Games in Athens.

Hossein Reza Zadeh, an Azerbaijani from Iran, won the men's 105 kg weightlifting event and set a world record of 263.5 kg (579.7 lbs) in the Clean and Jerk in the Olympic Super Heavyweight Weightlifting Competition. Reza Zadeh also won Gold at Sydney 2000.



Bronze Medals
Zemfira Meftakhetdinova, in Skeet Shooting (Women's Skeet). She won the Gold for the same event at Sydney 2000.

Irada Ashumova, in Pistol Shooting 25 meters with 687.3 points.

Aghasi Mammadov, in Boxing, Men's Bantam Weight (54 kg).

Fuad Aslanov, in Boxing, Men's Fly Weight (51kg).


From Azerbaijan International (12.3) Autumn 2004.
© Azerbaijan International 2004. All rights reserved.

Back to Index AI 12.3 (Autumn 2004)
AI Home | Search | Magazine Choice | Topics | AI Store | Contact us

Other Web sites created by Azerbaijan International
AZgallery.org | AZERI.org | HAJIBEYOV.com