Autumn 2004 (12.3)
Pages 44-45

Hidden Treasures
Calling All Book Lovers
by Gulnar Aydamirova





A tour through the Baku's Old City wouldn't be complete without visiting its one and only book shop-Book Store No. 97. It's a small, rather non-descript shop, at least from outward appearances. In fact, it's rather easy to miss this little shop despite its prime location directly behind Baku's most famous landmark - the Maiden's Tower.

Enter the shop and you immediately sense that you're in the presence of someone who has a great love for books. And it's true. Elman Mustafayev, who manages the shop, has spent the last 36 years involved with books.

The walls of the small single room of this bookstore are painted in a subtle shade of pastel bluish gray, depicting scenes from medieval Azerbaijani literary works - Nizami, Fuzuli and Nasimi. One scene shows a game of chess being played in medieval times. According to Elman, the paintings were done in 1978 when the bookstore was first established. Prior to that, the building had been used as a shop for roasting sheep innards - intestines, livers, kidneys and other delicacies-often considered 'poor man's food'. But then the building caught fire, and the Soviet municipal government decided to use it for something else. At first, they considered opening a flower shop, but eventually settled on turning it into a bookshop.

Browse till Your Heart is Content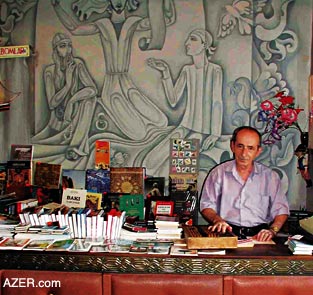 Elman's quiet and calm demeanor encourages customers to spend all the time they want browsing through the books. As he likes to say: "Once they asked Marx what his favorite activity was. 'Browsing through books', he replied. And so like Marx, we want our clients to browse through the books as much as they want."

Left: Elman Mustafayev manages the bookstore behind
Maiden's Tower - a wonderful treasure cove of books
related to literature, art and history.

Elman offers quite a wide, well chosen, selection of books. They're mostly related to his own interest in the humanities, not hard sciences.

The major sections of the store deal with literature-epics, poetry, novels and short stories. But he offers history and art books as well. Primarily, the books are published in Azeri and Russian, but English, French, German, Persian, Arabic and Turkish are also offered. There's even a Russian-Chechen dictionary that was published earlier this year in Baku since there are quite a few Chechen refugees in Azerbaijan these days.

Elman is always quite willing to offer advice to his customers. He has read most of the books that he sells. His list of favorite authors is quite long - Nizami, Fuzuli and Nasimi among Azerbaijan's classic poets; Firdowsi, Hafiz and Sadi from Persian literature; and Shakespeare, Byron, Balzac, de Maupassant and Kafka among Western writers.



Elman began working at this Book Store No. 97 in 1985. Prior to that, he had pursued other professions, starting out first as a cook.

Then he took up electrical engineering and music. In fact, he used to play tar, a traditional stringed instrument in the National Folk Instruments Orchestra. But it was his love for books that caused him to take up Bookstore Management with the Department of Book Science of Commodities and Bibliography at Baku State University.

Elman says he could have entered other professions and made more money, but that money was never his main goal in life. His greatest joy comes from being surrounded by books and sharing their knowledge and wisdom with others.

He gets great fulfillment when people express their gratitude to him - when they tell him that they wouldn't have been able to find a specific book without his help. He feels that by propagating books, he helps to raise the intellectual, cultural and scientific level of the community, and he takes great pride in knowing that many students earned their Master's and Doctorate degrees and some have even become Academicians with the help of books from his shop.

Current Trends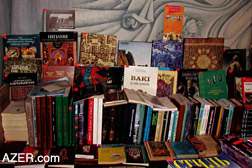 Though some people think that interest in books is waning, Elman thinks the opposite is true - that people are becoming more interested. "This is a transitional period," he observes. "It's just that people don't have the financial means to buy books. Besides, they're much more expensive now than they were during the Soviet period."

Elman says that after Azerbaijan gained its independence, there were changes in people's attitudes towards history, literature and many other different spheres. And so people are getting more interested in books, especially Azerbaijani history.

"During the Soviet period, the Communist perspective was propagated," he observes. "Now people are hungry to read books that reflect our true history. They are eager to learn about our roots." Elman identifies the younger generation - mostly students - as being among his major clientele. Quite a few foreigners also visit his bookstore.

Elman is quite optimistic about the future of Azerbaijani literature. He says that even though there are numerous shortcomings in book publishing these days, still the government is trying to carry out important measures to overcome these difficulties.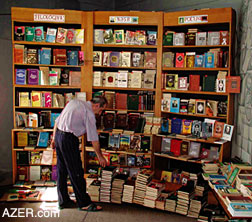 For example, in Spring 2003, President Ilham Aliyev signed a decree to republish Azerbaijan's Classic Literature and World Classic literature series in the new Latin alphabet. These volumes existed in the past but in the Cyrillic alphabet.

Now with independence in late 1991, Azerbaijan has adopted a new modified Latin alphabet. So now the classic literature is starting to be republished.

Elman sees this as a great contribution to the young generation because children are being taught the Latin script at school and many of them can't read Cyrillic any more. Another significant milestone will take place when Azerbaijan's Encyclopedia is published.

Of course, there are some drawbacks and disadvantages today when compared with the Soviet period. Since independence, many people have started
to write and since there is no censorship, the quality of works - whether it be prose or poetry is not very high. "Of course, no one should interfere with this process, but literature demands quality," he says. "It's important to raise the level of taste among readers so that they will choose quality works themselves. That way, the bad writers won't succeed in selling their works and the level of literature will rise."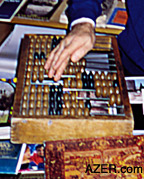 There's one more unique feature about Elman's bookstore. He still offers some of the cheapest prices in town. Maybe that's why there's always clientele in his shop, no matter what time you stop by. Elman still likes to use an abacus for totaling the sales. He has a calculator, but prefers the abacus because it has been used from olden times. "One doesn't have to rely on electricity to use it. Nothing can ever go wrong with it. It can never confuse you," he says.

The more books Elman sells, the happier he is not just from a commercial point of view. It's more important for him to know when people read the intellectual level rises. For Elman, nothing offers greater spiritual value than do books. No matter how much computer technology or the Internet develop, nothing will ever take the place of physically holding a book that you dearly love in your hands.




From Azerbaijan International (12.3) Autumn 2004.
© Azerbaijan International 2004. All rights reserved.

Back to Index AI 12.3 (Autumn 2004)
AI Home | Search | Magazine Choice | Topics | AI Store | Contact us

Other Web sites created by Azerbaijan International
AZgallery.org | AZERI.org | HAJIBEYOV.com