Autumn 2004 (12.3)
Pages 86-87

Azeri Beary
Stuffed Animals and Adoption Realities
by Diane Proctor




These days, it's very popular in the United States for parents to tell their adoptive children about their early beginnings. The tendency is to share such crucial information, not to hide it and not to surprise children with the reality of their origins later in life. Families want to instill within their children that they have been chosen to become a vital part of their family because they are dearly loved.

Many of the families, which are adopting children from Azerbaijan, are finding creative ways to present this information. The tendency is to initiate the process at a very young age, often in a storybook format.

The procedure of adopting a child in Azerbaijan entails two trips to Baku, the capital. The first journey involves meeting the child, and then going before a judge who ascertains for the State that the family is stable and reliable enough to take care of the child. A second trip follows, usually about a month later, to bring the child back home.

Diane Proctor and her husband Ben of Albany, Georgia, and their three biological children, came up with the idea of taking a little toy stuffed bear to the little girl who would soon be joining their family. Later Diane decided that the bear would be the perfect protagonist to introduce the concept of adoption to their little new family member.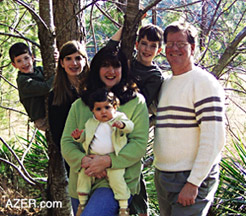 Left: The Proctor Family: (left to right) Micah, Miranda, Mother Diane holding her daughter Madeline, Benjamin and Father Ben.

Diane loves bears herself. That's why she chose this stuffed animal and named it "Azeri Beary". She involved their other older children in the book-making process. Their 12-year-old daughter Miranda designed the art for the front and back covers. Their oldest son, Benjamin, introduced the element of tree-climbing into the story, and their youngest son Micah, contributed the term, "Cotton Candy Sky" - which he had coined at age two - to mean a sunset sky of puffy pink and blue clouds.

Diane took photos of the little stuffed bear during the entire process - filling out documents, packing for the trip, flying on the airplane to and from Baku, and visiting the orphanage where their daughter Malahat was living.

Now Malahat is back with them in the United States. They call her "Madeline" now. She loves her personalized storybook about Azeri Beary. The story is deliberately written in simple language for a young child to understand and enjoy.

Diane says: "When I read the story, Madeline looks up at me with her big brown eyes and makes the baby sign for 'more'. So we usually read it at least twice at each sitting."

"We plan to use 'adoption' as a 'household word'. We want Madeline to be proud of who she is, and how she came to be a part of our family. Being adopted is part of her heritage. It's part of what makes her so special. It's part of the treasure that is Madeline."

"I just wish Azeri Beary really was able to talk," Diane continues, "and that she could tell us what Madeline's day-to-day life really was like in the Baby House during those first months of her life before she entered our lives. The workers really seemed to care for the children there. I could see it in their eyes as they looked on when we visited Madeline. Our adoption experience was one of miraculous joy. I want Madeline to catch a glimpse of that as she grows up."

Visiting Azerbaijan on those two trips was a positive experience for the Proctors. "I loved Azerbaijan," Diane admits. "I loved the people. Even strangers made us feel welcome. We come from such different worlds, but we have one very special thing in common - Madeline. The history and culture of Azerbaijan is amazing, and we want to cultivate within her and within all members of our family a deep appreciation of the country from which our youngest member has come."

Azeri Beary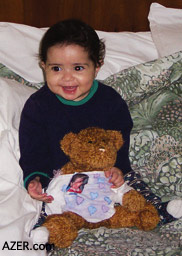 Once upon a time, there was a wee little bear named Azeri Beary. She loved to climb trees and smell flowers. She loved rainbows and Cotton Candy skies. She lived with a nice family in a big house. There was a Daddy, a Mommy, a sister and two brothers who wanted to find a baby sister to join their family. They prayed and asked God to help them find a very special little girl. Azeri Beary prayed, too.

One day, the family found out about a tiny, little girl who lived in a far-away land called Azerbaijan. Her name was "Malahat", which means "charming". She was just like her name, very charming and very, very special. She lived in a Baby House. She didn't have a family, but there were many nice ladies in the Baby House that took good care of all the children that lived there. But, still, it was not the same as Malahat growing up in her own family.

Mommy made gifts for the baby. She also made a special shirt for Azeri Beary. The shirt had Malahat's picture on it. Azeri Beary was going to get to travel to meet the new baby. She would also have a very special job. Azeri Beary's job was to stay at the Baby House with Malahat until the Mommy and Daddy could come back to take her home. That way, Malahat wouldn't be alone. Azeri Beary was so excited about this adventure. She helped to pack all the things they would need for their long journey. She picked out the clothes and toys to take to Baby Malahat.

The family even picked out a new name for Malahat so that it would be easy for people to remember in her new country. Her new name would be "Madeline Faith". Azeri Beary liked the new name very much. She couldn't wait to meet Madeline. Very soon, she would do just that.

Finally, the day arrived! The Daddy, Mommy and Azeri Beary went to the airport. Azeri Beary was amazed at how big the airplane was. It would be a very long journey to Azerbaijan. But, Azeri Beary was ready! Azeri Beary got to sit by the window. She looked down at the world and wondered: "What would Madeline's world look like? Would there be trees? Flowers? Rainbows? Cotton Candy skies? She couldn't wait to get there. Go!!! Airplane, go!!!"

The next day, they finally arrived in a big city called Baku. It was a very ancient and beautiful place. They met Ali, Zarina and Mehriban who were very kind helpers. The next day, Ali took them to the Baby House to meet Madeline. The Baby House was big and old, but the rooms were bright and cheerful. Azeri Beary was excited and nervous. She really wanted Madeline to like her.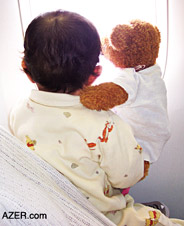 Left: Madeline and Azeri Beary looking out of the window of the plane on Madeline's trip to the U.S. to join the Proctors.

Soon, a nice lady brought Madeline to the Mommy and Daddy. Madeline was very scared and she cried. The Mommy and Daddy played and played with her. Soon she was smiling and laughing. Madeline liked Azeri Beary, too. She smiled when she touched her soft fur. Azeri Beary thought that Madeline was the most beautiful baby in the whole wide world. Everyone was happy. The next day, they played with Madeline some more. Azeri Beary taught her to play games like "Peek-a-boo" and "Pat-a-cake". Madeline liked the gifts that Mommy had made.

Then it was time for the Mommy and Daddy to go home. They were sad. They wished Madeline could come home then, but they had to wait. They kissed Madeline goodbye and promised to come back in 30 days to bring her home. Azeri Beary promised to take very good care of their baby girl. Then the Mommy and Daddy left for home - back to the United States.

In the Baby House, Azeri Beary and Madeline had lots of fun. She made sure that Madeline got plenty of good food to eat. They soon became best friends. Azeri Beary liked to tell Madeline stories about home and family. She showed Madeline all the toys that they brought for her. They played and played and played. Azeri Beary did a great job of taking care of Baby Madeline.

Before long, it was time for the Mommy and Daddy to come back. Azeri Beary and Madeline were playing in her crib. One of the kind ladies brought Madeline and Azeri Beary into a new room. Guess who was waiting for her? MOMMY AND DADDY!!!

They were so glad to see Madeline! They took her in their arms and kissed her. She smiled. She wasn't afraid this time. Soon they packed Madeline's things and said, "Good-bye" to the kind ladies. They left the Baby House and started off to be a family.

They stayed in a hotel for a few more days. Mommy and Daddy were very happy finally to hold their baby in their arms. They did everything together. Azeri Beary slept with Madeline every night. Very soon they would be back home. Azeri Beary will always be there to sleep with her friend, Madeline - her Forever Friend.

When it was time to get on the big airplane, Madeline wasn't afraid. She wasn't sure what was going on. But, very soon, she would meet the rest of her forever family. As they flew over the ocean, they looked out the window. Madeline wondered about her new world. She wanted to see trees and flowers. She wanted to see rainbows and Cotton Candy skies. Azeri Beary had told her so many stories. Soon she would see for herself. They couldn't wait to get home.

Finally the plane landed. Madeline got to meet the rest of her family. She met her sister, brothers, grandparents, aunt and friends. Everyone was so happy to meet Madeline. They had waited a long time. She had many new people to get to know. After she met them all, it was time to drive home. In the van, she laughed at her brothers until she fell fast asleep. Soon she would wake up in her new home. But for now, she had only her dreams.

Very soon, Madeline was a very happy member of a very happy family. She loves her Mommy, Daddy, sister and brothers. She loves her Forever Family. Azeri Beary and Madeline have a lifetime of adventures to live. They love to climb trees and smell pretty flowers. They're forever chasing pretty rainbows. And they always stop to thank God for Cotton Candy skies and Forever Families.

_____
Links: For more stories about how parents are sharing the awareness of adoption with their children, read "Preserving Adoption Memories" by Kathleen Shryock, AI 10.3 (Autumn 2002). Search at AZER.com.

Also, the AzerbaijanAdopt ListServ on YAHOO! provides a wonderful resource, offering kind advice, support and comfort for families. This group is for families who have adopted a child from Azerbaijan, families who are in the process of an Azeri adoption, considering adoption, or anyone interested in the well being of orphans in Azerbaijan.

Highly recommended. The group was founded in December 2001 and now boasts 402 members. More than 100 Azerbaijani children have been adopted by families in the United States. Join the ListServ at http://groups.yahoo.com/group/azerbaijanadopt.


From Azerbaijan International (12.3) Autumn 2004.
© Azerbaijan International 2004. All rights reserved.

Back to Index AI 12.3 (Autumn 2004)
AI Home | Search | Magazine Choice | Topics | AI Store | Contact us

Other Web sites created by Azerbaijan International
AZgallery.org | AZERI.org | HAJIBEYOV.com