Autumn 2004 (12.3)
Page 22

Azerbaijan Classical Music
Princeton Radio Broadcasts Five Hours of Classical Music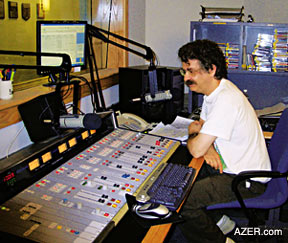 Left: Marvin Rosen at the Princeton University. Rosen featured five hours of uninterrupted Azerbaijani classical and folk music on his radio program, Classical Discoveries on WPRB at 103.3 FM on August 23, 2004.

On August 23, 2004, Princeton University Radio (New Jersey) featured five hours of uninterrupted classical music from Azerbaijan. It was unprecedented event: the first time in the history of Classical radio in the United States that Azerbaijan music was featured so extensively. The program, which was broadcast on WPRB at 103.3 FM was produced by Marvin Rosen for his weekly radio feature, "Classical Discoveries". Visit: OURWORLD.cs.com/clasdis.

Rosen's program features lesser-known classical music-not the typical Beethhoven, Bach, and other European composers, which are usually played on classical radio. Rosen himself is a classical pianist and has given recitals featuring Azerbaijani composers. He was particularly excited to be able to air Fikrat Amirov's Ballet "Arabian Nights" in its entirety without interruption.

One of the unique aspects of WPRB Radio is that it is accessible via the Internet. Anyone outside of the geographical listening area can access programs during broadcast hours from anywhere in the world at WPRB.com.

Many of the works that Rosen featured were from the 6 CD set "Classical Music of Azerbaijan" which was produced in 1997 by Azerbaijan International magazine and sponsored by Amoco. This set features 74 works by 15 composers-more than six hours of music. The collection is still available at AZER.com-Store.



Farhad Badalbayli
My Piano



Alikhan Samadov
Balaban



Murad Adigozalzade
Piano


Chingiz Sadykhov
Piano Music

CMA 1 Symphony


CMA 2
Ballet


CMA 3
Concerto


CMA 4
Piano


CMA 5
Opera


CMA 6
Chamber

CDs Featured on PRINCETON WPRB Radio
CDs may be purchased at AZER.com-STORE. Sound samples at AZER.com, click MUSIC.

1. Farhad Badalbeyli, "My Piano", 2 CDs

2. Alihan Samedov, Balaban,"Land of Fire, Music of Azerbaijan"

3. Murad Adigozalzade, Piano

4. Chingiz Sadykhov, "Piano Music of Azerbaijan" (folk songs)

"Classical Music of Azerbaijan" (CMA) produced by Azerbaijan International and sponsored by Amoco in 1997. The set includes 74 works by 15 composers

5. CMA 1 - Symphony

6. CMA 2 - Ballet

7. CMA 3 - Concerto

8. CMA 4 - Piano

9. CMA 5 - Opera

10. CMA 6 -Chamber

6:00 am-7:00 am (Monday, August 23, 2004)
1. Uzeyir Hajibeyov (1885-1948). Overture from Koroghlu (The Blind Man's Son), Azerbaijan State Symphony Orchestra, Yalchin Adigozalov, Conductor, Classical Music of Azerbaijan CDs, Volume 5, (CMA 5).

2. Gara Garayev (1922-1984). Leyli and Majnun, Azerbaijan State Symphony Orchestra, Yalchin Adigozalov, Conductor (CMA 2).

3. Faraj Garayev (born 1943). Three Polyphonic Pieces, Murad Adigozalzade, Piano.

4. Tofig Guliyev (1917-2000). Violin Concerto in A Minor, Mark Lubotsky on Violin, USSR Radio and TV Bolshoi Symphony Orchestra, Yuri Temirkanov, Conductor.

5. Vasif Adigozal (born 1936). Garanfil (Carnation), Ramiz Guliyev on Tar with the Azerbaijan State Chamber Orchestra, Yashar Imanov, Conductor (CMA 6).

7:00 am-8:00 am
1. Siyavush Karimi (born 1954). Landscape, Murad Adigozalzade, Piano.

2. Soltan Hajibeyov (1919-1974). Karvan (Caravan), Azerbaijan State Symphony Orchestra, Yalchin Adigozalov, Conductor (CMA 1).

3. Azer Rezayev (born 1930). Sonata for Violin and Piano, Arif Manafli, Violin, and Farhad Badalbeyli, Piano.

4. Agshin Alizade (born 1937). Jangi (Warrior), Oleg Grechko, Oboe, Azerbaijan State Chamber Orchestra, Yashar Imanov, Conductor (CMA 6).

5. Uzeyir Hajibeyov (1885-1948). Nigar's Aria, First Act, Koroghlu with Garina Karimova, Soprano, Azerbaijan State Symphony Orchestra, Yalchin Adigozalov, Conductor (CMA 5).

6. Uzeyir Hajibeyov (1885-1948). Nigar's Aria, Second Act, Koroghlu with Garina Karimova, Soprano, Azerbaijan State Symphony Orchestra, Yalchin Adigozalov, Conductor (CMA 5).

7. Uzeyir Hajibeyov (1885-1948). Song of the Khananda from Koroghlu with Safura Azimi, Vocalist, Azerbaijan State Symphony Orchestra, Yalchin Adigozalov, Conductor (CMA 5).

8:00 am-9:00 am
1. Folk Song: Improvisation on Sari Galin (Yellow Bride) performed by Alihan Samedov, Balaban.

2. Ismayil Hajibeyov (born 1949). Three Sketches in the Spirit of Vatto, Murad Adigozalzade, Piano.

3. Kamalia Ali-Zadeh (born 1978). Prelude and Scherzo, Murad Adigozalzade, Piano.

4. Haji Khanmammadov (born 1918). Concerto No.2 for Tar and Orchestra performed by Ramiz Guliyev with the Azerbaijan State Symphony Orchestra, Yalchin Adigozalov, Conductor (CMA 3).

5. Chingiz Sadykhov (born 1929). Azerbaijani Folk Song from the South, Chingiz Sadykhov, Piano.

6. Javanshir Guliyev (born 1950). Seven Pieces with Interludes in Mugham Modes, Rena Rezayeva, Piano.

9:00 am-10:00 am
1. Fikrat Amirov (1922-1984). The Arabian Nights, Bolshoi Theatre Orchestra, Nazim Rezayev, Conductor, Olympia OCD 578 A&B.

10:00 am-11:00 am
1. Fikrat Amirov. The Arabian Nights (continued).

2. Firangiz Ali-Zade (born 1947). Habil-Sayaghi for Cello and Prepared Piano, Yo-Yo Ma on Cello, Joel Fan on Prepared Piano.

3. Sevda Ibrahimova (born 1939). Five Pieces on Azerbaijani Themes, Murad Adigozalzade, Piano.


From Azerbaijan International (12.3) Autumn 2004.
© Azerbaijan International 2004. All rights reserved.

Back to Index AI 12.3 (Autumn 2004)
AI Home | Search | Magazine Choice | Topics | AI Store | Contact us

Other Web sites created by Azerbaijan International
AZgallery.org | AZERI.org | HAJIBEYOV.com