Summer 2004 (12.2)

The Ali and Nino Walking Tour
by Betty Blair and Fuad Akhundov


Philharmonic Hall
Istiglaliyyat 20
(Pre-Soviet: Nikolayevskaya Street)

Back to Ali & Nino Walking Tour Index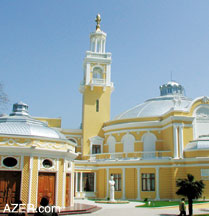 The most prestigious of concerts halls is located at the corner of Istiglaliyyat and Niyazi streets. The building was designed by Ter-Mikalov and was under construction between 1910-1912. The building has an Italian Renaissance exterior with interior ornamentation in German Rococo.

During Ali & Nino's days, the building was known as the Baku Club served the elite of the city. It was during Soviet times that the building was converted into a music hall. The Philharmonic Hall is named after Muslim Magomayev (1885-1937) who composed the extraordinarily beautiful operas, "Shah Ismayil" (1917) and "Nargiz" (1935).

The scene that follows takes place when Ali and Nino meet with Nachararyan, "a member of the noblest family in Karabakh" at the Baku Club for dinner after attending Opera where Tchaikovsky's "Eugene Onegin" was performed. Ali (Azerbaijani), Nino (Georgian) and Nachararyan (Armenian) discuss the historical complexities of the region and the role of Russia in the Caucasus. The question arises whether Caucasians really are their own worst enemies and whether or not they really do want to kill each other. Nacharyan concludes that the greatest threat lies north of the Caucasus Mountains.

Only a few months later in March 1918, the worst massacre in the history of the city would take place when an estimated 10,000 Azerbaijanis would be killed by Dashnaks (Armenians) and Bolsheviks.

Below: Left: Philharmonic Hall was originally designed as club for Baku's elite. The Soviets converted it a concert hall. Photo early 1900s. Right: The inspiration for the design of the Philharmonic Hall is said to have been this grandiose building in Monte Carlo.


| | |
| --- | --- |
| | |

From "Ali & Nino", pages 85 ff.
"Nachararyan was waiting for us at the entrance [of the City Club]. He had a motorcar, which looked very elegant and European, standing next to the two­horse carriage of the House of Shirvanshir [Ali's family].

"We drove through our town's dark alleys, passing our two schools. [Note: Ali's school was Baku's Modern School, but in the novel, it is called "Imperial Russian Humanist High School of Baku". It now houses Azerbaijan Economics University. Nino attended Nina's Girl School. In the novel, the author calls her high school the "Lyceum of the Holy Queen Tamar". Today, it is used for Public Schools No. 132 and 134). Ali and Nino's schools were located across the street from each other on Nikolayevskaya Street, the major thoroughfare through downtown Baku, which since the collapse of the Soviet Union has been called Istiglaliyyat Street - Independence Street]. At night, these buildings seemed to look a bit friendlier. We stopped at the City Club's marble staircase. That was rather dangerous. But if one of the escorts is called Shirvanshir [Azerbaijani] and the other Nachararyan [Armenian], a Princess Kipiani [Georgian] need not worry about the rules and regulations of Lyceum of the Holy Queen Tamar.

"The wide terrace was brightly lit by white lamps. We took a table that overlooked the Governor's dark garden, the softly gleaming sea, and the lighthouse of the island of Nargin. Glasses clinked. Nino and Nachararyan were drinking champagne. But as nothing in the world, not even Nino's eyes, could make me drink in public, I sipped, as usual, orangeade.

"When the six-man dance band gave us a rest at last, Nachararyan said seriously and thoughtfully: "Here we are, representatives of the three greatest Caucasian people: a Georgian, a Muslim, an Armenian. Born under the same sky, by the same earth, different and yet the same, like God's Trinity. European, and yet Asiatic, receiving from East and West, and giving to both."

"I always thought," said Nino, "That fighting was the Caucasian's element. Yet here I am, sitting between two Caucasians, neither of whom wants to fight."

"Nachararyan looked at her indulgently: "We both want to fight, Princess, but not against each other. There is a high wall between us and the Russians. That wall is the Caucasus [Mountains]. If the Russians win, our country will become completely Russified. We will lose our churches, our language, our identity. We will become European-Asiatic bastards, instead of forming the bridge between the two worlds. No, whoever fights for the Czar fights against Caucasia."

"Nino's lips spoke her school learning: "Persians and Turks tore our country apart. The Shah destroyed the East, the Sultan the West. How many Georgian girls became slaves, dragged far away into the harems! The Russians did not even come of their own accord. We asked them to come. George XII abdicated voluntarily in the favor of the Czar. 'Not to enlarge the already illimitable territories of our empire do we take upon us the protection of the Kingdom of Georgia'Don't you know these words?"

"Of course we did. For eight years these words had been drummed into us at school, this manifesto that Alexander I had decreed for us a hundred years ago. They could be seen in the main street of Tiflis [Tbilisi], engraved on a bronze plaque: "Not to enlarge the already illimitable territories of our Empire do we take upon us."

Nino was not so far wrong. The harems of the Orient were at that time full of captive Christian women, the streets of Caucasian towns full of Christian corpses. I could, of course, have answered: I am a Muslim, you are a Christian, you were given to us by God as our legitimate prey." But I kept silent and waited for Nachararyan's answer.

"Well, you see, Princess," he said, "a person who thinks in terms of politics must have the courage sometimes to be unfair, even to be unjust. I concede: the Russians brought peace to the country. But we, the people of Caucasia, can now keep that peace without them. They pretend that they must protect us, one against the other. Therefore Russian regiments are here, Russian civil servants and governors. But Princess, say for yourself: do you have to be protected from me? Must I be protected from Ali Khan? Were we not, all of us, sitting peacefully together near the well of Pechapur [in Shusha]?

"Surely, the time is past when the Caucasian peoples had to think of Persia as an enemy. The enemy is in the North, and this same enemy is trying to tell us that we are children who have to be protected from each other. But we are not children any more: we have been grown up for quite some time."


Back to Ali and Nino Walking Tour Index
Back to Index AI 12.2 (Summer 2004)
AI Home | Search | Magazine Choice | Topics | AI Store | Contact us

Other Web sites created by Azerbaijan International
AZgallery.org | AZERI.org | HAJIBEYOV.com