Summer 2004 (12.2)
Pages 20-21

Philharmonic Reopens
Renovation of Baku's Prestigious Concert Hall
by Abid Sharifov, Deputy Prime Minister

Other articles about Rostropovich
(1) "Rostropovich: The Home Museum" by Gulnar Aydamirova. (AI 11.2, Summer 2003)
(2) "Rostropovich: Happy 75th Birthday. World-Famous Cellist Celebrates in Baku." (AI 10.1, Spring 2002)
(3) "Intellectual Responsibility. When Silence is Not Golden." Conversations with Mstislav Rostropovich and Galina Vishnevskaya by Claude Samuel. (AI 13.2, Summer 2005)
(4) "Rostropovich & Galina: Celebrating Their 50th Wedding Anniversary" by Betty Blair and Sheyla Heydarova. (AI 13.2, Summer 2005)
(5) "Famous People: Then and Now. Mstislav Rostropovich - Cellist and Conductor (1927-2007)." (AI 7.4, Winter1999)
(6) "Rostropovich Celebrates 70th Jubilee in Baku." (AI 5.2, Summer 1997)




The Philharmonic Hall was originally built in 1910-1912 [pre-Soviet times], not as a concert hall but more as Business Center and Club for Baku's elite. Then in 1936 the Soviet government made the decision to convert this beautiful building into a Philharmonic hall. At that time, there were no other concert halls in the city other than the Opera Theater.

Unlike many buildings in the city that are made of stone, this one was primarily made of wood. And over the years, the level of subsoil water had risen, and parts of the building were beginning to rot. In 1996, President Heydar Aliyev commissioned me, as the person in charge of the construction of government buildings in Azerbaijan, to examine the building and give my assessment. That's when we decided to stop holding events there to avoid any accidents.

So we began to strengthen the foundation and walls. But since the building was constructed at the beginning of last century, there were no conveniences that met present-day standards, such as heating, air-conditioning and sound systems.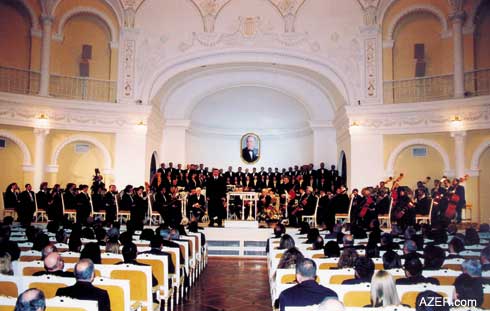 Above: Philharmonic Hall reopened on January 30, 2004, featuring world-renown cellist Mstislav Rostropovich, who was born in Baku in 1927.

The President gave us the task to start the actual renovation in May 2002. By the time, we got organized, we had only about seven or eight months to complete the work in time for the President's 80th birthday on May 10th. To tell you the truth, it was a very difficult task because we still had not even ordered anything: no equipment, no building material, nothing.
Top: (left) President Heydar Aliyev with Rostropovich and his wife, the famous opera singer Galina Vishnevskaya, on the occasion of Rostropovich's 75th Jubilee in Baku, 2002. Original plans were for the Philharmonic to open marking President Aliyev's 80th birthday on May 10, 2003. Photo: Rafig Baghirov
Right: In the final months of renovation, the construction team worked in 3 shifts, 24 hours around the clock. Photo: Blair
Bottom: (left) From left to right: Minister of Culture Polad Bulbuloghlu, cellist Mstislav Rostropovich, President of Azerbaijan Ilham Aliyev. Right: Opening night. Lower right hand corner: distinguished composer of the first concertos ever written for Tar, Kamancha and Harp, Haji Khanmammadov, 85. Photos: Rafig Baghirov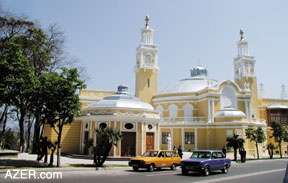 Left: View from Rotunda entrance on Istiglaliyyat Street. Photo: Blair

It was impossible to explain to Mr. President that something was impossible. Somehow, we had to find a way to do it. He told me that he personally would be overseeing the project and would be coming to check if the building met up to world standards. We were charged with reconstructing the building without changing its appearance. I'll tell you frankly, it was a very difficult task. The decision was made to finance the project from the budget. The building costs us around $18 million and all the work was done by local construction companies.

I had to spend so much time on the project including afternoons and nights. We organized three shifts to work around the clock 24 hours, seven days a week. All in all, we ordered equipment and supplies from 10 different countries: US, UK, Italy, Germany, Sweden, Czech Republic and others. Due to the lack of time, most of the supplies and equipment had to be shipped in the luggage compartment of passenger planes. Under normal circumstances, we would never have done that.

The Philharmonic Hall had very unique acoustics, which are rarely found in buildings of this type. We had to engineer so many kilometers of wire in the building. Today when you go there, you won't notice anything. The wires are all hidden. We left everything as it was before, we just restored it.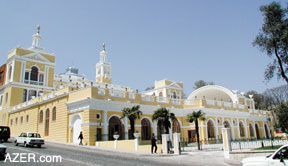 Left: View from Niyazi Street. Blair

We also reinforced the building seismically to be able to withstand any earthquake up to 7.0 on the Richter scale. We put in a centralized air conditioning system that would not produce any noise to interfere with the concerts.

If not for the President's constant prodding, the job would not have been finished so quickly. Nearly every 10 days or so, the President would ask me how the work was progressing. Then he wanted to know: "When can I finally come to see it done?" I told him it would be the end of March. "Why the end of March?" he asked. "So that I've got something to show you." And so he came to take a look and he seemed very pleased. There have been very few times in my life when he was not criical of something. This was the only time when he had no criticism. He was surprised with the quality of the work and thanked us for this job.

As you know, world-renown cellist Mstislav Rostropovich was born in Baku though he lives in Paris these days. But every year when he visited Baku [beginning in 1997] to give Master Classes and perform himself, he used to ask the President: "When am I finally going to be able to perform in the Philharmonic?" It's so disappointing that the President passed away before he was able to open the Philharmonic. [President Aliyev passed away on December 15, 2003]. The Philharmonic held its first concert on January 30, 2004. And Rostropovich did come to Baku for this occasion.

Well, what else can I say? The Philharmonic has always been one of the landmarks in our city. We, Azeris, are proud of the fact that it was due to the efforts of Azerbaijani specialists, mostly local experts, that we managed to renovate and reconstruct the building. So, we have brought this pleasure back to life, the pleasure that Baku people and guests of our capital get when visiting the Philharmonic, thanks to the efforts of our late President.
____
Abid Sharifov is Azerbaijan's Deputy Prime Minister in charge of construction. Over his long career working with Heydar Aliyev, he has been in charge of many architectural projects including the President's Office, building of National Security Ministry, Absheron hotel, apartment complexes here, the President's residence and many other projects.


Back to Index AI 12.2 (Summer 2004)
AI Home | Search | Magazine Choice | Topics | AI Store | Contact us

Other Web sites created by Azerbaijan International
AZgallery.org | AZERI.org | HAJIBEYOV.com