Winter 2003 (11.4)
Pages 54-55

Cross-cultural Expectation
Returning Home to the World of Spontaneity
by Ismayil Safaraliyev and Naila Karimova




After studying abroad, it's one thing to return to your home country as an individual, quite another to re-enter as a married couple. Two years ago, Ismayil Safaraliyev and Naila Karimova married in Baku and left for the United States a few days later so that Ismayil could enroll in graduate studies. This summer they returned to Baku. With memories fresh from America, they describe what it's been like to come back home and re-immerse themselves in Azerbaijani society.
Coming back home was, indeed, so sweet. As a young married Azerbaijani couple that had never lived together in Azerbaijan, we were full of expectations. What lay ahead? How would we find good old Baku? Would our old friends seek us out, and who would our new friends be?

We had spent two years in the quiet, peaceful little town of Durham, North Carolina, home to the famous ivy-league Duke University, Durham Bulls, and America's acclaimed first tobacco capital. Ismayil had been a graduate student there, and Naila had worked as a Program Assistant for one of the university programs. We had never actually lived together as a couple in Azerbaijan as we had married a few days before leaving for the States.
We had met on a warm sunny day on a beach outside Baku. Although we did not have any immediate plans to become a family, the scholarship that Ismayil was awarded forced us to make a choice - to stay together or to break up. Well, I'm not too sure it really forced us. We didn't really have to think twice about it. We simply got married in August 2001, surrounded by family members and close friends, and a few days later, we left for the United States.

To tell you the truth, it took us a while to settle in to the everyday realities of a small, cozy little American town. Durham was our first home as a married couple and our first mutual friends turned out to be Germans, Brazilians, Japanese, Russians and Bosnians. Two years flew by and soon Ismayil had his Master's degree in International Development from Duke's Public Policy school, which meant it was time to return home. By June this year, we were back in Baku.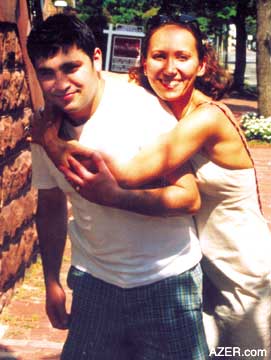 Left: Ismayil Safaraliyev and Naila Karimova share their impressions here of re-entering Azerbaijani society after living abroad.

Family Ties
One of the challenges in coming home was to restore family ties, merge our family circles. This entailed properly introducing each other to our curious parents, cousins, grandparents and neighbors. Actually, it is quite an involved and time-consuming process because there are so many people directly involved in your personal life in Azerbaijan. The subject itself is so complex that it would require a separate research paper.

In contrast, most American couples that we knew lived quite some distance from their parents - sometimes thousands of miles away. We discovered that many Americans saw their parents only once a year around Thanksgiving or Christmas. And that was about all. It seemed this was quite normal.

But it's quite different here in Baku. Everyday, we stop in to have lunch or dinner with our parents - sometimes Naila's, other times, Ismayil's. It has become routine for us (and, by the way, it has saved us so much money on grocery bills, not to mention the time it takes to shop).

In Azerbaijan, there are frequent family get-togethers. Sometimes cousins from both sides come - 25-30 of them, not to mention the aunts, uncles, brothers, sisters and parents. Imagine the lengthy process to kiss and hug each of them upon arrival and then, again, when they leave. These parties are usually a lot of fun with delicious homemade Azerbaijani food, and lots of music and dancing.

These gatherings reminded us of the last family dinner we had in North Carolina. Ismayil's American program coordinator had invited us to her home for her birthday. Her boyfriend was there along with her two cats, which figured quite prominently in the evening. So, all in all, four human beings and two animals. What a contrast to the typical gathering of relatives or friends in Azerbaijan!

But, invariably, at these parties in Azerbaijan, despite the din and chaos, we found ourselves face-to-face with some nosy, nosy aunt-in-law, who was prodding us about our plans to "make babies", offering unsolicited advice about how important it was to create a family. She kept telling us: "A family without babies is not a family at all!" In Azerbaijan, married couples traditionally produce their first child that first year.

Women Drivers
Upon returning to Baku, we had scraped together enough money to buy a dilapidated little old car. One evening the police pulled us over to the side of the road. We couldn't figure out why because Naila had been driving so carefully. Maybe that was the problem! Perhaps, she stood out so distinctly from the other drivers. It's true that women drivers are a relatively new phenomenon here in Baku but we couldn't figure out what was going on. We waited anxiously as the policeman approached our car. He kept walking around it, as if he were inspecting it. But then he surprised us by approaching Ismayil, who was sitting in the passenger seat, and asked for his documents.

But why should he approach the passenger when the driver was sitting right there? Our friends later explained that there was a new trend among cops in Baku. If they discover a woman driving late at night with a man as a passenger, they assume that he's drunk and she must be taking him home. And, in such cases, they know whom they should talk to about money! Although the situation with bribes on the roads has improved dramatically over the past few years, there still are some opportunistic road police that care more about their pockets than their duties. This time we didn't have to pay since our papers were all in order.

"Make Yourself at Home"
At Duke University, hardly a day passed without getting together with new people we had met from classes, soccer games, or the library. Actually, the people who became our best friends were ones that we had met at a Halloween party, where few of the guests had known each other before the event. In Azerbaijan, it's different. You're rarely invited to parties unless you know at least half the crowd. People here in Baku were quite surprised to learn that we had often invited total strangers to our apartment for drinks or to play cards, Monopoly or Scrabble.

In Azerbaijan, you need to know people on a deeper level before inviting them into your home. And when we did invite a couple of new friends to our home in Baku, they arrived an hour late. We were furious! But then, looking back, we realized that we had been the couple who was negligent in the States, habitually arriving hours after parties had started. Only the Brazilians were worse than us; they used to forget even which day the parties were scheduled.

Life among Americans has definitely made us more disciplined. Time has become more important for us. The traditional Azerbaijani approach of not being on time irritated us at first, but then we realized that people, in turn, were so much more relaxed and tolerant about others when they arrived late.
Dropping in on Friends
Rediscovering old friends wasn't easy, either. Though we missed their visits and phone calls while living in the States, it came as quite a shock when, on our second night back in Baku after settling into our tiny one-bedroom apartment, 10 guys and girls suddenly knocked on the door with the obvious intention of being our guests. The evening evolved into a night of movies that eventually became a party with toasts and wine.

At about 4 A.M., some of our guests decided that they might as well spend the rest of the night with us. One couple had already made themselves comfortable on our sofa in the living room, not really caring that others, sitting nearby, were still playing cards. Ismayil's brother claimed the other couch and covered himself with a warm jacket. Naila's friend found Naila's pajamas and promptly curled up and fell asleep right on our bed. Others made themselves comfortable, stretching out on the carpet. Dear old Azerbaijan! Guess what we did the following week when we went to visit some of them? You're right! Exactly the same thing.

Baku has changed dramatically since we left. In the past, it seems the ex-patriot community used to stay more to themselves - isolated in a different world - separated from Azerbaijanis. Today, when we go to bars and restaurants in the middle of town, like Chaplin's, Fisherman's Wharf, or Finnegan's, we see people from so many different nationalities. Azerbaijani music nights at the ISR Plaza are frequented by the British, French and Americans. Azerbaijanis frequent the same place but seem to prefer Latin Jazz on Saturday nights.

Look Who Speaks Azeri!
Our German friend who speaks fluent Azeri invited us to the famous traditional Azerbaijani garden restaurant called Shusha. Surprisingly, she ordered for us in Azeri. Can you imagine?! A German ordering food in the local language at a local restaurant for her local friends! I'm sure the waiter is still talking about it with his friends! Baku has become larger, more international, more cosmopolitan, and much more populated. Yet people that live here - the locals, ex-pats and tourists - all seem to relish and delight in the spirit of the city.

Not so long ago, Naila had a dentist appointment and found herself stuck in traffic, which made her late - it wasn't the first time! But the dentist didn't seem to mind. Perhaps, he had even forgotten about the appointment. There he was, wearing relaxed jeans and T-shirt under his white medical smock, sitting in front of the TV, drinking tea, smoking and watching the latest news about the neighboring Republic of Georgia [where demonstrators were pushing for President Shevardnaze's resignation].

After the dental treatment which, to tell you the truth was not worse, and decidedly cheaeper, than what you would have received at Duke Hospital (which is considered one of the best clinics in the world), the dentist told Naila that there was going to be an Azerbaijani Jazz Night at the Jazz Club on the following Sunday. It seems he had been thinking about this concert throughout the whole time when he was treating her. Like us, he loved jazz. He also told us that now there was more than one place in Baku where you could listen to it, as a new Jazz Center, the first of its kind, had recently opened in Baku. We've since been there and found it to be fantastic with brilliant musicians.

It was there at that crowded Sunday jazz session in a basement room on Aziz Aliyev Street that we suddenly felt at home. Sitting there at a table with a huge portrait of the famous jazz pianist Vagif Mustafazade staring down at us, we drank "Yeddi Gozal" (Seven Beauties), excellent Azeri semi-dry wine and listened to "Dushunja" (Thoughts) played by the young and talented Azeri pianist Shahin Novrasli.

Despite all the hardships and troubles that our country is going through and the problems that people have to deal with on a day-to-day basis, we've discovered that there is such a thing as the Azerbaijani spirit of love and joy. And it never dies. This is the same spirit that accompanied on our long journey in the U.S. And it's this same vibrant spirit that has welcomed and embraced us back home.
Ismayil Safaraliyev and Naila Karimova currently reside in Baku surrounded by dozens of cousins and friends. Ismayil has a Master's degree in International Development from Duke University where he was a recipient of the Edmund S. Muskie Scholarship from the U.S. government. Contact Ismayil and Naila at: is13@duke.edu.


Back to Index AI 11.4 (Winter 2003)
AI Home | Search | Magazine Choice | Topics | AI Store | Contact us

Other Web sites created by Azerbaijan International
AZgallery.org | AZERI.org | HAJIBEYOV.com