Winter 2003 (11.4)
Pages 30-35

Planting the Future
The Greening of Azerbaijan - 30 Million Trees in Last Two Years
by Musa Shakiliyev




Azerbaijan is situated in a region, both complicated and problematic. This can be explained by its specific diverse transcultural content and its geographic transit location. Circumstances in history, linked to politics, culture and religion have brought about this complexity.

What strikes the eye as one travels across the region-north to south, east to west-is that we are positioned at the crossroads of two contrasting terrains. On one side, there is green, blossoming vegetation; on the other, barren desert and monotonous brown wasteland.

It seems to me that this issue extends beyond geography and, undoubtedly, is a factor influencing our cultural self identification. History has treated us ruthlessly on many occasions. But we no longer want to allow things to remain as they are. We want to take our destiny in our own hands and make a firm, decisive, irreversible stand. We don't want to be a country of deserts with dull, drab terrain. We want to be a flourishing nation, characterized by lush green landscapes - which, indeed, is the true essence of our spirit and nature.

Husein Baghirov, Ph.D., Minister of Ecology and Resources describing the rationale for the Ministry undertaking a vast reforestation program which has resulted in the planting of more than 30 million trees these past two years.



When it comes to forests, currently Azerbaijan ranks low among the countries in the world in terms of the amount of its territory that is covered in natural forests. Only about 11 percent of Azerbaijan's territory is covered in forest though the world standard is about 22 percent. This is about half of the normal standard in world forestry practice. Despite the fact that there are several major mountain ranges that run through Azerbaijan, such as the Great and Lesser Caucasus, still the actual amount of forested lands is relatively low. For this reason, Azerbaijan has undertaken a massive program by the Ministry of Ecology and Natural Resources to double its percentage to about 20 percent within this next 10-15 years.

Tree Planting Priority
Azerbaijan had a forestry program for quite a number of years, but in 2001 when the Ministry of Ecology and Natural Resources was created with Husein Baghirov as Minister, a national program was established, not only to protect forests, but to initiate a vast, intensive reforestation program throughout the country. Today, reforestation is one of the Ministry's highest priorities.

Already during these past two years, 31 million seedlings have been raised from seed. Young saplings are beginning to grow, and many of them have already been transplanted. In 2004, the Ministry has plans to grow 40 more million seedlings in order to create a regular supply of saplings, so that perhaps as many as 20 million can be replanted each year. Usually, on one hectar of land (2.471 acres) between 2,500-4,000 trees are planted, depending upon the species, terrain and other factors.

Reforestation of Azerbaijan - 2004
Planting of 30 Million Trees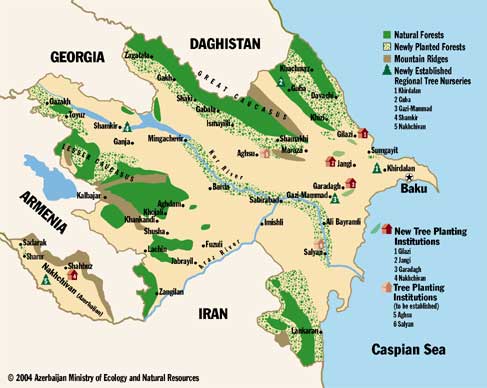 Benefits
There are so many interrelated benefits from planting trees from the point of view of ecology, health and aesthetics. In addition to helping mitigate global warming by converting carbon dioxide into oxygen, trees serve to control the climate and distribute humidity. They prevent soil erosion and help control floods. In mountain regions, they prevent avalanches when snow accumulates, and hold back landslides when the snow melts or during rainy seasons.

Forests provide habitat for a huge biodiversity of plant and animal life. For example, in the Hikran National Reserve (located in the Lankaran region), 44 different species of mammals have been identified, 10 species of amphibians, 22 species of reptiles and 173 species of birds (many of which are migratory birds which nest in Azerbaijan during the winter months).

Trees are also useful for food such as nuts - such as walnuts and hazelnuts - and abundant fruit such as pomegranates, mulberries, persimmons, quince and many more. Nor should one forget the benefits of timber. Traditional medicine has found many medicinal uses for trees, including their leaves, stems, bark and flowers. And on hot, summer days, one of the most obvious advantages is shade from the oppressive sun. And the list goes on.

Above: (Top) Azerbaijan's Ministry of Ecology is involved in a nationwide program to double the forested area of Azerbaijan in the next 10-15 years so that about 22 percent of the country will be covered in trees.

Bottom: In the past two years, the Ministry of Ecology has planted about 30 million trees as part of their Reforestation Program.

Absheron
The greatest population density of Azerbaijan is concentrated in Baku and the Absheron Peninsula. This means that most of Azerbaijan's industry is also situated in this region.

Today, the Absheron Peninsula (where Baku is located) and the Gobustan region are quite barren with less than 0.5 percent of this territory covered in trees. However, archaeological evidence would suggest that it has not always been this way.

Already, the Ministry of Ecology has started planting trees in three directions outside of Baku, along the highways leading away from the capital - in the direction of Guba (northwest), Shamakhi (west) and Kurdamir (southwest).

Below: (Top and Bottom)In March this year, The Ministry of Ecology is launching its first annual tree-planting campaign "Green, Green Azerbaijan! Novruz 2004" so that volunteers can also get involved to help in the reforestation process.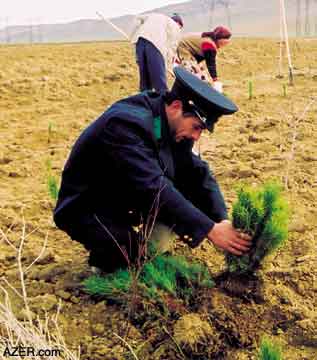 Trees throughout the Country
But the reforestation program is not just concentrated in Baku, it extends throughout the country to every corner, north to Guba, south to Lankaran, northwest to the Gazakh and Tovuz region, and southwest to Nakhchivan, the non-contiguous part of Azerbaijan that is separated from the Azerbaijan's mainland by Armenia.
In these past two years, four new Tree Planting Institutions have been established in Gilazi, Jangi, Garadagh, and Nakhchivan. These areas have been deliberately selected in a massive experiment because the land is known for its rapid desertification and inferior conditions for plant growth. The land in these regions is also characterized by its exposure to various geological processes, poor vegetation, thin cover of humus soil, and a heavy layer of clay. Despite all these unfavorable conditions, it has been possible to plant hundreds of hectares of trees, due to properly coordinated efforts. The trees are now beginning to grow there very successfully.

Two more institutions will soon be set up in Aghsu and Salyan. As well newly established regional Tree Nurseries have been set up in Khirdalan, Guba, Gazi-Mammad, Shamkir and Nakhchivan.

Tree Selection
More than 30 different species of trees and bushes are being grown for this program [See Chart: "The Greening of Azerbaijan" on page 35]. These include both deciduous trees and evergreens, as well as fruit-bearing trees. Each species has been carefully chosen for its own specific climactic and soil requirements. From experience gained in forestry from the past, tree species have been categorized according to which ones grow best in specific regions.

Each tree has its own biology and optimal growing conditions. Some require fertile soil, while others need a lot of moisture and humidity to flourish. For example, in the Great Caucasus Mountains to the north, walnut, chestnut and trees are valued for nuts and birch, beech and oak are sought after for their timber.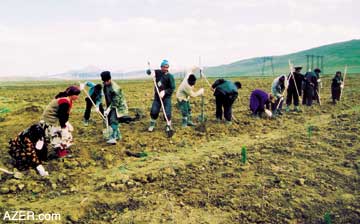 In the south, in the Lankaran region, oak trees comprise 90 percent of the forest growth. Oak is preferred there for its timber and its longevity.

The northwestern region provides prime conditions for growing nut trees such as walnut and hazelnut. And in lowland areas, in the Kur-Araz plain, we have various trees, including poplar, oak, birch and ash.

In arid places, especially around Absheron and Gobustan, we are experimenting with drought - resistant species that are native to the region, which have the capability of thriving in saline soils.

Volunteers
The Ministry seeks to involve the community in planting trees and creating new greenery in Azerbaijan. Of course, the Ministry has its own workers, as do the Tree Nurseries throughout the country where saplings are being raised. In fact, the Ministry currently employs about 2,000 workers.

We feel that it is so important to create opportunities for volunteers to get involved. We want to raise the awareness within the community. It's so important that people understand the importance of working together to create the future - to feel responsible and to take care to protect the green. Then people feel like they have invested in these trees and care that they grow. When families get involved with planting trees, their children get a chance to begin to appreciate and love trees, at a very young age.

When volunteers come out to join us, you can feel their excitement and enthusiasm for the program. They realize how important this work is. After people see how the planting is done, we hope they'll get inspired to plant trees on their own property - in their own yards or gardens. I think we're succeeding. These days, more and more institutes are contacting us for seedlings. And more and more people are volunteering to help us.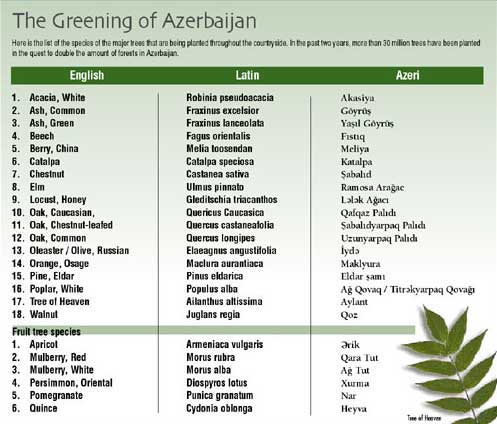 A few weeks ago at Jangi, we had about 800 people working. About 300 people went from the Tax Ministry, plus 400 of our workers joined about 80-90 workers there. The same day, about 100 students helped us plant trees in Garadagh together with 50-60 workers.

Each day getting the chance to work outside in Nature and plant trees is a wonderful experience. You're out in the fresh air, and you feel the spirit and enthusiasm from the volunteers. People spiritually enjoy getting involved.

Along with the forests that we are replanting, it should also be noted that Azerbaijan is one of the few countries in the world that still has virgin forests, meaning that they have never been cut down and replanted. Mainly, they are located in the Great Caucasus as well as in the south of the country in the Talysh Mountains.

The trees have just grown there entirely on their own, naturally. Such a phenomenon is considered a natural world monument and, in fact, the forests of Hirkan Nature Reserve in Lankaran are being considered for inclusion in UNESCO's World Heritage List. Such forests are very rare these days. Therefore, we must do our best to protect them. We hope that Azerbaijan one day will take its place in Europe and be known for its wealth of natural monuments, just as it is known for its biological diversity.

Musa Shakiliyev is Acting Director of the Department of Development of Forests in the Ministry of Ecology and Natural Resources. His entire career has been spent in forestry. In 1981, he graduated from the Novocherkask Institute of Land Reclamation Engineering in the faculty of Forestry with a major in Forestry Engineering. Since then, he has worked in Gakh region and the Ilisu State Reserve. Since March 2002, he has been working in Baku with the Ministry.

Also contributing to this article were Farig Farzaliyev, Head of Protocol and Translation Sector, as well as Nargiz Guliyeva, Advisor to the Protocol and Translation Sector. Gulnar Aydamirova of AI editorial staff interviewed Musa Shakiliyev for this article.

For more information about the scope and activities of the Ecology and Natural Resources Ministry, visit their attractive Web site: ECO.gov.az.


Back to Index AI 11.4 (Winter 2003)
AI Home | Search | Magazine Choice | Topics | AI Store | Contact us

Other Web sites created by Azerbaijan International
AZgallery.org | AZERI.org | HAJIBEYOV.com