Winter 2003 (11.4)
Page-82

Lukoil Involvement
Promoting Scholarship at Azerbaijan State Oil Academy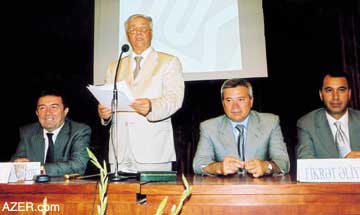 Left: September 2003: On the occasion of signing an educational agreement between LUKoil and Azerbaijan State Oil Academy (ASOA). Left to right: Misir Mardanov (Education Minister of Azerbaijan), Siyavush Garayev (Rector of ASOA), Vagit Alekperov (President of Lukoil) and Fikrat Aliyev (General Director of Lukoil-Azerbaijan, representative of Lukoil in Azerbaijan, Georgia and Turkey).

In September 2003, LUKoil signed an agreement with the Azerbaijan State Oil Academy (ASOA) to provide financial and technical assistance to strengthen the quality of education. In return, the Academy will provide specialists for LUKoil as company. The document was signed between LUKoil President Vagit Alekperov and ASOA Rector Siyavush Garayev.

Azerbaijan's prestigious Oil Academy was established more than 80 years old and boast s of such distinguished graduates as Alekperov, as well as the former National Commissar of the USSR's oil industry, the former Chairman of the State Plan of the USSR and Russian Soviet Federative Socialist Republic (RSFSR), Academician Nikolai Baibakov, President of State Oil Company of Azerbaijan Republic (SOCAR) Natig Aliyev, SOCAR's Vice President Khoshbakht Yusifzade and many others specialists - oil workers known throughout the CIS states and other oil - producing countries.

Currently, 6,000 students study in seven faculties at ASOA. There are 120 Professor Doctors and 650 docents with degrees as Candidates of Technical Sciences. The Academy has 59 chairs (departments) and 29 scientific research labs.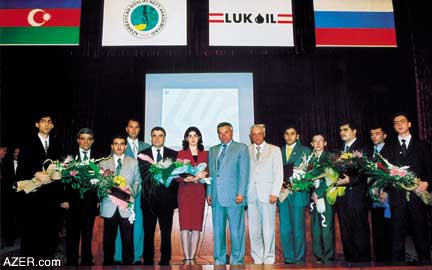 Above: LUKoil President Vagif Alekperov (center) honoring outstanding students from the State Oil Academy. With him are top officials from SOCAR (State Oil Company of Azerbaijan) President Natig Aliyev, (center, dark suit), ASOA Rector Siyavush Garayev (white suit), and Fikrat Aliyev (tall) on the occasion of LUKoil committing to strengthen and carry out scientific investigation and training there.

With LUKoil's assistance, a modern educational center will be equipped with computer and multimedia technology. Already 300 books have been donated to the library. LUKoil also plans to help organize specific scientific research projects. In total, LUKoil has invested $200,000 in these projects.

In appreciation for the development of oil science, business, political and economic cooperation between Azerbaijan and Russia, ASOA's Rector presented Alekperov with an Honorary Doctorate.

LUKoil is currently involved in several major oil and gas projects located in Russia, Azerbaijan and Kazakhstan. It is only natural that they would be looking for the most highly qualified specialists to work with them - oil workers who understand the specific conditions of the Caspian region. According to some experts, an estimated 20 billion tons of hydrocarbon reserves exist in the Caspian.


Back to Index AI 11.4 (Winter 2003)
AI Home | Search | Magazine Choice | Topics | AI Store | Contact us

Other Web sites created by Azerbaijan International
AZgallery.org | AZERI.org | HAJIBEYOV.com