Winter 2003 (11.4)
Page 25

Azerbaijani Mugham
Declared Masterpiece of Oral World Heritage by UNESCO
by Sana Baghirova




On November 7, 2003, UNESCO held a special awards ceremony in Paris, identifying 28 "Declared Masterpieces of Oral & Intangible Heritage of the World". Azerbaijani Mugham was one of the genres chosen for this program, now in its second year of existence. Last year, 19 awards were presented; the third Proclamation is scheduled for 2005.

Mugham is a musical term, which refers to improvised modal music with a melody, free of meter. It is also a general term applied to Azerbaijani traditional art music.

Mr. Koichiro Matsuura, Director General of UNESCO, stated that the goal of the Masterpieces Program is to raise public awareness of the value of this heritage and encourage governments to take legal and administrative steps to preserve it.

Other Masterpiece groups were from Belgium, Bolivia, Brazil, Central African Republic, Cambodia, China, Colombia, Cuba, Egypt, Estonia, India, Indonesia, Jamaica, Japan, Kyrgzystan, Madagascar, Mexico, Mongolia, Korea, Tonga, Turkey, Vanuatu, Vietnam, Iraq and Yemen. A detailed description and photographs of the masterpieces can be downloaded: co.org/culture/heritage/ intangible/masterpieces/list2003

These Masterpiece awards are not limited to music. For example, this year the know-how of itinerant doctors in South America who are familiar with the properties of nearly 1,000 plant species was recognized, as was a communication system among different language communities in Vanuatu who use finger drawings in sand, and the woodcrafting knowledge of the Zafimaniry in Madagascar.

Below: A trio of traditional instruments - zurna, gaval and tar. However, mugham trios traditionally include the stringed instruments tar and kamancha while the gaval is used by the singer (khananda) to establish the rhythm. Here artist Eldar Babazade indicates the folkloric roots of Azeri modal music is through women, perhaps via lullabies. See more of Babazade's works at AZgallery.org. Mobile: (994-50) 353-1293.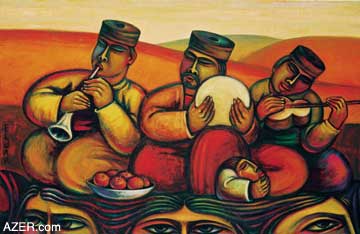 The 2003 Masterpiece jury was comprised of 18 experts who examined 56 candidatures. Ramiz Abutalibov, Azerbaijan's veteran representative to UNESCO, was the driving force in helping to coordinate this work with Paris.

The Candidature was quite complex and consisted of written text, video documents (one 10-minute video, and another video 5-6 hours long), photos, bibliography and a list of human resources.

French Ethnomusicolgist Jean During was selected as the international expert for preparation of this file, while I was invited as the national expert. Mr.
During prepared a 50-page text, while I wrote one of 40 pages. The text also required identifying various projects, aimed at safeguarding and preserving mugham, and promoting it in Azerbaijan and throughout the world.

The bibliography included books such as Uzeyir Hajibeyov's "Principles of Azerbaijani Folk Music", Afrasiyab Badalbayli's "Musigi Lughati" (Musical Dictionary), Jean During's, "La Musique Traditionelle de l'Azerbayjan et la Science des Mugams", and Feridun Shushinsky's works.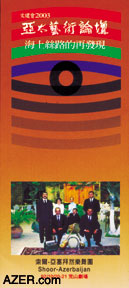 At the Awards Ceremony, Azerbaijan's distinguished mugham performer Alim Gasimov gave a live performance, impressive as always. [To read more about Alim, SEARCH at AZER.com].

Following the Awards Ceremony, on November 14, 2003, the UN Radio broadcast an interview with me related to Azerbaijan's mugham and played samples performed by Habil Aliyev (kamancha), Haji Mammadov (tar), Shovkat Alakbarova (vocal), and Vagif Mustafazade (piano, jazz-mugham).

Mugham in Taipai
Another major international event related to Azerbaijani mugham took place on October 17-26 in Taipei at the Asia Pacific Arts Forum 2003. Organized in collaboration with the Taipei National University of the Arts, the program included a symposium and musical festival. More than 100 participants were invited to the forum from the U.S., France, Belgium, Japan, Russia, Indonesia, India, Sri Lanka and Malaysia.

Azerbaijan was represented by Shur Azerbaijan which includes five musicians: Zabit Nabizade (singer or "khananda"), Mohlat Muslumov (tar), Fahraddin Dadashev (kamancha), Aydin Aliyev (garmon, an instrument somewhat like an accordion), and Elshan Gasimov (naghara, like drums). Shur Azerbaijan gave three concerts which were very well accepted.
Sana Baghirova is Senior Researcher at the Institute for Architecture and Arts, which is part of the Azerbaijan National Academy of Sciences. She represented Azerbaijan in preparing the Candidature for the UNESCO Masterpiece awards and organized and accompanied Shur Azerbaijan to Taipei where she also presented a paper and gave a Master class.

Back to Index AI 11.4 (Winter 2003)
AI Home | Search | Magazine Choice | Topics | AI Store | Contact us

Other Web sites created by Azerbaijan International
AZgallery.org | AZERI.org | HAJIBEYOV.com