Spring 2003 (11.1)
Pages 54-59

Shostakovich's Tenth Symphony
The Azerbaijani Link - Elmira Nazirova
by Aida Huseinova

Above: Elmira Nasirova, the inspiration for Dmitry Shostakovich's Tenth Symphony, as revealed in his correspondence to her. He incorporated the musical notation of both of their names in the Third Movement.
See also: "Melodic Signatures in Shostakovich's 10th Symphony," by Aida Huseinova, Azerbaijan International, Vol. 11.1 (Spring 2003), pp. 54-59.

This year marks the 50th anniversary of one of the greatest musical masterpieces of the 20th century - the Tenth Symphony in E minor, opus 93 by Dmitry Shostakovich. It is significant to note that it was written in 1953 a few months after the death of Stalin, who had ruled the Soviet people with an iron hand for 31 years.

Many critics suggest that Shostakovich's works stand as one of the strongest testimonies to the strength and morality of his character, especially given the brutality of Stalinism. Like all intellectuals of the period, Shostakovich suffered immensely under this regime, perhaps, even more so, because of his high profile.

At the peak of Shostakovich's career in the 1948, when he had already been identified internationally as one of the giants in 20th century music, the Communist authorities censured and blacklisted him. The Party had set forth a Decree against Formalism criticizing those Soviet composers who focused on the symphonic genre. They strongly urged them to turn to create text-related music such as the opera, musical comedy or cantata. The true intention was clear though: music censors were never too sure what the symphonic composers were exactly trying to convey because the meaning was open to interpretation; whereas, in musical theatrical works and vocal pieces, the story line could be easily monitored.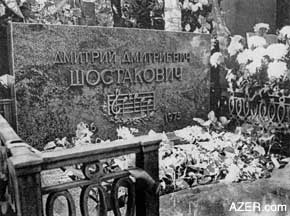 Left: Grave of Shostakovich in Novodevichy Cemetery, Moscow. Note his musical signature which appears in the Tenth Symphony and various other orchestral works.

The Party's censure was an immense psychological weight on Shostakovich. One of the most obvious places was the decline in his productivity. Symphony No. 10 had been written in 1953, eight years later than No. 9 - an immense gap for a composer as prolific and focused on this genre as Shostakovich.

Discoveries related to the personal aspects of his Tenth Symphony comprise one of the most interesting stories to emerge within symphonic studies in recent times.

The revelations by Nelly Kravetz in 1994 surrounding the contents of correspondence between Dmitry Shostakovich and Elmira Nazirova, a pianist and composer from Azerbaijan, have resulted in a number of books and articles that have appeared in which aspects of the Tenth Symphony can now be viewed in the light of new biographical data: broadly speaking, the emotions the composer experienced towards his former student and the place these emotions forged themselves in his Tenth Symphony.

Today, these letters are with the family of Dmitry Shostakovich in the United States. Not so long ago, Elmira Nazirova personally confided their contents with Aida Huseinova, one of her students.

The Story Revealed
I'll never forget the day: it was late in August 1990. Elmira Nazirova, one of Azerbaijan's most respected pianists and gifted composers was closing a chapter of her life and anticipating her move to Israel as an emigrant. "We need to talk, Aida", she told me over the phone. "It's really important. Can you stop by my place?"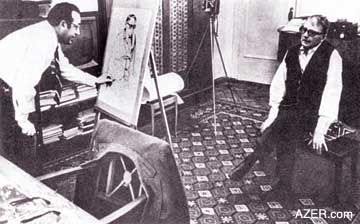 Left: Azerbaijani artist Tahir Salahov painting Shostakovich's portrait, 1974-1976. For more of Salahov's works, visit AZgallery.org.

The thought of Elmira's leaving left many of us in the music world of Azerbaijan saddened; it was a great loss for us: she had been one of the key figures in the piano culture of Azerbaijan.

Decades earlier she had toured many countries, evidence of her incredible performance talent.

She was revered and loved as one of the most respected professors at Baku's Conservatory - a woman who had influenced and shaped the careers of so many youth who would later become prominent pianists and teachers not only in Azerbaijan but also in Germany, Russia, Turkey, Mexico, Israel and other countries. We also respected her as one the first women composers in Azerbaijan.

Elmira khanim [an endearing term of respect, meaning Lady] and I were amazingly close, despite the differences in our ages: She was 62, I was 26 at the time. I had already known her for nearly half of my life, having started piano lessons with her at 14 while studying at Bulbul School. I considered Elmira khanim my genuine spiritual mentor as she had already had a tremendous influence in my life, both as a musician and as an individual.

And so I stopped by her apartment in downtown Baku, not knowing what to expect but knowing that this would be one of the last times I would see her before her departure.

"I have something important to share with you because I'm leaving," she began. "As I'm an Azerbaijani, naturally, I want this information to be known here in my Motherland." I was already a musicologist by that time and, perhaps, that's why she confided in me, realizing that one day it would be appropriate to tell her story - so that it wouldn't be lost.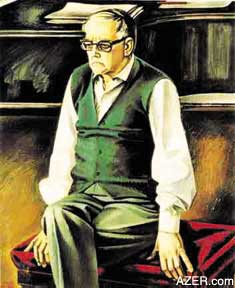 Left: The completed painting of Shostokovich by Tahir Salahov.

This was my introduction to another world that had remained hidden beneath the surface in Elmira's life. I was aware that Shostakovich had been Nazirova's mentor in composition class and that they had maintained very warm relations afterwards. For years I had admired his portrait, hanging on the wall in her study, which he had personally autographed, "To dearest Elmira from Dmitry Dmitriyevich". Quite appropriately, our conversation took place in the presence of that photo.

Revelations
When she opened her heart, I can't say that I detected excitement in the disclosure but rather that her eyes expressed what seemed to me an immense sense of relief, of finally being able to reveal such a deep secret that had been so meaningful and precious to her, after almost 37 years of silence.

"Everybody knows how complicated emigration can be," she told me that afternoon, "especially with customs and immigration. I really don't know what might happen to these letters and want you to read them now: I hope you'll write this story some day." Elmira khanim brought a pile of Shostakovich's letters and let me read them. I knew his handwriting from some of his published scores - nervous, jerky and actually quite difficult to read. It reflected his personality, full of emotion and passion. The content of the letters was quite a shock for me. And so the story began to unfold of Dmitry Shostakovich's love for her - sincere, pure and quite desperate. I wondered when and in what circumstances they had met? How had their relationship grown? What were the facts surrounding this episode of the composer's life and how were they incorporated in his composition of the Tenth Symphony?

Teacher and student had first met in the autumn of 1947 in Moscow. By that time, Elmira was already known in Azerbaijan as a promising young musician. In her youth, she had been considered a child prodigy at Baku Music School, which was under the umbrella of the Azerbaijan's Conservatory, Elmira had been admitted to a separate group for gifted children alongside Chinghiz Sadikhov, a renown pianist and accompanist and Bella Davidovich, a world-reputed pianist and professor, laureate of the Chopin International Piano Contest.

Her first professional achievements were so impressive that in 1942, at the age of 14, she was invited to join Azerbaijan's Composers' Union! In 1944 Elmira presented her Piano Preludes during the 'Decade of Music of the Transcaucasian Republics' in Tbilisi, Georgia, where her composing and performing talents were highly regarded by many prominent Soviet musicians including Reinhold Gliere.

Uzeyir Hajibeyov, revered in Azerbaijan as a national genius and the founder of classical composed music in the country, had been a determining influence in Nazirova's life, encouraging her to continue her education at the world-reputed Moscow Conservatory. That's how Elmira came to study piano there with Yakov Zak, and composition with Dmitry Shostakovich.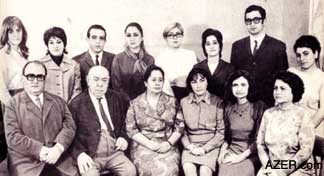 Left: Music Faculty at Baku's Conservatory of Music, 1971. Sitting (from left): Rauf Atakishiyev, Mayor Brenner, Nigar Usubova, Elmira Nazirova, Aliya Mirzoyeva, Jamila Muradova. Standing (from left): Saida Behbudova, Vafa Aliyeva, Ogtay Abbasguliyev, Zemfira Shafiyeva, Adila Vakilova, Tamilla Gasimova, Tarlan Seyidov, Gulnar Sadikhova.

She spoke nostalgically of the rare atmosphere that characterized his classes, where students were encouraged to delve into the inner workings of composers' creative minds, where heated discussions developed on a wide variety of issues - not just those related to music - but in literature and art as well. She remembered performances of Haydn and Beethoven symphonies being played on two pianos.

A few months after her arrival in Moscow, Shostakovich was to face what would be the most trying period of his life. A decree was made by the Communist Party, severely criticizing Shostakovich and others for what they felt were their superfluous focus on writing symphonic and dissonant music; that is, music without melody, containing "rough" harmonies. It was a terrible time for the great composer. They even dismissed him from the Moscow Conservatory. Msitislav Rostropovich recalls how he entered the Conservatory and read the announcement that Shostakovich would not be returning as their professor. Everyone was in shock.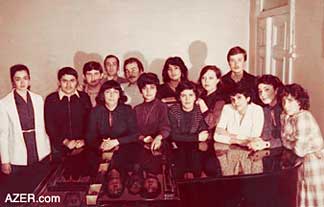 Left: Elmira Nazirova, 3rd from left, with some of her piano students in Baku. Aida Huseinova, author of this article, is to the right of her teacher and mentor, 1983.

During that time, Nazirova remembers how, during one of the concerts in the Bolshoi Hall at the Conservatory, she chose a seat somewhere near Shostakovich or, more precisely, within the 'vacuum' around him. The composer acknowledged her presence and asked, "Aren't you scared?"
In 1948, after her marriage to Miron Fel, a student of the Azerbaijani Medical Institute, Elmira returned to Baku and resumed her studies in the Azerbaijani Conservatory with Georgiy Sharoyev (piano) and Boris Zeidman (composition). But the intensely active musical life of the former Soviet Union soon brought her into contact with her mentor again. Shostakovich's close associations with many Azerbaijani musicians led him to pay frequent visits to Baku.

It's important to mention Shostakovich's links with Azerbaijani music. Gara Garayev and Jovdat Hajiyev, two of Azerbaijan's finest composers, had studied with Shostakovich at the Moscow Conservatory and always admitted their mentor's influence, not only on their own personal music style but also on the development of Azerbaijan's music culture. According to Garayev, Shostakovich, along with Hajibeyov were the decisive musical personalities that shaped what became a flourishing Azerbaijan school of composers.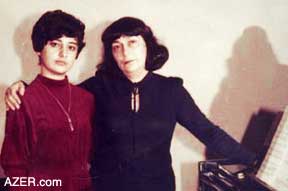 Left: Aida Huseinova (left), author of the article, with her piano teacher and mentor Elmira Nazirova in 1983. Shostakovich incorporated Elmira's musical signature into his Tenth Symphony.

In 1952 Shostakovich visited Baku twice: in March he participated in a concert of his own works, and later in December, he attended the premiere of the ballet "Seven Beauties" by Gara Garayev, former student and close friend. Elmira, in turn, went to Moscow, to participate in various projects organized by the Soviet Composers' Union: discussing professional issues with her colleagues from the Moscow Conservatory, and giving public performances. In 1951, together with Sviatoslav Knushevitsky, the great Russian cellist, she performed her Cello Sonata in the Small Hall of the Moscow Conservatory. And so again and again she met with her mentor, her own special listener who remained a severe and demanding critic.

Nazirova rejected the idea of ever being aware of anything different, or special in Shostakovich's manner in relating to her at this time. "I could never have imagined anything of that kind - I was so abashed in his presence!" she explained to me. "And he never verbalized his feelings."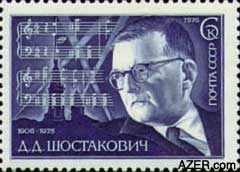 Left: Six-kopeck stamp commemorating composer Dmitry Shostakovich (1906-1975), issued by the USSR on his 70th Jubilee in 1976.

However, certain emotions, perhaps unconsciously at first, had already begun to emerge in Shostakovich's awareness of her. How else can one explain the paragraph in a letter to her, dated July 29, 1953, where he describes his excitement of noticing Elmira among those who had come to greet him in Baku.

Their relationship evolved at this time into one of a new and ever-growing intellectual intimacy. They met frequently, took long walks, listened to Beethoven and Mahler symphonies, and argued about various issues related to music and life. Shostakovich made suggestions to Elmira about her new compositions, and encouraged her to turn her attention to specific genres or forms. At the same time, he shared his own creative ideas.

Nazirova still treasures the musical scores of Shostakovich's Preludes and Fugues, the Seventh and Eighth Symphonies, as well as Robert Schumann's Frauenliebe und -leben, which the composer personally presented to her, along with his handwritten dedications and signatures.

First Letters
On April 4, 1953, Elmira received Shostakovich's first letter, in which he mentioned misprinted errors in the first edition of his Preludes and Fugues. This was the beginning of a correspondence that would last for three and a half years.

Shostakovich shared his philosophical ponderings about the ironies of life, the essence of the composer's work in general and how they correlated with his own experiences. But above all, these letters reflect his incredibly profound and complex feelings in which love and admiration for Nazirova were combined with the deepest respect and appreciation for her professional ability and success.

Sometimes he chose a humorous way to express his feelings: in a letter from June 21, 1953, he simply includes the music phrase from Lensky's Arioso from Tchaikovsky's Eugene Onegin with its original words, "I love you!" Here, too, he expresses his great interest in the works Nazirova was composing at the time - Variations for Piano, etudes, a piano concerto and other works, asking about the details of her own compositional process. Indeed, he had a strong belief in her as a gifted composer: "I hope you will compose a great deal of music and become a true composer. You have all the prerequisites", he wrote on January 25, 1954.

In another letter, from August 29,1953, he expresses his sincere interest in her composing and performing activities: "I feel so pleased that you are playing Beethoven's Fifth Concerto and plan to perform it along with the Fourth. Take advantage of being a great pianist and do play many wonderful works. And don't hesitate to borrow from them. Then you will become a great composer. Make sure you borrow, not copy. There's a huge difference. Try to understand and discover the secrets of the great masters. I'm sure you know them yourself. I am impatient to receive the Variations and Etudes that you have promised."

He describes his feelings toward Elmira as "the most important event" in his life at the time (July 25, 1953). "I am missing you very much. If you don't think about me negatively, please write. I feel very bad and upset. A word from you will help me to recover" (November 2,1953).

Shostakovich valued her thoughts and opinions of his own compositions: "I would like to show you those of my works that you probably don't know. And I would be very happy to get to know your opinion about them. And perhaps even more desperately, I would love to see you. If your works happen to be published before visiting Moscow, please send them to me" (July 25, 1953).

It was in that same letter that he informed her about starting his Tenth Symphony. From this day onward, the frequency of their correspondence intensifies. From June 25th to October 30th, Elmira received 18 letters. The composer informed her about each step of his work in progress. He alludes to the apparent impasse that would come of their relationship, "Will our paths ever get meet? Perhaps, never. There are many, too many, reasons for that" (July 29, 1953).

Music Signatures
In a letter of August 10, 1953, he tells her about his "seeing" or, more precisely, "hearing" the music of the Third Movement, Allegretto, in a dream. Eleven days later, she received the stunning news that he had depicted her name in the melody! "This is the result", he writes in this letter. "Even if I had not arrived at such, I would be thinking of you constantly - whether or not this fact is recorded in my worthless manuscripts".

Essentially, he had introduced two alternating musical signatures, D-Es-C-H and E-A-E-D-A alluding to the depth and profundity of his feelings, expressed as the enigmatically beseeching qualities of the motif E-A-E-D-A, that denoted its unattainability. In his letters, he describes precisely how he arrived at each note in her name [See sidebar].

For many years, so many critics puzzled over these dominant musical phrases in the Third Movement: What did they mean? Some analysts guessed that they were calls; others interpreted them as a description of nature. Others suggested, though unconvincingly, that they were a portrait of Stalin. Nobody imagined what the real meaning was.

The composer invited Elmira to the Moscow premiere of the Tenth Symphony which took place on December 28, 1953 in the Bolshoi Hall of the Conservatory. The performance was directed by Yevgeny Mravinsky. Elmira told me that she felt the composer's constant gaze upon her during the entire performance. A year later, the symphony would be performed in Baku conducted by Abram Stasevich. Shortly afterwards, a copy of the score, arrived at the Azerbaijani Composers' Union, along with the Shostakovich's request to pass it on to the recipient. The copy had been addressed to Elmira Nazirova. Of course, it caused quite a stir among the music hierarchy, who were puzzled how such a nationally distinguished figure would bestow such an honor on this young colleague from Azerbaijan.

Naturally as time passed, the correspondence between the two musicians gradually lessened. In 1954 Elmira received only five letters; in the following two years, only one each year. In his final letter dated September 13, 1956, Shostakovich informed her of his marriage to Margarita Kainova since composer Nina Vasilyevna Varzar, the woman who had been his wife when he knew Elmira, had passed away in December 1954.

Nazirova as Musician
For Nazirova, the mid-1950s signified a period of important professional accomplishments. She undertook extensive tours as a pianist, traveling through Russia, Georgia, Poland, Czechoslovakia, Egypt and Iraq, performing with various orchestras conducted by Niyazi (Azerbaijan), Rakhlin, Stasevich (Russia) and Satanovsky (Poland).

Nazirova also achieved success as a composer; for example, her Etudes, the Piano Concerto on Arabic Themes, and the Suite for Two Pianos on Alban Themes (these last two pieces being co-authored with Fikrat Amirov) were recognized as of significant importance in the development of piano music in Azerbaijan. In 1971 Elmira Nazirova became Professor at the Azerbaijani Conservatory, and in 1972 she was appointed as Chair of the Piano Department. Her activities gained official recognition and she was awarded the title of Honored Art Worker of Azerbaijan.

Later, by attending various music forums throughout the Soviet Union, she chanced upon Shostakovich a few more times, though rather infrequently. In March - April 1956, Shostakovich attended the First Assembly of the Azerbaijani Composers' Union as an honored guest; in May 1964 he participated at the "Decade of Russian Culture" in Azerbaijan. Circumstances also brought them together in July 1968 during a summer vacation at the Composers' Union Resort Centre in Diligan, Armenia.

They appear to have met for the last time in October 1972 (three years before his death) in Baku during the "Decade of Russian Literature and Art". Of course, the heightened emotions of the 1950s were now assigned to a distant past; yet there would remain forever a secret that united their two hearts together. The musical world has long honored figures such as Clara Schumann, Meta Abegg, George Sand, Mathilde Wesendonck, Harriet Smithson, Emma Debussy as muses of the great composers, becoming the important part of their biographies and music legacy. However for various reasons, Shostakovich was not able to reveal the secret of the Tenth Symphony. Primarily, it seems he was guided by his ethics not to disrupt the peace in their respective families. Besides, such a "frivolous" musical dedication as that expressed in the Tenth would have run counter to the dogmas of Socialist Realism, contradicting the very image of the Soviet composer. Works were usually dedicated to Lenin, to the Party, possibly to friends or parents, but never to a woman who happened to have inspired them.

All the same, the true story behind the Tenth Symphony has finally been revealed, despite the secrecy maintained for nearly half a century. The story of the genius Shostakovich and his idealized love is now written in music history. It is depicted through the reminiscences of a gracious, and immesnely talented woman, distinguished by her charisma and unbelievable magnetism. It is reflected in these precious manuscripts - the stiff, yellowing letters that the great composer penned to her.

And, most of all, it remains symbolized in the immortal music of the Tenth Symphony where these two musical signatures - Dmitry Shostakovich and Elmira - remain intertwined forever.
Aida N. Huseinova is Associate Professor of Musicology at Baku Music Academy. She has a Ph. D in Musicology from St. Petersburg State Conservatory (1992). In 2000-2002 she was a visiting scholar at the School of Music at Indiana University (Bloomington) .

She has more than 40 publications, including three books: "Muslim Magomayev: Opera Works" (1997), Co-editor of "Farhad Badalbeyli: Articles and Materials" (1997) published by Gapp-Poligraf, and "Music: A Temple of Sincerity Encyclopedia of Music" with Ayna Publishers, 2000.
Back to Index AI 11.1 (Spring 2003)
AI Home | Search | Magazine Choice | Topics | AI Store | Contact us

Other Web sites created by Azerbaijan International
AZgallery.org | AZERI.org | HAJIBEYOV.com