Winter 2002 (10.4)
Page 55


Update on Refugees
[Editor's note: In late 2002, we asked Vugar Abdusalimov of UNHCR (United Nations High Commissioner for Refugees) to provide an update on the refugee situation, now that money from Azerbaijan's Oil Fund is starting to provide relief to refugees in the form of housing.]

The photos below: The Azerbaijani government is now investing millions of dollars from the State Oil Fund for shelters, community centers and apartment buildings for refugees, 2002 (Photo: Vugar Abdulsalimov).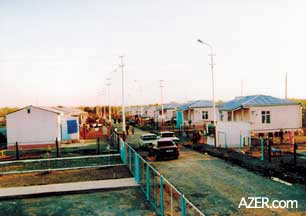 Of course, it is premature to speak about great oil revenues right now, but there is something being done to assist the uprooted with funds from the State Oil Fund. Established in December 2000 by Presidential Decree 434 and activated in July 2001, the Oil Fund has now accumulated $584 million in assets (as of July 1, 2002). To date, President Aliyev has authorized three expenditures from the Oil Fund. All three relate to improving the living conditions of IDPs (internally displaced persons) and refugees, through the provision of new housing construction and the provision of food rations. This expenditure represents $65 million for the years 2000-2002.
According to the State Refugees Committee of Azerbaijan, construction work is ongoing. Some 1,400 houses have already been built to accommodate those who fled from Armenia and could not manage to integrate into Azerbaijani society. Also, 320 more shelters were completed to relocate refugees.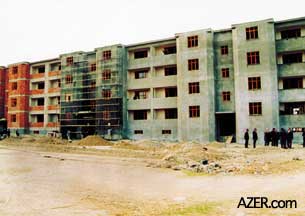 Another presidential decree provides 1,300 houses to settle IDPs in accessible areas of Fuzuli and Aghdam (800 and 500 homes respectively). And lastly, the President has authorized the construction of 3,500 shelters by the end of 2002 for people huddling in five camps located in Bilasuvar. These families were seriously affected by heavy rains, and their simple abodes were almost totally demolished. (UNHCR had also sent some emergency plastic sheets to help them.)

All in all, approximately 6,500 houses will be built by December 2002 in order to temporarily accommodate refugees and IDPs. In addition to this, resettled families will be provided with land, including a kitchen garden next to the house and 1 hectare per family next to the settlement, which will allow them to pursue agricultural activities.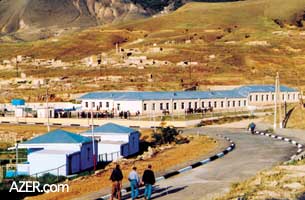 This move signifies a great change in the policies of the Government of Azerbaijan. It is working to improve the living conditions of the most vulnerable groups among the displaced population, using money from the Oil Fund. In the end, however, safe return to the land of origin is the ultimate solution to the plight of the uprooted.
___









Back to Index AI 10.4 (Winter 2002)
AI Home | Search | Magazine Choice | Topics | AI Store | Contact us

Other Web sites created by Azerbaijan International
AZgallery.org | AZERI.org | HAJIBEYOV.com