Winter 2002 (10.4)
Page 12

Newsmakers
Agshin Alizade: New Ballet - Journey to the Caucasus
by Aida Huseinova




Who would have guessed that nearly 150 years after a French writer visited the Caucasus, his travels would become the inspiration for an Azerbaijani ballet? Few people realize that Alexander Dumas (1802-1870), often referred to as "Dumas the Father" and known for writing adventure novels such as "The Count of Monte Cristo" and "The Three Musketeers", visited the Caucasus on a nine-month journey in 1858.

Azerbaijan's distinguished composer Agshin Alizade used Dumas' travels as the backdrop for his new one-act ballet "Journey to the Caucasus", which premiered on November 30, 2002 at the Azerbaijan State Opera and Ballet Theater in Baku.

Dumas, a prolific author, penned his observations in a diary and later published them in a book entitled "The Caucasus". Accompanied by artist Moynet and a Russian interpreter, he visited the Azerbaijani cities of Darband (now in Dagestan, Russia), Guba, Shamakhi, Tabriz (now in Iran) and Shaki. While in Baku, he visited Atashgah, the Zoroastrian Fireworshippers' Temple, where he marveled at the flames fed by the natural seepage of gas from the ground.

Dumas also spent considerable time in the Karabakh region, where he was a guest of the renowned poetess Natavan of Shusha. Undoubtedly, this visit to Karabakh provided the new ballet with many cultural and political ramifications, especially given the current status of the Karabakh region, which has been militarily occupied by Armenians since 1992.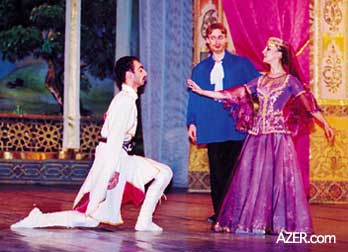 Alizade is recognized as one of Azerbaijan's most brilliant contemporary composers. Born in Baku in 1937, he studied composition at the Azerbaijan State Conservatory with Jovdat Hajiyev, who was one of the first to write a symphony in Azerbaijan Upon graduation in 1962, Alizade began his teaching career at the Conservatory. Since 1988 he has held a professorship in the Composition Department. From 1985 to 1990, he directed Azerbaijan's Composers Union.

After the collapse of the Soviet Union, Alizade moved to Turkey and taught at universities in Trabzon and Van (1994-2002). This new ballet marks his return to Baku, where he will resume his teaching and creative activities. Alizade was awarded People's Artist of Azerbaijan (1987). In 1997 (his 60th Jubilee), he was given the Republic's highest honor - the Sharaf (Glory) medal.

Alizade's works include five symphonies for symphonic orchestra. Other symphonic pieces include "Absheron Paintings", "Shirvan Paintings" and "Rural Suite". He has also composed works for chamber orchestra such as "Pastorale", "Ala Ashug" and "Jangi", choral works, instrumental pieces for piano and violin and works for feature films, documentaries and plays.

Photos: Scenes from Agshin Alizade's new ballet, Journey to the Caucasus, performed by the Azerbaijan State Opera and Ballet Theater in Baku. This work is based on the travel journals of French writer Alexander Dumas who visited the Caucasus in 1858 (Photos: Rafig Naghiyev).

Two musical staged works preceded "Caucasus": the ballet "Babak" (1986) and the choreographic symphonic work "Natavan" (1998). Both are historical retrospectives. Babak was a legendary national hero who led a rebellion against the Arabic caliphate in the 9th century. Natavan, the poetess that Dumas visited, was one of the most educated women of her time in Azerbaijan.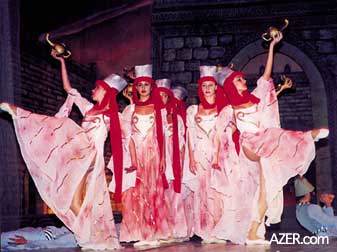 Alizadeh's new ballet contains all distinctive features of the composer's style - vividness of orchestral colors, incrustation of traditional tunes, and an amazing variety of rhythms. The fine juxtaposition of Azerbaijani and French music traditions is one of the distinctive qualities of this score.

For the premiere of "Journey to the Caucasus", Javanshir Jafarov directed the Opera and Ballet Theater Orchestra. People's Artist of Azerbaijan Tamilla Shiraliyeva choreographed the ballet, incorporating both national folk dances and modern dance. Medina Aliyeva, Honored Artist of Azerbaijan and laureate of the Golden Dervish Award, performed Natavan. Best Ballet Artist of 2001 Gulaghasi Mirzayev played Alexander Dumas. Islam Islamov interpreted Khasay khan (Natavan's husband), and Yuri Lobachev interpreted Moynet. The narrative was written by Dmitry Tarusov and Aleksey Lisitsin.

The sets and costumes were designed by Tahir Tahirov, Honored Art Worker of Azerbaijan. These sets featured picturesque landscapes of Azerbaijan, folk dances, traditional mughams being performed, national costumes and historical monuments such as Atashgah .
____

Chantal Poiret, the French Ambassador to Azerbaijan, attended the premiere and expressed her deepest gratitude to Agshin Alizade for such a wonderful musical tribute to her country.
Aida Huseinova has a Ph.D. in Musicology and teaches music history at Baku Music Academy. She spent this past year at Indiana University as an American Council Junior Faculty Development Program Fellow.


Back to Index AI 10.4 (Winter 2002)
AI Home | Search | Magazine Choice | Topics | AI Store | Contact us

Other Web sites created by Azerbaijan International
AZgallery.org | AZERI.org | HAJIBEYOV.com