Winter 2002 (10.4)
Page 86

International Highlights
KBR's Baku Office Achieves ISO 9001 Certification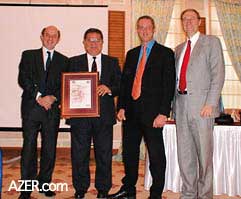 Left: KBR is the first major contractor in Azerbaijan to achieve ISO 9001 certification from the British Standards Institute (BSI). Left to right: Ron Beveridge, Senior VP Europe, Africa & FSU; Selchuk Guner, Country Director in Azerbaijan since 1993, Andrew Hay, QA Engineer in Baku for the Azeri Project and Trevor Noble, Senior VP Offshore Engineering.

The Baku office of Kellogg Brown & Root (KBR) is currently engaged in the detailed engineering design phase of the Azeri Project, with responsibility for the design of the Sangachal terminal expansion and three offshore jackets - that is, the legs of the platforms that sit on the seabed and provide a base for the topsides of the platforms.

Recently, KBR became the first major contractor in Baku to achieve ISO 9001 certification, which confirms that all of the company's work practices, processes and procedures comply with the International Standards Organization's Standard 9001 (ISO 9001), the international standard for quality assurance (QA). The scope of the certification covers engineering, design, construction management and project management of oil and gas, petrochemical and industrial installations, along with the provision of consultancy services in these fields of operation.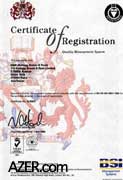 ISO standards such as 9001 are not unique to the oil and gas industry and are used in many manufacturing and service arenas. Most major companies throughout the world require that their contractors have this type of certification; however, in Baku, Halliburton is the first to meet the criteria of this high standard. In pursuing the ISO certification, KBR's senior management in Baku wanted their office to be on an equal par with the company's other engineering offices worldwide.

ISO 9001 is the standard that describes the requirements of a Design, Development, Production, Installation, and Serving Quality system. KBR prepared for its assessment by deploying Quality Assurance Engineer Andy Hay to Baku for the third quarter of 2001 in order to put the necessary procedures and work practices in place. In July 2002, the office underwent a pre-assessment audit, which was facilitated by a representative of the British Standards Institute (BSI).

Then, in October 2002, a BSI representative performed a three-day assessment of the KBR Baku office's operations. He inspected the software applications used for design, the robustness, effectiveness and dependability of the IT environment used to support the work, the control tools and procedures that verify integrity of the design, the competency of personnel undertaking the work as well as the work practices and tools of the support teams, such as scheduling, costing, planning, finance and administration and HSE (Health, Safety and the Environment).

In the end, the assessor found no nonconformities - a very rare result for an office as large as that of KBR, which presently employs some 200 persons.
___
Back to Index AI 10.4 (Winter 2002)
AI Home | Search | Magazine Choice | Topics | AI Store | Contact us

Other Web sites created by Azerbaijan International
AZgallery.org | AZERI.org | HAJIBEYOV.com