Spring 2002 (10.1)
Page 15

Azerbaijan Women Win European Cup in Volleyball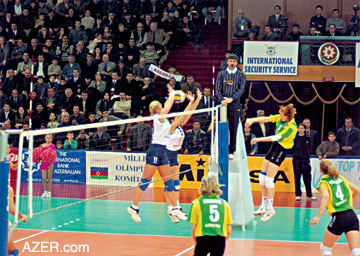 The "AzerRail" Azerbaijani women's volleyball team won the European Top Teams Cup at a competition held in Baku on March 9-10, 2002. Azerbaijan defeated Poland in the semifinals 3:0, advancing to the finals to beat Yugoslavia 3:0.

Left: A hard spike from Azerbaijan's team slips through the opponent's block.

According to captain Alla Hasanova, one of the team's most difficult matches in the competition was against an earlier opponent, Belgrade. "I think that their team was one of the strongest," she said. "We didn't expect to have such an easy time beating Poland and Yugoslavia.

"When we made it to the quarterfinals, we knew that the finals would be held in Baku," she added. "And it would have been a tragedy for us and for the entire nation to compete in the finals in our hometown and lose.

"This is our team's first victory in such a prestigious championship. In May 2002, we took third place in a Spring Cup that is held every year, which is like an unofficial European championship. But this is our biggest success to date. Many of the other teams and coaches were surprised to see us come out ahead."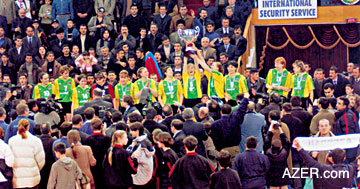 Left: Azerbaijan's "AzerRail" women's volleyball team and their fans celebrate their capture of the European Cup in Baku on March 10, 2002.

Even more surprising is the fact that Azerbaijan's team has only been competing in the international arena for less than a year. Prior to competing for Azerbaijan, some of the team's more senior players, including Hasanova, had contracts to play in various clubs in Turkey.

The "AzerRail" team consists of 12 players. Only six can play at once, with a seventh designated as a "libero", a specialized defense player. Faig Garayev serves as the head coach.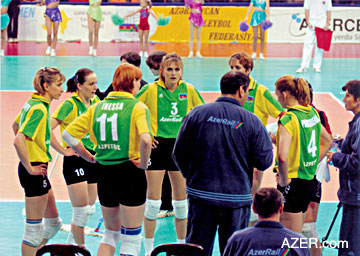 Left: Team captain Alla Hasanova, No. 3, confers with the rest of the AzerRail squad. Azerbaijan defeated Poland and Yugoslavia to win the European Cup.

The team practices at least five to six hours each day, Hasanova says. "We do running, weight training and other types of physical training. Volleyball is such an athletic sport that it's impossible to get good results without running and weight training."

In June, Azerbaijan's team will play in the selection games for the upcoming European Championship. Unfortunately, they missed their opportunity to compete in the 2002 World Championships by one round, losing to Holland, 2:3. The World Championships will be held in Germany August 30-September 15, 2002. Alla Hasanova, captain of the "AzerRail" women's volleyball team, was interviewed by AI staff member Mahira Muradova.

____
Back to Index AI 10.1 (Spring 2002)
AI Home | Magazine Choice | Topics | AI Store | Contact us

Other Web sites created by Azerbaijan International
AZgallery.org | AZERI.org | HAJIBEYOV.com