Winter 2001 (9.4)
Page 74
Business and Opportunities
Udi Books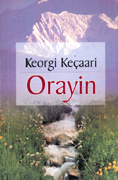 The Udi people, a small minority living in Azerbaijan, now have two new books related to their own literary heritage, thanks to the Norwegian Humanitarian Enterprise. "Orayin" is a 144-page collection of poems, legends and anecdotes published in the 52-letter alphabet of the Udi language. This anthology was compiled by Udi writer Georgi Kechaari. The second publication, "Waterspring," is a 23-page booklet of Udi legends, humorous stories and anecdotes in English translation.

An estimated 10,000 Udis live in Azerbaijan, Georgia, Russia and Belarus today. They identify themselves with the Christian Albanians who used to live in the Caucasus. Kechaari, who grew up in the Gabala region of Azerbaijan, says, "We have waited 40 years to see our poems published in our own language." Contact: Mr. Tore Seierstad, Norwegian Humanitarian Enterprise, 35 Rasul Reza Street 6, Baku. Tel: (994-12) 97-06-18; Fax: 97-06-18; nhe@galacticomm.org.





From Azerbaijan International (9.4) Winter 2001.
© Azerbaijan International 2002. All rights reserved.
Back to Index AI 9.4 (Winter 2001)
AI Home | Magazine Choice | Topics | AI Store | Contact us

Other Web sites created by Azerbaijan International
AZgallery.org | AZERI.org | HAJIBEYOV.com