Winter 2001 (9.4)
Page 74
Business and Opportunities
Book on Azeri Intellectuals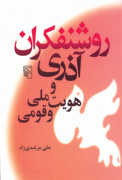 A new book in Persian, "Azeri Intellectuals, National Identity and Ethnicity" by Ali Morshedi-zad, has recently been published in Tehran (2001). The topic is one of much concern and discussion among Azeri intellectuals in relationship to the Pahlavi dynasty (1920-1979) and the Islamic Republic of Iran (since 1979). Unfortunately, the author comes with preconceived notions that he then sets about "proving", a process not unlike that of former Soviet writers. This book should be read by those who are interested in knowing the Perso-centric point of view regarding Azeri nationality, as well as the domestic politics and policy toward Azeri ethnicity within the Islamic Republic of Iran. Unfortunately, the theoretical basis for the author's discussion about ethnicity and modernity does not draw much upon the broad international scholarship that has been achieved this last decade. Contact: Nashr-eMarkaz Press at: info@nashr-e-markaz.com.



____
From Azerbaijan International (9.4) Winter 2001.
© Azerbaijan International 2002. All rights reserved.
Back to Index AI 9.4 (Winter 2001)
AI Home | Magazine Choice | Topics | AI Store | Contact us

Other Web sites created by Azerbaijan International
AZgallery.org | AZERI.org | HAJIBEYOV.com