Autumn 2001 (9.3)
Page 84
LUKOIL
Russian Orthodox Church Restoration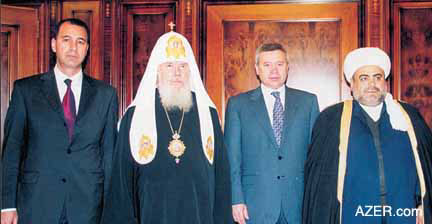 Above: On the occasion to dedicate the newly renovated Orthodox Church by LUKoil: Left to right: LUKoil's General Director in Azerbaijan Fikrat Aliyev, His Holiness Alexi II Patriarch of Moscow and Russia, Vahid Alakbarov President of LUKoil, and Sheikh Allahshukur Pashazade head of the Board of Moslems of the Caucasus.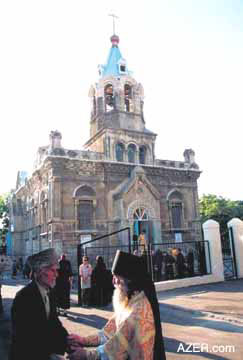 On May 25-28, 2001, Alexi II, His Holiness the Patriarch of Moscow and the Entire Russia, visited Azerbaijan. He came at the invitation of President Heydar Aliyev and Sheikh Allahshukur Pashazade, head of the Board of Moslems of the Caucasus. It was the first-ever visit of the Patriarch to the country.


While in Baku, the head of the Russian Orthodox Church met with President Aliyev, Murtuz Alasgarov, speaker of Milli Majlis (Parliament), and Hajibala Abutalibov, mayor of Baku. He was also awarded an honorary doctorate from Baku State University.

The Patriarch visited the Orthodox Church of the Holy Wives-Peace-Lovers (in Russian: Khram Svyatikh Jen-Mironosits), which was built by oil baron Zeynalabdin Taghiyev. Under his order, it has now been named "Cathedral of Baku-By-Caspian Diocese" of the Russian Orthodox Church. LUKoil's Charity Fund has sponsored this major renovation. The company has also helped to restore one of Azerbaijan's oldest mosques, Bibi-Heybat.

Left: LUKoil helped to renovate the Russian Orthodox Church of the Holy Wives Peace Lovers in Baku in May 2001.

LUKoil is a member of AIOC (Azerbaijan International Operating Company), which is developing Azeri, Chirag and the deepwater portion of Gunashli. The company is also involved in the Yalama, Shah Daniz and Zigh-Hovsan projects and operates 15 petrol stations. LUKoil has spent more than $1.7 million on educational, cultural and public health programs in Azerbaijan.


____
From Azerbaijan International (9.3) Autumn 2001.
© Azerbaijan International 2001. All rights reserved.
Back to Index AI 9.3 (Autumn 2001)
AI Home | Magazine Choice | Topics | AI Store | Contact us

Other Web sites created by Azerbaijan International
AZgallery.org | AZERI.org | HAJIBEYOV.com