Autumn 2001 (9.3)
Page 88
Azerbaijanis on the Job
Azfen: Joint Venture Between Azerbaijan and Turkey




Ten years ago, a joint venture between Azerbaijan and a Turkish company would have been unthinkable. Yet, in January 1996, SOCAR and Turkish company Tekfen set a precedent for Azerbaijan by establishing Azfen. Their goal was to enable local Azerbaijani enterprises to participate in international oil contracts and tenders.

"Our purpose is to bring the latest Western technology and Western standards to Azerbaijan," says Azfen's General Manager, Ismayil Mammadov, who has been with SOCAR since he graduated from university in 1971.

Photo: Azfen's General Manager, Ismayil Mammadov.

The Azfen joint venture became the first local construction company to win an international tender, and so far, is the only one to work directly with BP. Mammadov says that other local construction companies exist, but they have yet to win any tenders on their own: "These companies do a good job, but they've only worked as subcontractors on projects. They don't yet have the capability to compete for international tenders."

Out of Azfen's 350 employees, only four are Turkish - the rest are Azerbaijani. To acquaint these workers with Western standards for construction, Tekfen has trained and tested Azfen's employees in engineering, welding and assembling as well as safety measures. "We've brought our workers to the level that meets today's demands," Mammadov says. "For each project, all of our workers, especially the welders, were tested under the supervision of BP and given certificates."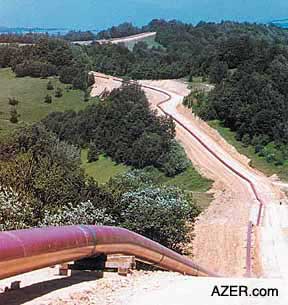 Left: View of western pipeline to Georgia, one of Azfen's major projects.

Since Azfen is locally based and hires mostly Azerbaijani employees, its costs for completing a project are lower. "Azfen has the advantage of being a local company, and the majority of our personnel are local people," Mammadov adds. "So we can maximize the use of local labor. We're working to develop the potential of local Azerbaijani engineers and workers by increasing their knowledge from one project to another. We're still a young company, but the fact that we can prepare proposals together with Tekfen and other partners helps us from a technical point of view."

In 1997, Azfen was contracted to construct the Azerbaijani section of the Western route onshore pipeline, which carries oil from the Sangachal terminal near Baku to the port of Supsa, Georgia, on the Black Sea. Azfen and Tekfen, the principal construction contractors for the project, also did construction work on the Sangachal terminal and oil tanks.

Ten years ago, this type of arrangement would have been impossible. During the Soviet period, all construction was planned by the State. At that time, the concepts of competition and tender did not exist. Quality was not necessarily the highest priority.

"Often, the State's planners didn't allow enough construction time for a project," Mammadov recalls. "For example, if a project required one year, those who represented the State would only give it eight months. No doubt, that had a negative effect on quality.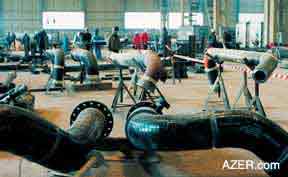 Left: Inside Azfen's pipeline fabrication facility near Baku.

"I don't mean to say engineers and companies from that time didn't care about quality. There were high-level professionals during the Soviet period, too. It's just that the conditions were different, the demand was different and the standards were different."

For example, environmental standards were much more lenient than they are now. "During the Soviet period, the goal was to extract and transfer oil," he says. "The government's standard relating to pollution was far too low to guarantee a clean environment."

Another major difference between the construction of today and that of the Soviet period is the increased emphasis on safety. Azfen is well aware of the high standards that international oil companies require for the safety of all employees. While working on the Western Route pipeline project, the joint venture was recognized by BP for its outstanding safety record: 3 million accident-free man-hours.

"This means that none of the people working on that project (from the project manager to the very last worker) experienced an accident or dangerous situation," Mammadov explains. "No one was injured or polluted the environment, and the project was finished without a loss of time."

Mammadov hopes that more and more local enterprises will soon join Azfen in becoming involved with Azerbaijan's oil development: "In the future, I hope that more and more local companies will appear and be able to meet today's demands."

____
From Azerbaijan International (9.3) Autumn 2001.
© Azerbaijan International 2001. All rights reserved.
Back to Index AI 9.3 (Autumn 2001)
AI Home | Magazine Choice | Topics | AI Store | Contact us

Other Web sites created by Azerbaijan International
AZgallery.org | AZERI.org | HAJIBEYOV.com