Autumn 2001 (9.3)
Page 89

AGI Petroleum Scholarships
The American Geological Institute (AGI) has awarded scholarships to four Azerbaijani petroleum geoscientists - Mehdi Yusifov, Khayyam Farzullayev, Farhad Sadikhov and Kanan Aliyev - to study in the U.S. for the 2001-2002 academic year. The awards in AGI's Azeri Petroleum Geoscience Scholarship Program are funded by ExxonMobil and Chevron.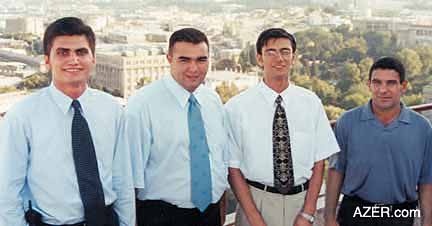 Above: AGI scholarship winners Mehdi Yusifov, Khayyam Farzullayev, Farhad Sadikhov and Kanan Aliyev.

The four awardees arrived at Texas A&M University on August 18 and will attend graduate courses there for ten months. After completion of the program, they may be invited to participate in a six-week summer geoscience internship at a company-sponsored office in the U.S. Their scholarships cover all costs for the program, including airfare, tuition, books, room and board, medical insurance and miscellaneous expenses.

This is the fifth year that AGI, a non-profit federation of 35 geoscientific and professional associations, has coordinated the Petroleum Geoscience Scholarship Program in Azerbaijan. Since 1997, it has provided scholarships to 20 Azerbaijani geoscientists. Chevron, ExxonMobil, Amoco, Frontera Resources and Texaco have supported the program in past years.

The program focuses on recent Azerbaijani geoscience graduates who have long-term career interests in the petroleum industry. It aims to give them access to Western-based geoscience training with a focus on petroleum assessment methodologies, advanced technologies and business practices.


Exxon - Books for Refugee Children
ExxonMobil has been at the forefront in publishing educational materials in Azerbaijan's new Azeri Latin script for the past several years. In September, Exxon Azerbaijan distributed English-Azeri illustrated Oxford Dictionaries, the eighth, ninth and tenth volumes of its Children's Encyclopedia, math textbooks and school supplies to refugee children in the camps along Azerbaijan's southern border.

Below: Joe Carlson of ExxonMobil presenting Oxford Picture Word Books to the refugee children.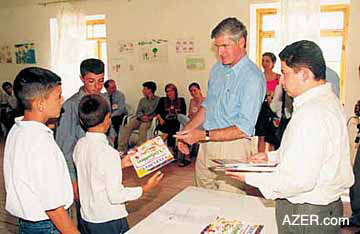 Publication of the Dictionary and Children's Encyclopedia was sponsored by Exxon Azerbaijan, in cooperation with Ayna publishing house. The dictionary, called "My Oxford Picture Word Book," is intended for students who have recently begun learning English.

Interesting illustrations help students understand and memorize hundreds of new words and expressions. Two of the new Children's Encyclopedia volumes are dedicated to "Movies" and "Music" and are illustrated with pictures of well-known movies, actors and musicians. Another encyclopedia volume on "Stars" features pictures of the various constellations.

The books were distributed to school libraries in the Southern refugee camps with assistance from the International Federation of Red Cross (IFRC) and Red Crescent Societies. In previous years, Exxon Azerbaijan distributed seven volumes of the encyclopedia. They have also been involved with printing an Azerbaijani-English dictionary in both Cyrillic and Latin scripts.

____
From Azerbaijan International (9.3) Autumn 2001.
© Azerbaijan International 2001. All rights reserved.
Back to Index AI 9.3 (Autumn 2001)
AI Home | Magazine Choice | Topics | AI Store | Contact us

Other Web sites created by Azerbaijan International
AZgallery.org | AZERI.org | HAJIBEYOV.com