Autumn 2001 (9.3)
Page 80
Baku Steel Opens
First Steel Recycling Facility in Azerbaijan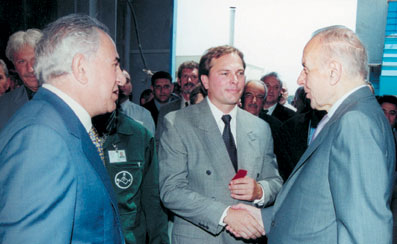 Above: Owner Paolo Parviz, Baku Steel Manager Greg Barnes and President Heydar Aliyev at the facility's grand opening in June 2001.

On June 23, 2001, President Heydar Aliyev official opened the new Baku Steel Factory, the first new major factory to open in Azerbaijan's steel industry since the country became independent. The steel-melting facility will recycle Azerbaijan's abundance of scrap metal into construction - grade reinforcing bars and billets. Future plans include the production of angles, flats, channels, hexagons and square bars for the construction and engineering industries.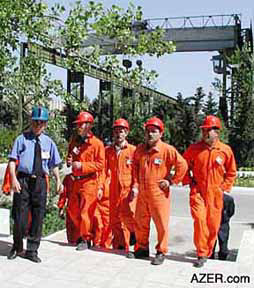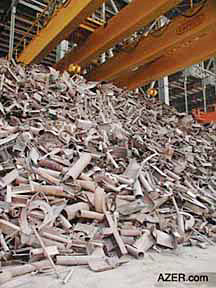 Left: Workers at the new Baku Steel Factory.
Right: A mountain of scrap metal from Baku Steel's cleanup of the city of Baku.

Baku Steel Company was formed by Paolo Parviz, an Azerbaijani from Iran who was educated in the West. Parviz has been active in Baku since 1993; he was the driving force behind the city's world-class hotel complex: Hyatt Regency, Park Hyatt and the Hyatt Towers and also Shollar Water Bottling Company. (See AI's interview with Parviz in AI 8.4, Winter 2000 issue. SEARCH at AZER.com.)

Baku Steel has been purchasing scrap metal throughout Azerbaijan since February. This recycling will have a positive impact on Azerbaijan's environment, cleaning the country of its scrap steel while maintaining Azerbaijan's and international air and water quality standards. It also means that future construction projects in the country will have access to first-class building materials at affordable prices.

The company's new facility is housed in a refurbished factory, that had never opened because of the collapse of the Soviet Union in 1991. More than 500 local employees and 43 local companies worked for two years to reconstruct the $50 million factory. Improvements included a new 110-kilovolt overhead power line and electrical sub-stations installed by AzEnergy between Promuzal, Sumgayit and Baku Steel Company, new gas supply pipelines installed by Azeri Gas and technical water provided from Jeyranbatan by Absheron Su.
Baku Steel Company, 15 Mir Jalal Street, Baku, Tel: (994-12) 90-30-70; Fax: 90-30-71; office@bakusteel.com.

____
From Azerbaijan International (9.3) Autumn 2001.
© Azerbaijan International 2001. All rights reserved.
Back to Index AI 9.3 (Autumn 2001)
AI Home | Magazine Choice | Topics | Store | Contact us