Summer 2001 (9.2)
Pages 56-57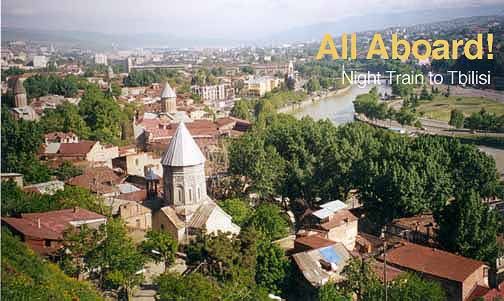 Traveling from Baku to Tbilisi, Georgia, or vice-versa? There's now a new transportation option to consider-the Silk Road Express. For slightly less money than an airplane ticket, business and leisure travelers can take advantage of overnight train service. The Silk Road Express route was launched in June 2000 as a joint project between SI Travel and American Express.

From top to bottom: View of Tbilisi, Georgia; the Silk Road Express departing from Baku's Central Railway Station; the train's restaurant car; and a double-occupancy business-class sleeping compartment. Photos: Arzu Aghayeva.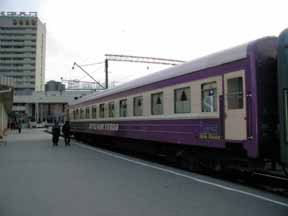 Economy rates are $168 one-way and $270 round-trip. Business-class rates are $260 one-way and $470 round-trip. All fares include sleeping compartments, dinner and a full breakfast in the train's restaurant car. Alternate menus are available for an additional charge.
The train has quality facilities on board, such as comfortable double-occupancy compartments in the business-class carriage. There's video and audio entertainment in the restaurant carriage. A wide selection of meals are also available there, so passengers can dine or simply relax with a drink, readily available from the bar.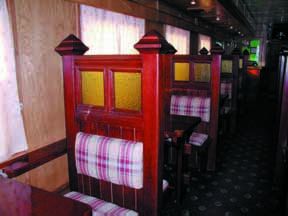 The demand for quality train travel has existed for several years since independence, especially since the relationship between Azerbaijan and Georgia has strengthened, and more and more international companies have opened offices in both countries.

Complicating the situation was the fact that the highways between the two capitals were in poor condition, especially during winter. The potential for starting the new train service existed, and SI Travel decided to start negotiations with the Azerbaijani railway authorities. Soon the project was up and running.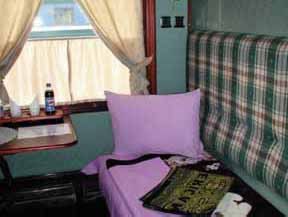 Three Times a Week
The Silk Road Express departs from Baku's Central Railway Station three times a week on Wednesdays, Fridays and Sundays and returns from Tbilisi's Central Railway Station on Mondays, Thursdays and Saturdays. Passengers should arrive at least 30 minutes before departure.
In between are two short stops in Azerbaijan-Ganja and Ujar-plus the border checkpoints, which usually take an hour to complete. The crossing is relatively hassle-free, and passengers do not need to disembark. Instead, immigration officers board the train to check passports and visas.

To get to Georgia, you'll need a valid passport, an Azerbaijani exit visa and a Georgian entry visa. The Georgian and Azerbaijani embassies usually process visa applications within three days.
For tickets, contact SI Travel, 111 Nizami Street, Baku. Tel: (994-12) 97-08-00 or 97-09-00; Fax: 97-19-02; e-mail: amex@amex.baku.az; www.si-travel.com. SI Travel, an Azerbaijani company, was chosen in 1996 by American Express Europe Ltd. to be its travel representative in Azerbaijan. It offers a full range of travel services and specializes in corporate services. SI Travel sells tickets for the Silk Road Express, while the management and operation of the service is undertaken by Silk Road Express Company.

_____
From Azerbaijan International (9.2) Summer 2001.
© Azerbaijan International 2001. All rights reserved.
Back to Index AI 9.2 (Summer 2001)
AI Home | Magazine Choice | Topics | Store | Contact us