Summer 2001 (9.2)
Page 61

Petroleum Section
Total Fina Elf - Community Projects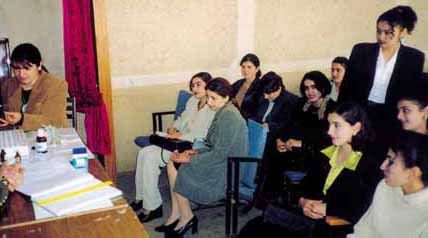 Above: Total Fina Elf is sponsoring Thalassemia Awareness Programs in the Lankaran region. Nearly one in every 12 Azerbaijanis is a carrier of the thalassemia gene, so it's important for couples to be tested before marriage.

Total Fina Elf, an oil company with headquarters in Paris, is funding a Thalassemia Awareness program to educate residents and physicians in the Lankaran region about this serious hereditary blood disease. It has been estimated that one in every 12 Azerbaijanis is a carrier of the gene.

The Lankaran region, in particular, has an especially high frequency of cases. Children who inherit the thalassemia gene from both parents suffer from acute anemia, enlarged liver and spleen, deformed bones and other growth disorders. They must receive blood transfusions regularly as well as expensive Desferal injections to remove excess iron from the blood. Without appropriate treatment, most do not live past the age of 10 years.

The $13,000 program is being carried out by the "Savab Dunyasi" (World of Charity) Thalassemia Association, which was founded in 1990 and is a member of the International Thalassemia Federation. By encouraging residents to be screened for the thalassemia gene, the organization hopes to lower the number of births of children with the disease. The program will include lectures for high school and college students, informational leaflets and brochures as well as work with the mass media. There will be seminars for doctors and nurses as well as training for laboratory employees who diagnose the thalassemia tests.

Contact
Savab Dunyasi
87 M. Gashkay Street
Baku
Tel: (994-12) 41-16-78
E-mail: savab.ans@ans-dx.com

Total Fina Elf is also working with the "Reliable Future" Youth Organization to bring drug and AIDS education to 30 secondary schools in the Lankaran and Astara regions. The program's lectures, seminars, slideshows and booklets will inform 3,000 young people about the problems of drug abuse and AIDS and encourage them to adopt a healthy lifestyle.

Contact
Nabil Seidov, President
"Reliable Future"
117 Nizami St.
Baku
Tel: (994-12) 93-21-41
Fax: 92-68-63
E-mail: relfuture@azdata.net

Total Fina Elf operates the Lankaran-Talysh project for their partners - OIEC, Wintershall and SOCAR. The company is particularly interested in strengthening and developing the health and education facilities in the Lankaran and Talysh regions, which is a particularly fertile area in southern Azerbaijan near the Iranian border. Total Fina Elf is also a partner in the Shah Daniz gas project.

_____
From Azerbaijan International (9.2) Summer 2001.
© Azerbaijan International 2001. All rights reserved.
Back to Index AI 9.2 (Summer 2001)
AI Home | Magazine Choice | Topics | Store | Contact us