Summer 2001 (9.2)
Page 61

Petroleum Section
International Awards for SOCAR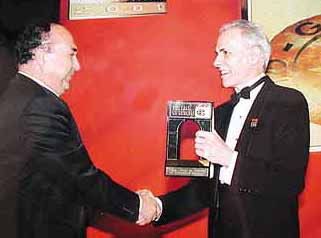 On March 5, 2001, SOCAR received the Arch of Europe Award for Quality and Technology at a ceremony in Frankfurt, Germany.

Left: Rafig Abdullayev, Assistant to SOCAR's President Natig Aliyev, accepts the Arch of Europe Award for Quality and Technology on behalf of SOCAR in Frankfurt, Germany, this spring 2001.

International communications firm Business Initiative Directions presented this award to SOCAR in order to support the company's image of quality.

For SOCAR, the award was a tangible reminder of its successes over the past few years - namely 21 international agreements in the oil and gas sector representing a total of $60 billion in investment.

Despite its outdated oil and gas extraction equipment, in 1997 SOCAR reached the level of stabilization of oil and gas extraction in Azerbaijan. Recent discoveries include a large gas deposit, Shah Daniz, with more than 1 trillion cubic meters of gas reserve. Other milestones have included a new floating rig, "Gurtulush", and updated semi-submersible floating rigs.

SOCAR also received the "New Millennium Award" in a July 2000 ceremony in Paris. The International European Award for Quality (known as the New Millennium Award) is presented annually by the Office Publishing Group in cooperation with the Trade Leaders Club (14,000 entrepreneurs from 112 countries). This award was also presented to two of SOCAR's structural subdivisions - Azneftyagh and Kaspmornefteflot. Other Azerbaijani entities receiving the award included the Assa-Irada Information Agency, the Information and Advertisement Department of the Baku Mayor's Office and a private company. Out of 121 award winners, six were from Azerbaijan; none of the other Caucasus countries were represented.

_____
From Azerbaijan International (9.2) Summer 2001.
© Azerbaijan International 2001. All rights reserved.
Back to Index AI 9.2 (Summer 2001)
AI Home | Magazine Choice | Topics | Store | Contact us