Summer 2001 (9.2)
Pages 60-61


Oil Odyssey 2000
Thomas Goltz




On August 22, 2000, a group of 26 riders set out on a dozen IMZ (URAL) sidecar motorcycles to travel along the length of the proposed 2,000km Baku-Tbilisi-Ceyhan pipeline route. Ten days later, after traversing rivers and mountains, Baku-Ceyhan Oil Odyssey 2000 arrived at the Turkish port of Ceyhan (pronounced Jeyhan), making history and drawing attention to the mega project that symbolizes Azerbaijan's (and Georgia's) economic independence.

Left: Itinerary for the motorcycle trip along the proposed Baku-Tbilisi-Jeyhan pipeline route

Organized by Thomas Goltz, author of "Azerbaijan Diary" (M.E. Sharpe, 1998/99), the core team consisted of Ewen Patterson and his son James, Thorlief Nilsen, Karl Griffen, Paul McAuley, Svante Cornell, Mike Scholey and Lesia Rudakewych (who got engaged during the course of the journey), Robert Corzine, Mehmet Kilic, Valeri Gelashvili and Shahin Nazarov, along with Jim Doheny and Burt Richmond from Lotus Tours in Chicago, and Terry Adams as a symbolic fellow-rider into history.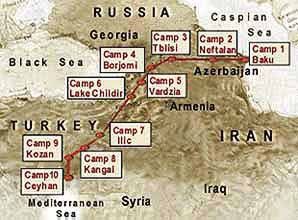 Cobbling together a last-minute group of sponsors that included everyone from Azercell to BOTASH, Conoco, SOCAR, Statoil and Turkish Petroleum, among others, Oil Odyssey 2000 received its symbolic first symbolic barrel of crude oil from President Aliyev before blasting off across the deserts of Azerbaijan, the forests of Georgia and the high plateau of eastern Turkey, and finally arriving in Ceyhan.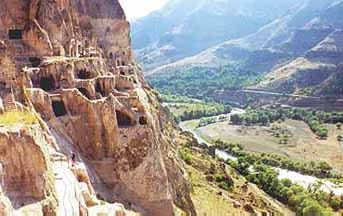 Left: Vardzia, an 11th-century monastery in western Georgia.



















Clockwise from top right: a crossroads at the Georgian-Turkish-Armenia border; one of the few women who were among the 26 riders in the Oil Odyssey 2000; President Aliyev presents the first symbolic barrel of crude oil to the riders; Statoil's sidecar navigates a mountain road along the route; and departure from the Government House in Baku.


To find out how to participate in this year's "Oil Odyssey" motorcycle ride, e-mail Thomas Goltz at goltz@wtp.net.

_____
From Azerbaijan International (9.2) Summer 2001.
© Azerbaijan International 2001. All rights reserved.

Back to Index AI 9.2 (Summer 2001)
AI Home | Magazine Choice | Topics | Store | Contact us