Summer 2001 (9.2)
Pages 54-55

The Old City Inn
Students Train for Future Tourist Industry

by Ruslan Samadov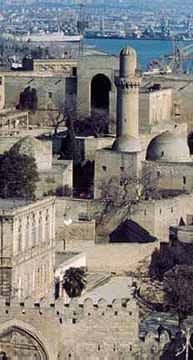 When Western University decided to create Baku's first hotel school at the Old City Inn, we weren't sure if the guesthouse would attract any guests. But today, it's almost always booked. Our customers are usually mid-level managers and people who come to Azerbaijan for humanitarian missions. They like the moderate prices and the bed-and-breakfast atmosphere.

Ichari Shahar is the setting for the Old City Inn, a training ground for future Azerbaijani hoteliers. From top to bottom: view of Ichari Shahar, restaurant, and one of the guest rooms.

If you had seen the site before reconstruction, you wouldn't have believed that it was possible to make a guesthouse out of it. Western University reconstructed a former artists' studio by widening the rooms and adding a fourth floor. The bottom floor is the kitchen, then there's the restaurant level. Seven guestrooms are on the third and fourth floors.

Located in the oldest part of the city in the "Inner City" (Ichari Shahar), commonly referred to as "Old City" by most foreigners, the guesthouse is about three to five minutes' walk to Shirvanshah Palace or Maiden's Tower and the heart of Baku.

Customer Service
The purpose of Old City Inn is to give our students real-world experience in the tourism and hospitality industry. We try to teach them according to the Western concept of customer service as well as instruct them in practical matters like reception, housekeeping and food safety - all kinds of things.

Of course, in the former Soviet Union, in the Intourist hotel system, there wasn't this concept of customer service. Westerners who came to the former Soviet Union were placed in the hotels whether they wanted to stay there or not. And everyone who worked in these hotels knew that they would be paid the same amount, regardless of how hard they worked. So their attitude was: "Why do I have to take care of the customer?"


| | |
| --- | --- |
| | |

Today in Azerbaijan, we know that the competition among hotels increases each year. Hotels and guesthouses will have to distinguish themselves to draw clients, not only by their prices but also by their service. Right now, the service in most Azerbaijan hotels in general is not that good. When we teach students, we show them that they have to be the best according to Western standards of service.

Practical Experience
To understand the work involved in running a hotel, the students learn by doing it themselves. Our students learn by working in housekeeping, in the reception and in the kitchen. We have four students working in shifts, two at a time. Two of the students work here permanently and receive a salary. The other students are interns. We want them to become good managers with strong theoretical backgrounds and practical experience.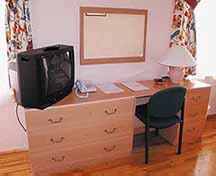 This summer, we hope to open the restaurant so that the students will have a chance to practice there, too. The kitchen equipment was brought in through a program sponsored by TACIS (Technical Assistance of the European Community to the CIS Countries). We plan to serve European cuisine and, of course, the local cuisine.

As far as courses, the students take English, Spanish, French, Food and Beverage Service, Food and Beverage Systems, Hotel Management, International Hotel Management, Hospitality Management, Tourism Management and Work of the Tourism Agencies. No other academic institution in Azerbaijan offers this kind of hotel management training.

The curriculum was developed with the help of three European schools: Dublin Technological Institute, Queen Margaret College in Scotland and the Hague Hotel Business School. These schools also helped train our instructors through a grant from the TACIS program. Two of our teachers trained at each school (six teachers total) over the course of three years. Some of our students have also been able to train abroad for several months. Some of our students train at Hyatt, too.

After four years at the hotel school, each student graduates with a bachelor's degree in Tourism and Hospitality Management. We train them so that after graduation they can easily manage hotels or guesthouses - maybe not big hotels like Hyatt and Radisson - but small hotels and restaurants. They can start their own business or be a consultant for other businesses. We currently have 40 students in the program; our first class of eight students will graduate this year.

Three to four years ago, there was no tourism to speak of in Azerbaijan. There's still not much competition today, but it is growing. We're trying to show our students that they can succeed in this field. Already, we're getting considerable repeat business. Visitors to Baku like the friendly, personal attention we offer in our small Inn.


Ruslan Samadov is the former Managing Director of the Old City Inn.

Old City Inn
16, Dalan 10, Kichik Gala Street
AZ1001, Baku, Azerbaijan

Tel: (+994-12) 497-4369, 497-1448
Fax: (+994 12) 497-0155
office@oldcityinn.com
OLDCITYINN.com

_____
From Azerbaijan International (9.2) Summer 2001.
© Azerbaijan International 2001. All rights reserved.

Back to Index AI 9.2 (Summer 2001)
AI Home | Magazine Choice | Topics | Store | Contact us