Autumn 2000 (8.3)
Scandinavian Ancestry
Tracing Roots to Azerbaijan

by Thor Heyerdahl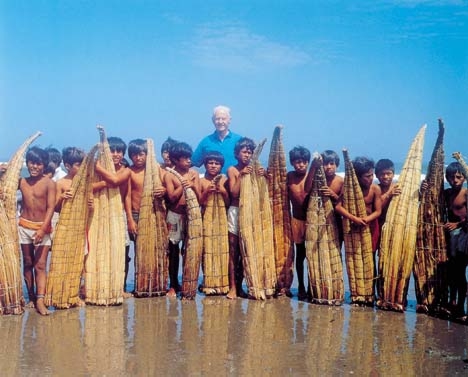 Above: Thor Heyerdahl with Peruvian children who still construct traditional boats made of reeds, the principle material that enabled early migrations on trans-oceanic voyages. Courtesy: Thor Heyerdahl.

Archeologist and historian Thor Heyerdahl, 85, has visited Azerbaijan on several occasions during the past two decades. Each time, he garners more evidence to prove his tantalizing theory - that Scandinavian ancestry can be traced to the region now known as Azerbaijan.

Heyerdahl first began forming this hypothesis after visiting Gobustan, an ancient cave dwelling found 30 miles west of Baku, which is famous for its rock carvings. The sketches of sickle-shaped boats carved into these rocks closely resemble rock carvings found in his own native Norway.





From Azerbaijan International (8.3) Autumn 2000.
© Azerbaijan International 2000. All rights reserved.
Back to Index AI 8.3 (Autumn 2000)
AI Home | Magazine Choice | Topics | Store | Contact us