Spring 2000 (8.1)
Page 9
Reader's Forum
Azerbaijan, Now Separate and Independent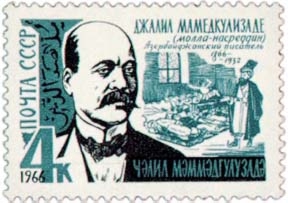 It was extremely kind of you to send Azerbaijan International magazine to me. Indeed, my interest in the USSR started in 1964 when Tokyo hosted the Olympic Games. As a freshman at the university, my main interest focused on relations between the Soviet Union and Mongolia. This means that I have been following the changes in that area for more than 35 years.

But strangely enough, when I learned of my new assignment at the new Japanese Embassy in Azerbaijan, I realized that I knew little about this small nation as its own entity; everything I had studied related to the USSR itself.

Stamp commemorating the life and works of Jalil Mammadguluzade, editor of the famous satiric magazine, "Molla Nasraddin" (1906-1932). Note the use of Arabic to write "Molla Nasraddin". 1966. Courtesy: Yagub Karimov.

Upon receiving your magazine, I felt as if I had seen a gleam of hope before me in the darkness. My wife and I will be traveling to Azerbaijan on February 8, 2000 to be part of the team that opens the new Embassy there. We look forward to strengthening relations between our country and Azerbaijan.

Akira Motoyama of Tokyo, Japan
Chargé d'Affaires
At the Japanese Embassy that has just opened in Baku

From Azerbaijan International (8.1) Spring 2000.
© Azerbaijan International 2000. All rights reserved.

Back to Reader's Forum
Back to Index AI 8.1 (Spring 2000)
AI Home | Magazine Choice | Topics | Store | Contact us