Winter 1999 (7.4)
Pages 54-55


Maiden's Tower Ballet
New Plot Rids Soviet Propaganda
by Betty Blair


Left: Front cover of musical score of Maiden's Tower by Afrasiyab Badalbeyli, 1941.

Right: Afrasiyab Badalbeyli, Composer of Maiden's Tower Ballet, first performed in 1940.

Centuries after it was built, the Maiden's Tower is still the most prominent landmark in Baku. Today only a few other buildings tower over it in the downtown landscape. The tower's origins still remain enigmatic: no one knows for certain how old the monument is or exactly why it was originally built. Some would suggest that the tower was called "maiden" simply because it was never penetrated by enemy forces.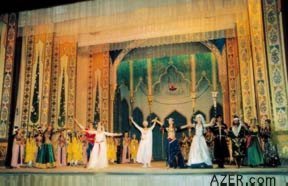 Another explanation for its name is found in legends. One version depicts a young girl jumping off the top of the tower to escape the incestuous advances of her father, the khan. This story line served as the inspiration for the creation of Afrasiyab Badalbeyli's "Maiden's Tower" - the first ballet ever to be produced in Azerbaijan and the Muslim East (1940).
But this past October the ballet was restaged. Afrasiyab's nephew Farhad Badalbeyli, Rector of the Music Academy and well-known pianist, used the occasion to modify the storyline. "Our people - writers and musicians - were quite dissatisfied with the old version," says Badalbeyli. "It wasn't typical for Azerbaijan society; it just didn't ring true." Incest is such a forbidden offense in Azerbaijani and Moslem culture that it would be unthinkable for a man to try to marry his daughter. So there would have been no need for a folktale to warn society against such wrong behavior.

Photos: Scenes from the new version of Maiden's Tower Ballet. The premier of the new version of the ballet took place in November 1999. Some scenes included 100 folk dancers and ballet dancers on stage at one time. Photos: Shahin Abbasaliyev.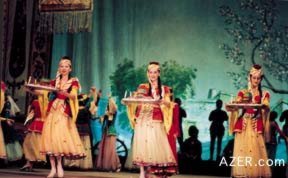 Like many creative works of the Soviet period, Maiden's Tower Ballet, too, had fallen victim to the dictates of Communism when everything had to relate to Marxism and Leninism. Since a khan (king) had to be portrayed as the "Enemy of the People", the ballet shows him trying to commit the worst imaginable sin - incest. "It's a typical Soviet story line that reflects conflict between classes - a war between proletariat, khans and beys." says Badalbeyli. "That's why they depicted the khan as such a horrible sexual maniac. But throughout history, Azerbaijan khans have often had several wives. There was no need to create a situation where the khan would have an illicit relationship with his daughter."

The new version of the ballet gets rid of the ideological propaganda. This time, there is no father - daughter relationship. The plot is simply: A khan sees a beautiful girl, Gulyanag, in one of the villages that is under his authority. He wants to marry her, but she already has a fiancé, Polad. When the khan tries to force her to marry him, Gulyanag asks him to build a tower, hoping to gain some time. He does so.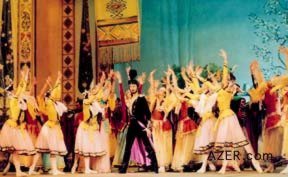 Upon completion of the tower, Polad comes to the palace and kills the Khan. Then he goes to the tower to rescue Gulyanag. But Gulyanag is unaware of what has just happened, and thinks the khan is coming after her. She rushes up to the roof of the tower and flings herself into the sea rather than succomb to his advances. But the footsteps, it turns out, were those of her beloved fiance who was coming to be reunited with her.

There's more to the new production than just a new story line. There are new stage sets, new costumes and a new, rich orchestral arrangement by Musa Mirzayev. Instead of ballet dancers performing the folk dances (which is very difficult for them to do), Azerbaijan's National Folk Dance Troupe joins them on stage, resulting in nearly 100 dancers appearing at one time.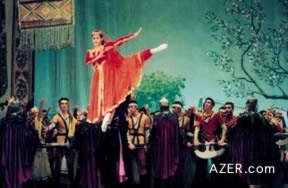 The new "Maiden's Tower" ballet premiered October 24, 1999 at Baku's Opera and Ballet Theater for the occasion of the 54th anniversary of the United Nations. In 1997 Paolo Lembo, then head of the UN, was instrumental in organizing an Opera and Ballet Trust Fund with the assistance of various oil companies to support the efforts of the opera and ballet theater. This new staging is part of the result.

Photo: Madina Aliyeva danced the role of the maiden, Gulyanag, in the 1999 premiere. Photo: Ilgar Jafarov.

In the new production, ballerina Madina Aliyeva dances the role of the maiden, Gulyanag; In 1940, it was ballerina Gamar Almaszade who performed this part and in 1952 went on to receive the highest title of "Honored Artist of the USSR". Almaszade, 84, was present for the restaging of ballet.

"The Maiden's Tower Ballet" is not the first story to have undergone rewriting since independence. Fikrat Amirov's opera "Sevil" has as well. This story, based on Jafar Jabbarli's play of the 1920s commemorates the courage of the main character, Sevil, in daring to take off her veil (chador). In the Soviet version, a Bolshevik comes to Baku to encourage her independence. The new version, simply develops around the tensions between a unfaithful husband and a very clever wife - not political ideology.
Uzeyir Hajibeyov's opera based on "Koroghlu" (1937) also has similar Soviet vestiges. Again class struggle is at the heart of the Soviet version of the libretto. Koroghlu, the hero of an ancient epic of Turkic-speaking peoples, gathers supporters and carries on struggles against evil khans and beys. The "Soviet version" coincides with Communist ideology in that the struggle is by the working class against their exploiters. In the original story Koroghlu seeks to avenge the khan's horrible deed of blinding his father, who had challenged the khan's authority. The libretto of Koroghlu has yet to be rewritten.



From Azerbaijan International (7.4) Winter 1999.
© Azerbaijan International 1999. All rights reserved.

Back to Index AI 7.4 (Winter 1999)
AI Home | Magazine Choice | Topics | Store | Contact us