Winter 1999 (7.4)
Page 52
Famous People: Then and Now
Bella Davidovich
Pianist (1928-)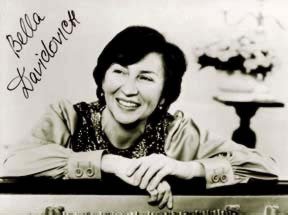 Renowned pianist Bella Davidovich was born in Baku and began studying piano when she was six years old. Three years later, she accompanied the Philharmonic Orchestra performing Beethoven's First Piano Concerto. In 1939, she moved to Moscow to continue her musical education and in 1949 won First Prize at the Chopin Competition in Warsaw, an achievement that launched her on a very successful career in the Soviet Union and Eastern Europe. From 1950-78, she appeared as soloist with the Leningrad Philharmonic and also taught at the Moscow Conservatory (1962-78).

In 1967 she made her first appearance outside the Soviet Union in Amsterdam but when her son, Dmitry Sitkovetsky, defected to the West in 1977, her concerts abroad were canceled. Eventually, she managed to join him in 1978 by emigrating to the U.S. where she became a naturalized citizen in 1984. In 1988, she returned to Russia with her son, being one of the first emigrés to be invited to perform there during Gorbachev's period of Perestroika.

Davidovich continues her international performances and has taught at the famed Juilliard School of Music in New York City since 1982. In the summer of 1999, she returned to Baku to give Master classes to the young musicians there.

What experiences and interests in childhood would you say shaped your life and career?

I grew up surrounded by musicians. Everyone in my family was deeply involved in music except for my father, a distinguished surgeon in Azerbaijan. Both my mother and grandfather worked at the Opera Theater. Mom trained the vocalists and my grandfather played First Violin. Mom's students were always coming over to our house to practice. Also, radio had a great influence on me.

Of course, in the beginning I couldn't read notes, but I used to listen and pick up the music by ear. When I was three and a half years old, I figured out one of Chopin's waltzes on the piano. When I was six, I joined a group of special talented children and began formal music education. At nine, I was soloist with Baku's Philharmonic Orchestra performing Beethoven's First Piano Concerto. At 12, we left Baku for Moscow so I could attend the Moscow Conservatory and study with Professor Konstantin Igumnov.

A year later, World War II started and my family had to return to Baku as my father was mobilized to work as a surgeon in a military hospital there.

My mom returned to her work at the Opera Theater. In 1946 I graduated from music school in Baku and again left for Moscow Conservatory. During my third year of studies there (1949), I was chosen to perform at the Fourth International Chopin Competition for Piano in Warsaw. I took First Place.

My success in Warsaw was celebrated in Azerbaijan. During World War II, many cities of the USSR were under occupation and, of course, cultural activities came to a halt. However, Baku was able to maintain itself as a cultural center at that time. Concert halls were full. People were passionate about music.

How was your own childhood different from that of kids growing up today?

Today when I read the newspaper and watch TV, I get so disappointed hearing about the terrible things that the youth are involved in, especially in America. How is it that students bring weapons to school and shoot their teachers and classmates? How is it that girls get pregnant when they are 14-15 years old, give birth in school bathrooms and discard their babies in garbage cans? And drugs? When my son was growing up, I never heard of such things.

Unfortunately, some young people misinterpret the word "freedom" and do whatever they please. I hope these things will change as time goes by. Of course, there are always very good schools and excellent opportunities for those who seek them.

At the same time, I was overjoyed when I returned to Baku both in 1998 and again this year and witnessed the concert halls full of young people who had come to listen to classical music. It shows that Baku's youth are still interested in this form of music. I was thrilled to see it.

What advice would you give to young people as they enter the 21st century?

First of all, I wish them health. Let them be healthy. I hope there won't be wars in the 21st century. At the moment, there are so many hot spots in the world. Even though I'm living safely in a rich country like America, I get very sad when I read about Chechnya, Grozny and Makhachkala in the news. Those places are still so dear to my heart as I used to pass through them while traveling by train to Moscow. It's very disturbing to read that people are getting massacred in those places.

We haven't been very lucky this century. There have been so many victims and hardships for people. I hope the 21st century brings peace to the world.

As far as the youth are concerned, I would advise them to listen to music, especially quality music. It's so hard for me to understand contemporary Western music with electronic instruments.

What would you say is your greatest achievement in life? What do you want to be remembered for most?

The first important success in my life was winning the Chopin Competition. It gave me the possibility at the age of 21 to travel and perform all over the Soviet Union and abroad. That led to my coming to the United States where, at the age of 51, I made my debut at Carnegie Hall. Nobody had really heard me there but the Hall was sold out. This recognition created the possibility for me to perform with the best orchestras and musicians in the most important music halls of the world - Japan, Israel, South America, Europe and the States.

It's very hard for me to name the most important performances I've given. I have a very large repertoire, including about 30 concertos for symphony orchestra and also perform with chamber orchestras, especially in the U.S.

Bella Davidovich was interviewed by Vafa Mastanova in November 1999.

From Azerbaijan International (7.4) Winter 1999.
© Azerbaijan International 1999. All rights reserved.

Back to Index AI 7.4 (Winter 1999)
AI Home | Magazine Choice | Topics | Store | Contact us