Winter 1999 (7.4)
Pages 40-41

Famous People: Then and Now
Vasif Adigozal
Composer (1935-2006)





Left: Vasif Adigozal at the age of 14 or 15 in the early 1950s.
Right: Vasif Adigozal, late 1990s.

Vasif Adigozal is a well-known Azerbaijani composer who writes music for piano, symphony and chorus. His music is available on CD from the AI Store, see Classical Music of Azerbaijan (6 volume set).

To listen: click below:

Volume 3. Concerto
Azerbaijan State Symphony Orchestra
Piano Concerto No. 4 [Murad Adigozalzade (Adigezalzade via Russian), Piano]

Vasif Adigozal - Six Preludes (1992)
Six Preludes (Elnara Hashimova, Piano)


What experiences and interests in childhood would you say shaped your life and career?

From the moment I began to understand what the world was all about, I wanted to be a composer. The atmosphere that permeated our family supported this idea. My father (Zulfi Adigozalov, 1898 - 1963) was a famous folk singer, so a lot of musicians used to visit our home, especially those closely connected with the classics of Azerbaijan traditional music, such as Jabbar Garyaghdi, Seyid Shushinski and Khan Shushinski. No matter what the topic of conversation was, the name of Uzeyir Hajibeyov always came up. He was the mentor of all Azerbaijani composers. So Uzeyir Hajibeyov was my idol as a child; I wanted to become a composer just like him. I never had any doubts about it.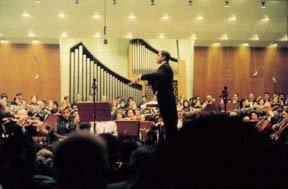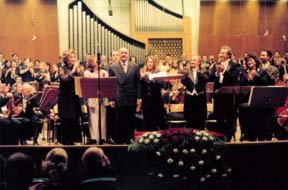 Left: Yalchin Adigozalov, directing "Chanakkale" composed by his father Vasif Adigozal. The Oratorio was performed by the Symphonic Orchestra of the Turkish President.

Right: At the Grand Finale. Vasif (center) with son Yalchin, standing behind him. Ankara, Turkey, 1998

I composed my first piece when I was 11 years old. I was in the fifth grade. At that time I was practicing the piano three to four hours a day. Once when I was improvising, I decided to jot down my thoughts in my note - book. I'm sure my first effort was less than professional but when I brought it to class, my teachers liked it.

When I was 13, I wrote music for Samad Vurghun's poem "Azerbaijan." My father gave it to Bulbul, one of Azerbaijan's best - known singers. He told my dad that I would become a composer.

My first pieces were based on positive emotions, even though I grew up during World War II. In spite of the difficult times, we never actually felt the horror of the war, since Baku was never under attack and never bombed. Of course, we were afraid, but still it can't be compared with what today's children in Azerbaijan have experienced: Black January (1990), the Khojali massacre (1992) and other horrors of the Karabakh war (1988 - 1994) including the mass exodus of nearly 1 million refugees from their homes. Today's children could write music based on negative emotions.

I still remember those years of war: everyone was living under the same conditions. There was an equality about our situation which I think was a good thing - people trusted each other. For example, if any family on our street had food, they would share it with the rest of us. Unfortunately, such good qualities are dying out nowadays and that leads to negative emotions.

How was your childhood different from that of kids growing up today?

There are so many opportunities for youth today related to technology and language. All this is very good. My grandson is only five years old, but he can already use a computer.

When I was young, it didn't take much to impress us. I remember being in the same class as Yusif Samadoghlu, the son of Vurghun the poet. Once when Vurghun went to England in 1946 or 1947, he brought back presents for all of us in his son's class. He gave us pens, and we were so happy. Imagine - a pen from England! Today it's much more difficult to impress children.

However, I'm concerned about one thing. In the course of development and modernization, some of our values are dying out. For example, a child should learn to love and respect his Motherland, his nation, its traditions, language and religion. If a child learns English, let him do it as an Azerbaijani. I think we adults are to blame for this cultural loss. Everything must be presented to a child within a permissible framework. They should never be allowed to jump over the fence.

Another example: these days children take delight in modern trends of music like pop music and rock. This is a good thing, of course, but they should love their national music first of all. If we don't teach our children these values, they will grow up to become English, French, or some other nationality, but not Azeri.

What advice would you give to young people as they enter the 21st century?

I would advise the youth to be open to everything that is modern while at the same time never forgetting that they are Azeri. Let our youth go abroad and study and work in foreign countries but they should never forget their Motherland!

What would you say is your greatest achievement in life? What do you want to be remembered for most?

Usually when a person in the arts is asked this question, he replies: "My best work has yet to be created." For me, if a composer puts all his efforts and talent into creating his works, then he considers all of these works to be dear to his soul. Time will tell what I'll be remembered for the most.

Adigozal's works include four concertos for piano and symphonic orchestra, four oratorios including Odlar Yurdu (Land of Fire), Garabagh Shikastasi (Karabakh Mugham), Chanakkale (Commemorating one of the most important battles in WWI that took place near Istanbul) and Gam Karvani (Caravan of Sorrow). He also wrote three symphonies, five poems for symphonic orchestra, the mugham symphony Segah, and an opera called Olular (The Dead). He has four musical comedies Maishat Sahnalari (Daily Scenes), Nanamin Shahlig Gushu (My Granny's Happiness), Boshanag, Evlenerik (Let's Get Divorced, We'll Marry Later) and Lanat Sheytana (The Devil Take it). Additionally, he has composed more than 150 songs for cinema, drama and popular hits.


Vasif Adigozal was interviewed by Farida Sadikhova.

From Azerbaijan International (7.4) Winter 1999.
© Azerbaijan International 1999. All rights reserved.

Back to Index AI 7.4 (Winter 1999)
AI Home | Magazine Choice | Topics | Store | Contact us