Autumn 1999 (7.3)
Pages 22-23

Mammad Amin Rasulzade
Founding Father of the First Republic

by Rais Rasulzade, his grandson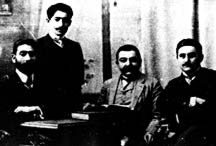 Political visionary

Mammad Amin Rasulzade (1884-1955), who headed the Musavat Party,helped to set up the first independent government of the Azerbaijan Democratic Republic (ADR) in May 1918. But the turmoil of the times proved too much for Rasulzade's young government. On April 25, 1920, Bolshevik troops crossed into Azerbaijan and entered Baku on April 28. They demanded the resignation of Azerbaijan's Parliament and set up their own government. The fledging democracy-only in its 23rd month-collapsed immediately.

Photo: Mammad Amin Rasulzade in his youth (right) among social Democrats Mashadi Azizbeyov (left) and Nariman Narimanov (second from left). Around 1904-1905.

Rasulzade, like many other distinguished personalities of the pre-Soviet period, ended up spending the rest of his life in exile. Here are the highlights of what happened as told by his grandson Rais Rasulzade, with details and anecdotes drawn from Rasulzade's own personal writings.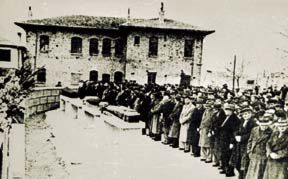 Photo: Mammad

Amin Rasulzade's funeral in 1955 in Ankara, Turkey.
After the Bolsheviks took over the government of the Azerbaijan Democratic Republic (ADR) in April 1920, my grandfather Mammad Amin Rasulzade went into hiding for several months by fleeing to Lahij, a small remote mountain village in the Caucasus-these days, about a five-hour journey from Baku by car.

The Bolsheviks went searching for him, but he managed to allude them until the day when one of his friends, who also was hiding in Lahij, sent a letter to Baku. The note was intercepted, and the authorities discovered the whereabouts of my grandfather. The Bolsheviks went to Lahij and searched all of the houses, but they still couldn't find him. He had been carefully hidden by the local people. Realizing he was no longer safe in Lahij, he

decided to move on to another village. On the way, he was stopped by soldiers. They were curious about his hands.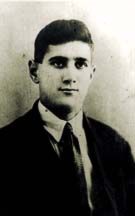 In comparison to those of the other villagers, they looked too aristocratic-a dead giveaway. So they arrested him, took him to Baku and put him in prison where he was kept under very miserable conditions in a dark, cramped room.

Rasul Rasulzade at the age of 19. He was arrested that year (1937) and killed in 1938.

Nearly everyday he was interrogated. One day while they were questioning him, a man in a leather military jacket approached and asked: "Do you recognize me?" Rasulzade had difficulty discerning who the figure was because of the intense lights that were directed into his face during the interrogation. Finally, he said: "Koba, is that you?" It was Stalin. The two men embraced. Stalin had come to Baku immediately upon hearing that Rasulzade had been arrested. The two had a history of a long friendship.

Stalin told Rasulzade how endangered he was: "Some of the Azerbaijani Communists want you shot; others want you thrown in prison for the rest of your life. Let me save you." But Rasulzade told Stalin that everything that the Communists had achieved in Azerbaijan had come at the expense of crushing the people's rights and the country's independence. Rasulzade knew that there was no hope of receiving help from the Great Powers. Stalin asked Rasulzade to go with him to Moscow since he wouldn't be safe from the Communists in Baku if he stayed. A decision had to be made.
Early Years
Rasulzade and Stalin had met for the first time in Baku when they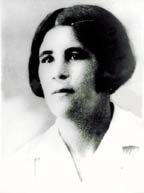 were

both in their twenties, around 1907. At the time, Rasulzade was working as a journalist, writing articles for various opposition magazines and working with the Musavat Azerbaijani National Party. Stalin, a Georgian, was in Baku organizing the oil workers against the authorities and the Czar. When officials tried to arrest Stalin, it was Rasulzade who had saved him by hiding him in his apartment.

Khalida Rasulzade was sent into exile along with her family, but no one knows what happened to her and her child after their escape.
Rasulzade was eager to be rid of the Czar too, but he differed from Stalin in that he wanted the government to be based on democratic principles, not socialistic. Rasulzade wanted his country to be independent from the Russian Empire.

This time, it was Stalin's turn to save Rasulzade. In the end, he accepted Stalin's offer and went to Moscow. But first he had to say goodbye to his family.

While Rasulzade was in prison, a son was born to him-my father. It was two months before he had the chance to lay eyes on him. Right away he asked what name had been given to the baby. My grandmother told him "Aliheydar", in honor of the First Secretary of Azerbaijan at that time. Then Rasulzade lifted the baby up, kissed him and announced: "From now on, your name is Azer, not Aliheydar." Azer, of course, referred to the republic that Rasulzade had worked so hard to create.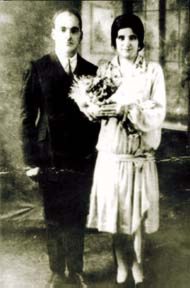 Exile from Baku
After a brief visit with his family, Rasulzade had to leave with Stalin. In Moscow, Stalin offered my grandfather various government posts, but he refused because he didn't want to work for a government that was hostile to Azerbaijan.

An interesting situation developed once when a delegation from Afghanistan came to Moscow and the Russian government needed someone who knew either Arabic or Persian. Stalin knew Rasulzade was qualified to help as he was teaching History of Eastern Literature at Moscow University at the time. But when Stalin offered him the job, Rasulzade refused-once again. Stalin was surprised and is said to have commented: "What a strange guy this Mammad Amin is. He turns down all the positions I offer him."

My grandfather no longer felt safe to stay in Moscow after those remarks, as Stalin had a "habit" of getting rid of his "friends". Members of Azerbaijan's Musavat Party, which he had led, had gone underground, but they helped him organize to go to Finland. From there, he escaped to Turkey in 1922.

Latifa and her husband Damat Muslimzade in 1930. Latifa froze to death along with one of her three daughters, Eshva, while in exile.

Rasulzade then sent a letter to Stalin saying: "Sorry about leaving Moscow without your permission. But I could never have supported your position, as I have always advocated freedom and independence for Azerbaijan."

Stalin, who happened to be on quite good terms with Ataturk, the leader of Turkey at the time, requested the extradition of all political emigrants who had carried out any propaganda against the Soviet Union. Ataturk decided not to arrest Rasulzade, and told him to leave Turkey until the situation cooled down.

It was in Poland that Rasulzade met Joseph Pilsudski, the head of the Polish government. Rasulzade and Pilsudski's niece Vanda fell in love and started living together. In 1939, World War II broke out and Poland was occupied by German troops. So my grandfather returned to Turkey.

It wasn't long until Hitler started looking for someone to represent him in the Transcaucasian region. He couldn't find anyone suitable among the Armenians or Georgians but had heard that Rasulzade was highly educated and cultured.

When Rasulzade met with Hitler, Rasulzade again refused to get involved with any government hostile to Azerbaijan. He still longed for the day when Azerbaijan would be independent. When Hitler was organizing his troops, Rasulzade was asked to give a speech to them. He told them to fight only against the enemies of independent Azerbaijan, but not to kill others. Immediately he was ordered to leave Germany within 24 hours. This time he fled to Romania. Eventually he was able to return to Turkey where he died in 1955.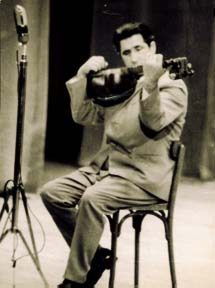 His Family's Exile
Rasulzade was cut off from his family beginning in 1937, the year that marked one of the strongest repression periods by Stalin. At that time, his stepmother, Maral Rasulzade, his wife, Umbul Banu, his daughter Khalida, and his son Azer were all sent into exile to Kazakhstan. Rasul, his oldest son, who was 19 at the time, was arrested at the family's cottage and shot to death.

Azer Rasulzade playing the tar in 1971.

My great-grandmother Maral Khanim couldn't believe that Stalin had ordered them into exile. After all, Rasulzade had personally saved his life on several occasions. She kept saying: "Stalin must not know what is going on with us here." In protest, she went on a hunger strike for the 40-day trip to Kazakhstan. She died when they reached Chemkensk.

My grandmother was heartbroken over the murder of her first son, Rasul. She died in 1940 at the age of 51. My father buried her himself. After that, he and his sister Khalida were left without parents. Khalida attempted to escape to Baku with her baby. She made it, but no one ever heard from her afterward.

Rasulzade's married daughter Latifa was also sent into exile a few years later. Her husband was arrested and shot, and she and two of her daughters were sent to Semipalatinsk (a district in Eastern Kazakhstan known as an atomic testing yard). Latifa's youngest daughter Sona happened to be at a sanitarium in Absheron at the time. No one knows what happened to Sona after that.

It was so cold in Kazakhstan. Latifa's daughter Firuza woke up one morning only to discover that her mother and sister had frozen to death in their sleep. Firuza was six or seven at the time. She had a difficult time; nobody wanted to help her since she was considered to be the child of an "Enemy of the People". She was sent to an orphanage. Later, my father found her and brought her to live with us.

After Stalin died in 1953, a general amnesty was arranged in 1959 and exiles were allowed to return to their native lands. But our family was still treated badly. I remember while serving in the army in Saratov (Russia) how my commander's attitude towards me changed after he discovered my family had been exiled.

When I was 18, I decided to return to Azerbaijan. I'll admit I was deeply influenced by my father. In our leisure moments, we used to go down by the river together, and Dad would take his tar and play Azerbaijani mughams. During those years, Dad even managed to stage Uzeyir Hajibeyov's "Arshin Mal Alan" in that far-away country of Kazakhstan for exiled Azeris living there. It made me understand how difficult it must have been for him to live in a strange country, far away from home.

Even though I was born in Kazakhstan, I had a strong desire to return to the place where my family had originated. I wanted to go back to the house in Baku and the cottage in Novkhani. Father used to tell how every two or three years he would secretly go to Baku. The first time he went by train, when they arrived in Krasnovodsk, Tajikistan, he got off and ran into the sea, kissing the water. His love for Azerbaijan influenced my decision to return. I begged my father to let me go back and study to be an artist. At first he didn't approve, knowing how hard life is for artists. But eventually he gave in, and that's how I returned to Azerbaijan-the land that my grandfather had wanted so much to become independent and free.




Rais Rasulzade graduated from the Azim Azimzade Arts Institute in Baku and now teaches graphics at the Tusi Pedagogical Institute. For more information about Mammad Amin Rasulzade and the Democratic Republic of Azerbaijan, see AI 6.1, Spring 1998. For samples of art by the author, check out AI's new Art Gallery on the Web: AZgallery.ORG.



From Azerbaijan International (7.3) Autumn 1999.
© Azerbaijan International 1998. All rights reserved.

Back to Index AI 7.3 (Autumn 99)
AI Home | Magazine Choice | Topics | Store | Contact us