Spring 1999 (7.1)
Page 55

Quest for Freedom
(1960-1991)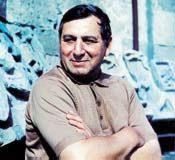 Rasul Reza
(1910-1981)

Aesop
Written in Bursa, Turkey
Ezop (1968)
I don't know
Whether or not there ever lived
Such a man in this world:
Slave­philosopher.
He transferred everything
that he couldn't say directly
Into the language of innuendoes,
Looking for the remedy
Of his heart's trouble, of his soul's sorrow.
It makes no difference now
Whether he lived or not.
Aesop is gone now,
But his language remains.
Thousands of the world's troubles
have remained.
Sometimes this language is used
In fear of something,
And sometimes used in anger.
I don't know what you think,
But I am so grateful for Aesop:
May he rest in peace.

Fear
(1961)
They say old elephants
Know when their dying day is approaching.
Some days prior to their death,
Heads bent low and trunks swaying,
They seclude themselves in the loneliness of
the forest,
And there, lying still, await death.
The fear that I should become an old elephant
Has been distressing me lately.


White Elephant
Written in Yangon, Myanmar
(formerly Rangoon, Burma)
(1961)
I saw him for the first time in Rangoon
In the zoo.
In a colorful, grilled iron cage.
A lonely white elephant in an iron cage.
His eyes were black, as were his nails,
But he himself snow-white.
He looked at you in such a way
As if to speak.
One can rarely find a white elephant,
One can rarely find an elephant in captivity.
He left the forest a year ago,
And can't stand his heartache in the cage.
And very often
He raises his trunk and roars,
Shedding crocodile tears,
And calling on his free brothers
To help him.
They say that elephants live long lives.
White elephant, white elephant!
Do you need a long life
Imprisoned in a cage for a hundred years?
White elephant, white elephant!

Far from the Motherland
Written in Cairo, Egypt
(1959)
They say,
Evening brings sorrow.
They say,
Dark nights are boring.
They say...
They say...
And what about the daytime?
And in the daytime,
We are so impatiently waiting
For the day to draw to a close,
And for the night to come!


A Journey into the Future

Tomorrow's window I opened wide
And there I saw the people stride
In months ahead,
In years ahead.
Bridges of border poles
Were thrown
Across the seas,
Across the rivers
And roads were paved with prison stones
To link the village
And the cities.
I saw the people
Passing by
Were white people,
Black people,
Yellow people too.
I was in their midst
And so were you
Wholly believing in today,
Hopefully waiting for tomorrow.
"Brothers!" a thousand voices cried.
We talked and talked and talked and talked
Without interpreters, at our ease,
Keeping our faith in tomorrow alive.
People I know and do not know,
My sons and daughters, father and mother!
Without faith
Can man survive?
All poems were translated by Aynur Hajiyeva with the exception of "Journey" by Peter Tempest from Soviet Literature, edited by Savva Dangulov, Vol. 9 (1978), an issue devoted entirely to the literature and arts of Soviet Azerbaijan.

From Azerbaijan International (7.1) Spring 1999.
© Azerbaijan International 1999. All rights reserved.
Back to Index AI 7.1 (Spring 99)
AI Home | Magazine Choice | Topics | Store | Contact us