Azerbaijan Oil Contracts

Dan Ulduzu and Ashrafi
No longer in operation after April 1999
Thomas L. Klockenbrink, President
The North Absheron Operating Company (NAOC) is a joint operating company formed to explore and develop the Ashrafi and Dan Ulduzu Prospects in the Azer-baijan sector of the Caspian Sea. In February 1998, they completed drilling their first well, the Ashrafi-1, which turned out to be the first successful exploration well drilled by an international consortium to flow-test hydrocarbons. Individual zones tested at rates of 22 million cubic feet of gas per day (620,000 cubic meters) and 3,400 barrels of oil per day (460 tons). The well was completed in record time and under budget.

The NAOC consortium, the fourth multi-billion dollar consortium of major foreign companies includes Amoco, Unocal, ITOCHU, Delta Oil and SOCAR. The area is a 453 sq km contract area, located 100 km east of the Absheron Peninsula in water depths ranging from 75 to 200 meters.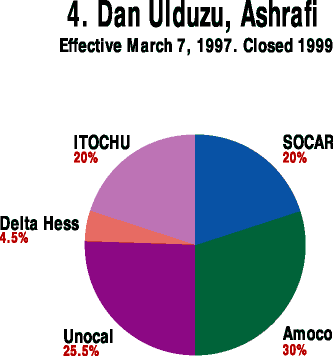 Signed December 14,1996
Ratified February 25,1997



Map: Click to enlarge

Potential investments for this projects are estimated at $2 billion. The Production Sharing Agreement (PSA) calls for the government of Azerbaijan to receive a total of $75 million in bonuses.
The 1998 work program focuses on continuing technical evaluations to determine the commercial viability of the block. A second exploration well test the adjacent Dan Ulduzu structure is planned for late 1998.
NAOC is involved with several humanitarian projects, including the construction of refugee housing for 100 families (500 refugees) in the Mingachevir region. In 1998, they will sponsor the construction of five community centers for refugees through Relief International. NAOC also support Counterpart International in their efforts to feed 4,000 orphans in 10 orphanages.

NAOC
Old City (Ichari Shahar), Baku
22 Boyuk Qala Street
Tel: (99-412) 97-11-27 / 28
Fax: 97-11-25


From Azerbaijan International (6.2) Summer 1998.
© Azerbaijan International 1998. All rights reserved.

Socar Contracts
Back to Index AI 6.2 (Summer 1998)
AI Home | Magazine Choice | Topics | Store | Contact us