Spring 1997 (5.1)
Pages 44-47


| | |
| --- | --- |
| | |
| Ilham Aliyev, Vice President of SOCAR. | Terry Adams, President of AIOC. |
The following press conference took place on February 18, 1997, in Washington, D.C., at a conference entitled "Azerbaijan from Communism to Democracy-Growth with Oil" which was organized by the U.S.-Azerbaijan Chamber of Commerce.
Oil is being transported to Azerbaijan from the Tengiz field in Kazakhstan. Can you tell us how this is developing?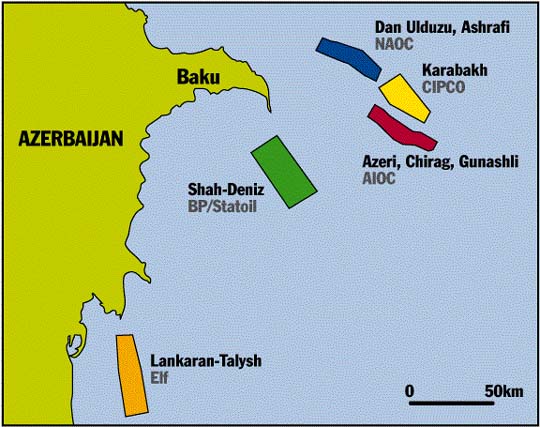 Five Consortium Contracts in the Caspian Sea signed with Azerbaijan as of July 1997. Name of field in dark print, operator or consortium designated in gray print.
Map: Azerbaijan International. Copyright 1997.
Aliyev: We've recently signed a deal to transport oil from the Tengiz field. Already, our tankers have received about 30,000 tons of oil. And if all goes well, the amount will increase to 1.5 million tons annually.
This is a significant political event for us because it makes Azerbaijan a third-party transit country. In the future, I think other countries may look more closely into the possibilities of transporting oil this way.
Has SOCAR had any discussions with the government of Iran regarding oil swaps similar to those which are taking place with Kazakhstan [meaning Kazakhstan's share-not Chevron's -being swapped]?

Adams: Under the AIOC production sharing contract, "early oil" produced from Chirag-1 is treated collectively. We don't subdivide it. When "later oil" is produced, then each shipment can be treated as a separate batch.
Aliyev: So far, we haven't had any discussions with Iran in regard to crude. We sell quite a lot of oil products to Iran. But as far as transporting oil is concerned, we have the northern pipeline [via Russia] which will be operational very soon and the western pipeline [via Georgia] which will be working in 1998. So we have sufficient transportation facilities for the amount of oil which we actually produce. And if you take into account that we are planning to build a main export pipeline, all our demands will be satisfied.
It looks as though Azerbaijan's stake and bonus have gradually risen with the five oil contracts that have been signed in the past. Why is that? Are you all taking tougher stands, or have you become more experienced?

Aliyev: It's true, we've taken a tougher stand, and, of course, we've become more experienced. But also, we have become more free and independent in deciding whom to sign a deal with and when to do it. In 1994, it was quite different than now. We've achieved considerable success since then. We've managed to present ourselves as a reliable partner country with whom companies can do fair business, which has led to credibility and respect from the international community.
I should also mention that this last contract with Elf and Total for Lankaran-Talysh was based on a draft totally prepared by SOCAR. The companies accepted it, and this was very positive for us.
What about the status of the Caspian Sea? Is the fact that the status is not settled affecting the willingness of consortium and oil companies to invest in Azerbaijan?

Adams: I think you've seen in the first two years of operation that a large number of major companies have been prepared to commit and self-finance their projects in the Caspian. Nearly $1.3 billion is being entirely financed off the balance sheets of the companies who are participating. We believe that the situation will resolve itself gradually and that a sectoral division will be accepted. The majority of states appear to support this arrangement already. We are even seeing a consensus developing with Russia. We're optimistic that an equitable solution between all the parties will emerge. Although you may not necessarily achieve a final legal definition of the problem, you can agree by consensus that investment can proceed, and that's exactly what's starting to happen.
What about the proposal that was recently made in regard to a pipeline through Ukraine?

Adams: The proposal that Ukraine has set forth would take Caspian crude into the North Sea market where it would be in severe competition with comparable crude. So unless there is an overwhelming commercial reason to use the Ukraine route, then it's very unlikely.
But we would like to hold discussions with Ukraine in the immediate future. The route for the major oil pipeline is not restricted to a single solution. In the end, the route which offers the greatest commercial benefit to Azerbaijan and the foreign investors will be chosen. The most attractive market for Caspian crude seems to be the Mediterranean.
Has the decision been made as to where the major pipeline will go?

Adams: We have an obligation to submit a variety of pipeline options by mid-1997. All of these must be commercially viable and technically feasible. Collectively, the government of Azerbaijan, primarily, along with the commercial investors will select a preferred route.
What about the option of building a pipeline through Greece and Bulgaria?

Adams: That seems to be a competitive alternative to Jeyhan [Turkish port on the Mediterranean]. We're very happy when we have a variety of options, so we can negotiate the best commercial solution for the final selection.
What is the greatest challenge to production?
Adams: Our greatest concern is that the Nagorno-Karabakh problem should be resolved as soon as possible. The view of Azerbaijan's President Aliyev is that 1997 should be the year of peace. The resolution to the war must be achieved on an equitable basis that recognizes the territorial integrity of Azerbaijan. When Nagorno-Karabakh is resolved, a great deal of geopolitical pressure will be diluted in that region.
Is AIOC receiving equipment by road from Iran's Persian Gulf port of Banderabbas?
Adams: The predominate route for the heavy equipment is through Georgia. I think we've brought 160 miles of pipe tonnage through Georgia on the rail. The heavy stuff is coming in from the Black Sea. Coming from the Persian Gulf is specialized office equipment-routine supplies that can be transported by conventional trucks. I've heard that some 30,000 trucks per year are coming from Iran into Azerbaijan. So it's a conventional route, and Dubai is a very conventional supply center.
In a press conference last year, you mentioned that LUKoil was a company just like any other. Could you elaborate on what you meant? Does that mean there has been some cooling of the relationship or some disappointment, perhaps?

Aliyev: No, no, not at all. When I said that LUKoil is a company like any other, I meant it as a compliment because their aim is to become an international oil company like BP, Amoco and the others. LUKoil wants to become a regular reliable partner with all the attributes of a large oil company. I think they're making great strides in this direction. I can only congratulate them.
Adams: For the two years that we've worked together, LUKoil has behaved impeccably just like the other companies have. They take part actively in the management of the company. They behave like a large Western oil company. No different, whatsoever.
So far the discussion has focused on offshore oil developments. What activities are happening onshore right now?

Aliyev: Frankly speaking, we're looking to invite large oil companies to come and operate onshore because the potential is great enough to interest even them. In the past, companies were competing with each other in order "not to miss the train" with the projects offshore. As far as offshore projects are concerned, we don't have any problems attracting investment. On the contrary, we have more potential clients than we are prepared to deal with.
But now we've started talking about onshore. It's very important, and I think any company which comes to work onshore will have a good chance later on of getting involved offshore. We're optimistic that a contract will be signed this year. We have several proposals from big oil companies. It's too early to mention who they are. After one major company comes onshore, you'll see that the others will be eager to do the same thing.
There are plans for NATO to hold a seminar in Baku concerning the security of the pipelines. How ready are you for this seminar?

Aliyev: We are ready to have any seminar in Baku (laughter). We appreciate when organizations want to contribute their efforts to providing security related to transportation. But, as far as the security of the pipeline is concerned, AIOC is quite experienced in this issue. AIOC is the operator of the pipelines, and I don't think they will need any significant assistance from anyone. But if someone wants to come and to cooperate with us and to help us in providing security, we will be more than happy.
From Azerbaijan International (5.1) Spring 1997.
© Azerbaijan International 1997. All rights reserved.
Back to Index AI 5.1 (Spring 1997)
AI Home | Magazine Choice | Topics | Store | Contact us