Spring 1997 (5.1)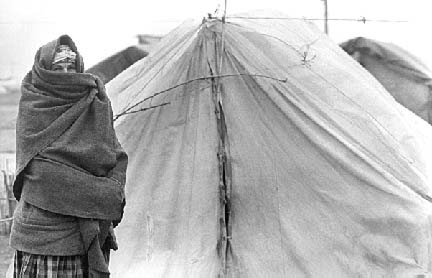 Refugee tent camps in Azerbaijan. In winter, the weather can hover between 20 - 40 degrees Fahrenheit. Since late 1996, most tents have been replaced by mud-brick or limestone single room shelters which somewhat reduce the direct exposure to cold winters
and scorching hot summers.
Photo: Oleg Litvin (1994)
Previous page

From Azerbaijan International (5.1) Spring 1997.
© Azerbaijan International 1997. All rights reserved.
Back to Index AI 5.1 (Spring 1997)
AI Home | Magazine Choice | Topics | Store | Contact us