Winter 1996 (4.4)
Page 48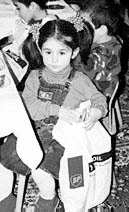 Team Expands
The BP and Statoil Alliance is expanding their team in Baku. David Pritchard heads what is known internally as the Azerbaijan Asset. He came to Azerbaijan after serving as President of the company which operates the Trans-Alaska Pipeline.
Tor Ivar Pedersen (Statoil) serves as Pritchard's deputy and is responsible for New Business Development. Previously, he had directed operations for Eastern Europe and Central Asia at Statoil's headquarters in Stavanger, Norway.
Mike Shearman, with 30 years of experience in managing major projects in the North Sea, is heading up BP Exploration (Shah Daniz) Limited, a new subsidiary of British Petroleum which is registered in Azerbaijan.
Shah Daniz Partnership
A three-year exploration period is under way for what is widely regarded as one of the most promising prospects in the Caspian Sea. The work program laid down in the Production Sharing Agreement (PSA) calls for drilling two wells over a three-year period and an option for a third well the following year. Prior to that, however, a seabed 3-D Seismic Survey will be carried out over 800 square km. Total expenditure for the first three years is estimated at $100-150 million.
Although the Shah Daniz prospect has never been drilled, estimated oil reserves range from 1.5 to 3 billion barrels (250 to 500 million tons) and between 2 to 4 trillion cubic feet (50 to 100 billion cubic meters) of gas. Shah Daniz is not structured as a consortium but rather as a partnership led by BP as Operator which works with, and on behalf of, the other partners. These partners include Statoil, LUKoil, Elf, Iran's OIEC (Oil Industries Engineering and Construction) and Turkish Petroleum.
Bahar Prospect
SOCAR management has approved commercial talks with Statoil on further development of the Bahar field which lies fairly close offshore to the Shah Daniz field. For the past two years, SOCAR and Statoil have been collaborating on technical studies together. While the northern end of the field has been on stream since the 1970s, primarily supplying Azerbaijan with gas, the unexplored southern section is believed to contain substantial volumes of oil. Statoil would be operator in partnership with SOCAR.
Involvement with Youth
Since arriving in Azerbaijan, the Alliance has organized numerous cultural events, promoting children's and young people's performances. This includes sponsoring Azerbaijani folk dancers and musicians at the Aberdeen Youth Festival in 1993 and again in 1995. During the week of the 96 Caspian Oil and Gas Exhibition, a special musical program and ballet was sponsored at the Opera and Ballet Theatre in Baku. In 1994 and 1995, they invited the Jujularim Child Drummers to perform at the opening day ceremony on the BP and Statoil stand.
In May 1993, they sponsored an International Jazz Festival in Baku, a city where jazz is and has long been extremely popular both among musicians and audiences young and old. A 12-piece British band played, along with local groups.
Azerbaijan--A Photographic Journey
BP and Statoil Alliance in a joint venture with "Azerbaijan International" magazine, has just published a new photo book "Azerbaijan-Land of Fire." Sir David Simon, Chairman of the Board of British Petroleum, proudly presented the photographic volume to President Heydar Aliyev. The paperback is now available by contacting Azerbaijan International (magazine). "Azerbaijan-Land of Fire" is the first comprehensive photo book of its kind since Azerbaijan gained its independence in 1991. A reception marking the event took place at the Mugam Club Restaurant in Baku's old "Inner City" on October 9, 1996.
Azeri TV Films Nobel Peace Prize Ceremony
A crew from Azerbaijan Telefilm, the documentary production arm of the Azerbaijan National TV Company, headed for Norway and the Nobel Peace Prize ceremony in Oslo's City Hall on December 10. This team is doing a three-part series on "The History of Oil in Azerbaijan" and will feature the Nobel Brothers' activities in Azerbaijan and the Nobel Peace Prize. As provided for in Alfred Nobel's will (who held substantial shares in his brothers' company in Baku), the Norwegian Parliament is entrusted with appointing a committee which selects the winner of the Peace Prize. The 1996 honorees are Bishop José Ramos-Horta and Carlos Felipe Himenes Belo for their work towards a just and peaceful solution to the conflict in East Timor.
The TV team interviewed Geir Lundestad, Director of the Nobel Institute in Oslo, and Johan Nic Vold, Executive VP of Statoil, at their headquarters in Stavanger. Statoil is Norway's state oil company.


From Azerbaijan International (4.4) Winter 1996.
© Azerbaijan International 1997. All rights reserved.
AI Home | Magazine Choice | Topics | Store | Contact us